Xbox One's Elite Bundle Includes Upgraded Console And Controller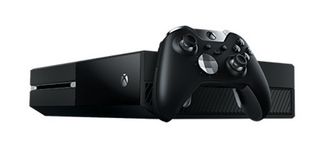 Microsoft has a new Xbox One bundle in the works. The Xbox One Elite Bundle (opens in new tab), coming this November, includes high-end versions of the console and wireless controller.
The console in the Elite Bundle has a matte finish rather than the standard shiny paint job. The more interesting feature is under the hood, though. The console has a 1TB Solid State Hybrid Drive, which gives you twice the storage space of the standard Xbox One as well as 20% faster booting from energy-saving mode.
Xbox One's Elite Wireless Controller, first announced at E3, is designed for people who are very picky about their gamepads. It comes with six thumbsticks (two standard, two tall, two domed) and two D-pads (standard and faceted) to swap in depending on your preference. You can also attach four metal paddles to the bottom for extra options. Hair Trigger Locks can be enabled for each trigger to allow for quicker firing.
An app for Xbox One and Windows 10 lets you assign every button on the controller. You can also adjust the thumbstick and trigger sensitivity. The app allows you to save multiple profiles so you'll have optimal settings for each game. You can even swap between two profiles on your controller while playing a game.
What the bundle doesn't include, though, is the Kinect. No big shock there. The bundle seems like it's targeted toward really hardcore gamers, who aren't really the Kinect's audience. While that peripheral was once included with all Xbox One units, Microsoft never really made a convincing case for the device being essential to core gamers.
Even without the Kinect, the Xbox One Elite Bundle is pricey. It'll cost you $499 USD at launch, or $150 more than the standard XB1 bundle. On the bright side, five hundred bucks would've only bought you a regular Xbox One about two years ago. You'll be able to buy the bundle at GameStop and Microsoft Stores. Both store's websites are now accepting pre-orders.
Microsoft also announced one other piece of hardware today: a Lunar White Wireless Controller. The white-and-gold controller has the new 3.5mm jack that Microsoft recently added to the standard wireless gamepad along with "improved grip texture." The controller will be released through GameStop in late September for $64.99.
Staff Writer at CinemaBlend.
Your Daily Blend of Entertainment News
Thank you for signing up to CinemaBlend. You will receive a verification email shortly.
There was a problem. Please refresh the page and try again.