Xbox One Is Now Much Cheaper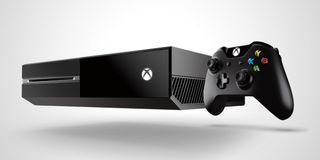 Microsoft noticed Sony's holiday discount for PlayStation 4 and has decided to match it. They've cut the price of all Xbox One bundles (opens in new tab) from now until December 26th.
Each Xbox One bundle is now $50 cheaper, with the least expensive being $299. Here are some of the sample offerings you'll find in stores:
Xbox One Holiday Bundle ($349.99) - 1TB hard drive console, boxed copies of Gears of War: Ultimate Edition and Rare Replay, digital download of Ori and the Blind Forest, black wireless controller with a 3.5mm headset jack, 14-day trial of Xbox Live Gold
Xbox One Elite Bundle ($449.99) - 1TB hard drive console, Xbox One Elite Wireless Controller, Xbox One Chat Headset, a 14-Day Xbox Live Gold Trial
Limited Edition Halo 5: Guardians Bundle ($449.99) - 1TB hard drive console with custom sounds and artwork, matching wireless controller, digital download of Halo 5, chat headset, Warzone REQ Pack with 14 premium requisition packs, FOTUS armor, multiplayer emblem, 14-day trial of Xbox Live Gold
Gears of War Bundle ($299.99) - 500 GB hard drive console, digital download of Gears of War: Ultimate Edition, black wireless controller, 14-day trail of Xbox Live Gold
The company has offered the same discounts during Black Friday Week. They said afterward that this promotion had been a huge success, with Xbox One console sales at retailer 22% higher during this Black Friday week compared to that period last year. It's not surprising to see them bring back the $50 discount now given its success in November.
Microsoft will be supplementing these hardware deals with a huge sale on digital games that will run until after the holidays. Here's the company's description of this "Countdown" sales event:
Earlier this week, Sony cut the price of two PS4 bundles from $349.99 to $299.99. Microsoft's move today seems like a clear attempt to keep pace. Both companies know that December is a crucial sales month and they're pulling out all the stops. It's great news for gamers looking to upgrade to a new console on the cheap.
Xbox One outsold the PS4 in North America in October, which Microsoft attributed to new exclusives like Halo 5 and Forza 6. The November sales haven't been announced yet.
This poll is no longer available.
Staff Writer at CinemaBlend.
Your Daily Blend of Entertainment News
Thank you for signing up to CinemaBlend. You will receive a verification email shortly.
There was a problem. Please refresh the page and try again.