Xbox One Production May Stall As Sales Slow Down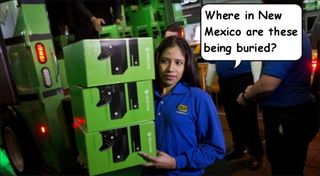 There's a tale of two consoles in today's market at the moment. On the side of Sony, we have the PlayStation 4 moving units at a lightning's pace. On the side of Microsoft, we have the Xbox One moving units about as fast as a crippled old lady trying to walk the length of the autobahn.
If the above seems far-fetched, think again. Titanfall's small burst of sales momentum didn't last long, as new reports are indicating that even Microsoft has acknowledged the slow sales pace of the Xbox One following the hot surge coming off its holiday release in November of last year.
BGR picked up a story from Gamasutra, where during a conference call Microsoft's chief financial officer, Amy Hood, dropped some less than encouraging information about the production and sales status of the Xbox One, with Gamasutra writing...
According to Save/Continue, they rolled out a figure as to why Microsoft is in this position, and it has to do with the fact that – as mentioned by Webush Morgan Securities analyst Michael Pachter – Microsoft started producing Xbox One units back in September of 2013, at a rate of a million a month. Save/Continue to postulates that the numbers fit in line with the 3.9 million shipped figure for the end of 2013, which Microsoft rolled out earlier this year, despite only having sold 3.1 million units. The article goes on to state that at that rate the company would have 8 million total units produced, even though Microsoft only recently announced that they have shipped 5 million SKUs to retailer shelves, since launch.
Simply put: At the rate of production and the slow pace of the sales, it means that Microsoft happened to produce more units than they could sell, and out-supplied the demand for the Xbox One, leaving 3 million units left in a warehouse somewhere – if the figure holds true that they manufactured 8 million units.
As noted in the BGR article...
This dearth of information has been a bane to Microsoft's perceived position in the console race. Nevertheless, measuring the figures of the units sold and the rough estimates by VG Chartz, it shows that Microsoft has only moved 4.4 million Xbox One units thus far, meaning that – if we're going by the 8 million produced total – they would have 3.6 million units still unsold. This number isn't too unlikely given that Sony did announce that they sold-through (to customers) 7 million PlayStation 4 units since launch. It may not be hard to imagine that Sony, too, also produced 8 million units.
So what does that tell us about this marathon so far? It tells us that Microsoft is a crippled old lady running the autobahn and Sony is Lolo Jones running a track relay. There's just no competition.
Staff Writer at CinemaBlend.