Xbox One Stereo Headset, Multiplayer Update Coming In March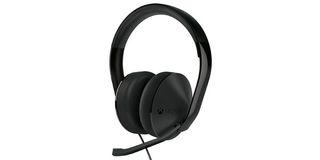 Microsoft will roll out a system update for Xbox One next month to make multiplayer gaming easier. The console's stereo headset will finally launch around the same time.
The Xbox One Stereo Headset has speakers large enough to cover your ears, along with a unidirectional microphone. It also ships with a Stereo Headset Adapter to plug into the bottom of your XB1 controller. The adapter lets you adjust your volume settings or mute your microphone without taking your eyes off the TV.
The Headset and Adapter will hit stores in early March for $79.99. The Adapter can also be purchased separately for $24.99, in case you'd rather use it with a different headset. It supports any stereo headset with a 3.5mm audio jack as well as Xbox 360 headsets.
Xbox One's March 4th system will update numerous social features. Party chat will now be turned on by default. You can also chat with party members who aren't playing the same game as you.
The patch also makes it easier to keep track of your friends. A "Recent Players" list shows Xbox Live users you just played alongside in case you want to add them too your friends list. An "invite friends to game" will appear within games to make it easier to set up a party. Finally, the friends list will appear in the center of the Friends app so you can access it quicker. You can also say "Xbox, go to Friends" for hands-free navigation with Kinect.
"We're excited to get these multiplayer and party improvements out in time for the March 11 launch of Titanfall, the highly anticipated team-based online multiplayer game," said Microsoft's Marc Whitten on Xbox Wire (opens in new tab). "The March update includes many more great features. The improvements to multiplayer and parties are just a few of the features that will be included, and we'll continue to share more details in the days and weeks ahead, including in-depth videos so you're all ready to take advantage of the new features in March."
Xbox One owners should find a new system update waiting for them today as well. The update tweaks the UI while also adding USB keyboard support. It's said to provide many changes to help developers as well.
Image 1 of 3
Staff Writer at CinemaBlend.