Xbox One And Xbox 360 Owners Can Download ScreamRide Demo Tomorrow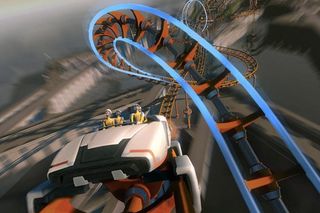 Microsoft's new roller coaster simulator, ScreamRide, will crash-land on Xbox One and Xbox 360 systems in March. But if you're the impatient type, I have good news: the demo will be available at midnight tonight.
According to Xbox Wire, the ScreamRide demo will feature three of the game's 50 campaign levels, which should be more than enough to whet your appetite.
ScreamRide is a roller coaster simulator from Frontier Developments, the company behind Kinectimals, Elite: Dangerous, and Zoo Tycoon. But more importantly, Frontier developed the granddaddy of coaster sims: RollerCoaster Tycoon.
This time around the folks at Frontier have taken a fantastical approach to the coaster genre. ScreamRide's theme parks have more in common with Tron and Star Trek than they do with Six Flags. The new aesthetic allows players to experiment with sci-fi technologies like magnetic levitation and rocket engines. Plus, the futuristic materials allow for impossible elevations, which players will inevitably use to murder a large number of visitors.
I'm not kidding about the killing. The video game industry might need to create a new genre for ScreamRide: "Homicidal Roller Coaster Simulator."
Designing a cutting-edge coaster is only the beginning. Once your creation is perfected, it's time to fill the cars with explosives and destroy everything in the surrounding area. ScreamRide's physics engine has been specifically crafted with destruction in mind. Constructing a coaster that sends your passengers careening into the support beam of 50-story high-rise is encouraged. The park visitors will run for their lives as the building crumbles around them. But when the dust settles, they'll applaud.
In an interview with Microsoft's Larry Hryb, Executive Producer Jorg Neumann elaborated on ScreamRide's "unprecedented" destruction:
ScreamRide pre-orders are already available, but you'll have to wait until March 3rd to get your hands on the full version. And if you're too impatient to wait a few hours for ScreamRide's demo, maybe this trailer will tide you over:
Your Daily Blend of Entertainment News
Thank you for signing up to CinemaBlend. You will receive a verification email shortly.
There was a problem. Please refresh the page and try again.