Elite: Dangerous Developer Is Staffing Up To Finish These Features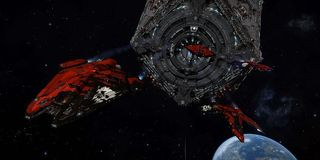 PC space simulator Elite: Dangerous is due for some major changes through 2015. Frontier Developments detailed some of their plans for the game in their latest newsletter to players.
"We're proud of the fantastic game that we released before Christmas, and as we have said we intend to keep growing and developing it," said Frontier. "To make this happen we're expanding the team working on the game so that we can maintain a regular schedule of updates as well as working on the paid expansions."
Not all of the game's new content will cost money. Some major features will be free and included in patches. One example is the "Wings" system. Wings will be a new way for players to group up while exploring the galaxy. Frontier said in December that wings may have the following features.
enhanced matchmaking for wingmen
enhanced/clear feedback for who and where wingmen are
shared information within the wing
shared bounties and mission rewards
on-going mission support for wing gameplay
The developers will also introduce new ships for players to purchase. They revealed concept art for one of these new craft, the Fer-de-Lance, during the concept art. The Fer-de-Lance, which appeared in the original Elite game from 1984, looks a bit like an A-Wing from Star Wars:
"A Zorgon Petterson Group (Zee Pee Gee) designed vessel favoured by well-heeled bounty hunters and freewheeling business corporations. A sophisticated craft, capable of both limited trading, combat and leisure function. The spacious hull is mainly given over to sophisticated weaponry, defences and navigation equipment at the expense of cargo capacity," read the ship's description from the Elite manual.
Elite: Dangerous is only available on PC right now. The Mac version isn't far off, though.
"Regarding Elite: Dangerous on Mac, as you know we have been working on putting the native Mac version of the game together and, as expected, this should enter Beta in about three months time. As the specific Beta date for this is firmed up we'll keep you updated."
Frontier has suggested the game could come to PS4 or Xbox One as well. However, they didn't mention those versions in the newsletter. It seems a console release is still hypothetical at this point.
The development team still has plenty to fix in the original PC version. A server issue right after the New Year led many players to lose cargo and money and enabled others to make millions of easy credits. Frontier has corrected many of those sudden swings in player's wealth but the incident was a reminder that a game of Elite: Dangerous' size is going to require a lot of attention to fix and maintain.
Staff Writer at CinemaBlend.
Your Daily Blend of Entertainment News
Thank you for signing up to CinemaBlend. You will receive a verification email shortly.
There was a problem. Please refresh the page and try again.