You Can Play Over 2,300 Free MS-DOS Games In Your Browser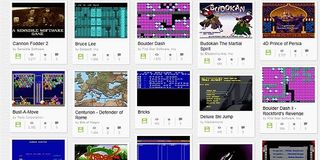 If you're looking to get in some classic gaming, then you'll likely want to make a stop by the Software Library. Thanks to the EM-DOSBOX in-browser emulator, you can now play 2,380 games without having to download a single thing.
From forgotten gems to beloved classics and everything in between, the Software Library now offers a pretty intriguing option for classic gaming, even if all of the bugs haven't been worked out of the system yet. In short, you can now play nearly 2,400 games free of charge, with the added bonus of playing directly from your browser courtesy of the EM-DOSBOX made by Jason Scott. However, as the announcement states, the program is only in beta and isn't running at 100 percent just yet.
Still, even if only half of the games work as expected, that's still more than a thousand old school games you could be digging into, 100 percent free. Titles include Duke Nukem 3D, Aladdin, Bust-A-Move, the original Metal Gear and, um, Captain Bible in the Dome of Darkness, just to name a few. You can comment on the games, fave them, save them, and even sort the massive collection by the number of views, title, the date the game came out or who created it.
I booted up one of my favorite classic games, Aladdin, and it didn't exactly run as smooth as I had hoped. Still, the idea that it will likely be slick as ice one day has me excited for some random trips down memory lane.
You wanna play the original Sim City? it's here. How about Batman Returns? No problem. In the mood for Street Fighter II or classic King's Quest? Look no further.
For those of you who feel like Sony's asking price of $20 per month to play an unlimited amount of games like The Last of Us or Catherine, and if you don't mind digging into games from around two decades ago, then this collection might be exactly what the doctor ordered.
Your Daily Blend of Entertainment News
Staff Writer for CinemaBlend.