Knock At The Cabin And 80 For Brady Together Take Down Avatar: The Way Of Water At The Weekend Box Office
But Avatar: The Way Of Water does hit another major milestone.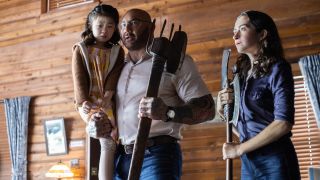 (Image credit: Universal Pictures)
For the last seven weeks, James Cameron's Avatar: The Way Of Water has been unbeatable at the box office. Released in mid-December, the film has faced off against some notable competition, including Gerard Johnstone's M3GAN, but every Sunday the sci-fi blockbuster has been featured at the top of the charts. That streak, however, breaks today, as M. Night Shyamalan's Knock At The Cabin and Kyle Marvin's 80 For Brady have proven to be a one-two punch that has knocked the Avatar sequel down to third place.
Check out the numbers posted by both the new releases and the holdovers from past weeks in the Top 10 below, and then join me after for analysis.
Swipe to scroll horizontally
| TITLE | WEEKEND GROSS | DOMESTIC GROSS | LW | THTRS |
| --- | --- | --- | --- | --- |
| 1. Knock At The Cabin* | $14,200,000 | $14,200,000 | N/A | 3,643 |
| 2. 80 For Brady* | $12,500,000 | $12,500,000 | N/A | 3,912 |
| 3. Avatar: The Way Of Water | $10,800,000 | $636,420,442 | 1 | 3,310 |
| 4. Puss In Boots: The Last Wish | $7,950,000 | $151,292,670 | 2 | 3,452 |
| 5. A Man Called Otto | $4,175,000 | $53,003,403 | 4 | 3,407 |
| 6. M3GAN | $3,800,000 | $87,597,375 | 5 | 2,835 |
| 7. Missing | $3,725,000 | $23,017,094 | 6 | 2,565 |
| 8. The Chosen Season 3 Finale* | $3,641,538 | $5,308,245 | N/A | 1,731 |
| 9. Plane | $2,210,000 | $28,880,732 | 7 | 2,203 |
| 10. Infinity Pool | $900,000 | $4,332,078 | 10 | 1,750 |
M. Night Shyamalan Has His Seventh #1 Hit With Knock At The Cabin
With Avatar: The Way Of Water functioning as an unstoppable hit through January, there has been speculation for a while now wondering if Knock At The Cabin would be the first new title in a month-and-a-half to take over the top spot at the weekend box office, and the film succeeded in that mission. The film made $14.2 million during its first three days – which isn't exactly a mind-blowing figure when you look at M. Night Shyamalan's history, but it was good enough.
This marks the seventh time since the release of The Sixth Sense in 1999 that Shyamalan has had a directorial effort win the box office in its first Friday-to-Sunday, and it solidifies a hot streak that he's had going with his last few films. After the release of The Village in 2004, the director had six titles fail to grasp that particular brass ring – 2006's Lady In The Water, 2008's The Happening, 2010's The Last Airbender, 2013's After Earth, and 2015's The Village – but things have been going much better since Split arrived in theaters in January 2017.
Since the release of M. Night Shyamalan's backdoor Unbreakable sequel, the filmmaker has only produced movies that have turned out to be number one hits in their opening weekends. Glass did the trick in January 2019, Old pulled it off in late July 2021, and now Knock At The Cabin is his latest win. It's the first time in Shyamalan's career that he's had such a streak.
As noted, the domestic ticket sales for the new release aren't exactly record shattering, but they are solid based on post-2020 standards. According to Deadline, Knock At The Cabin was made with a reported $20 million budget, and the film has already made more than that when you factor in the additional $7 million that has been earned overseas (per The Numbers).
How well it will do long-term is unclear. When it comes to buzz, the results have been a bit middling, as Rotten Tomatoes features both critics and audience scores between 60 and 70 percent, and survey results from CinemaScore have the film graded with a "C." It seems that people are liking Knock At The Cabin, but not loving it, and that may not result in a boost from word of mouth.
Regardless of what happens in the coming weeks, we can at the very least call this another win for horror, which has been among the most consistent genres as of late when it comes to drawing interest from mass audiences. Movie-goers' were clearly curious about potential scares and thrills provided by the new release starring Dave Bautista, Jonathan Groff, Ben Aldridge, Nikki Amuka-Bird, Kristen Cui, Abby Quinn, Rupert Grint, and the result is a fresh title at the top of the box office.
80 For Brady Puts Up Solid Numbers For A Comedy, Showing There's Life In The Genre
One of the biggest issues facing cinema distribution in the time since the start of the COVID-19 pandemic has been luring older audiences back to the big screen. While superheroes and horror have been depended on by studios to bring in young money, there's been a drought when it comes to non-prestige wide releases aimed specifically at adults. 80 For Brady, a football movie released just before the Super Bowl, was released to fill that void, and it worked effectively – also proving that theatrical comedies aren't totally dead.
The film stars Lily Tomlin, Jane Fonda, Lily Tomlin and Sally Field as a group of octogenarians who go on a road trip together to see their favorite quarterback play in a championship, and it managed to make $12.5 million during its first three days in wide release. According to The Hollywood Reporter, the results were diminished due to winter weather conditions in New England (a.k.a. the home of Tom Brady's most die-hard fans), but the new release still managed to find an audience, and targeting worked. Per the trades sources, tickets were mostly purchased by older, female movie-goers.
The buzz is a bit stronger for 80 For Brady than Knock At The Cabin, with the former sporting a better Audience score on Rotten Tomatoes and an "A-" grade from CinemaScore surveys, but its legs may be a bit more questionable – if not especially because of the NFL playoffs officially coming to an end next week. Will audiences be excited to see the comedy when there is less football-related electricity in the air? We'll find out next Sunday.
Avatar: The Way Of Water Passes Titanic On The Overseas Box Office Charts
Avatar: The Way Of Water may not be the number one movie domestically anymore, but that doesn't mean that it's not still performing incredibly well and reaching new milestones. For starters, the $10.8 million it has made since Friday is nothing to shrug at (another sub-40 percent weekend-to-weekend drop), but more importantly, the film is getting ever closer to becoming the third biggest international hit of all time.
While Avatar 2 has not yet made more money than James Cameron's Titanic worldwide (which means factoring in domestic earnings), the sci-fi blockbuster has now outgrossed the 1997 film in markets outside of the United States and Canada, according to Variety. Per Box Office Mojo, only $20.3 million separate the two titles on the all-time chart... though that number is expected to change in funny ways next week due to the fact that Titanic will be getting yet another wide release next Friday to celebrate its 25th anniversary.
Titanic is one of two films aiming to try and shake up the Top 10 next week, as Friday will also see the release of Steven Soderbergh's Magic Mike: The Last Dance. Be sure to head back here to CinemaBlend next Sunday to see how everything shakes out, and check out our 2023 Movie Release Calendar to learn about all of the titles scheduled to hit the big screen in the coming weeks and months.
Your Daily Blend of Entertainment News
Assistant Managing Editor
NJ native who calls LA home and lives in a Dreamatorium. A decade-plus CinemaBlend veteran who is endlessly enthusiastic about the career he's dreamt of since seventh grade.