Forget Rainbow Six And Highlander, John Wick: Chapter 4 Has Me Craving A Ghost Of Tsushima Adaptation
I need this movie, like right now!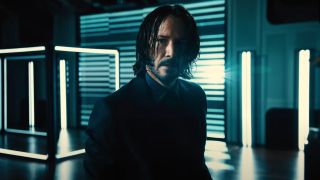 (Image credit: Lionsgate)
SPOILERS ahead for John Wick: Chapter 4I! Read on with caution if you haven't seen the new Keanu Reeves movie.
I would love to see what Chad Stahelski does with the Rainbow Six movie, and his long-in-the-works Highlander reboot sounds cool and all, but after watching the stuntman-turned-director's latest feature film, John Wick: Chapter 4, I just can't stop thinking about his anticipated Ghost of Tsushima project. In fact, I'm craving the upcoming video game adaptation now more than I did back a couple years ago when I ranted and raved about my favorite game of 2020.
The action, drama, and incredible story of the nearly three-hour epic that was John Wick: Chapter 4 had me on the edge of my seat from start to finish. And while I was thinking about what was going to come next following the movie's ending, I also couldn't get Ghost of Tsushima out of my head, and why now is the right time to bring the massive samurai odyssey to the big screen. Here are a few reasons why…
Ghost Of Tsushima Explores Tradition And Codes, And What Happens When They're Broken
Everyone who has seen The John Wick movies knows that rules, traditions, and codes are at the center of each installment and make up a large part of the franchise's lore. Various characters have either broken those rules (like killing someone inside one of the Continental hotels) and challenged the codes and traditions of the old ways, creating an incredibly interesting dynamic that further sets the property apart from other action movies.
This is also true for Ghost of Tsushima. Without giving too much away from the PlayStation exclusive title, a lot of the conflict in the game doesn't come from protagonist Jin Sakai's bloody crusade against the invading General Khotun Khan, but instead from the ways in which his violent ways go against the code of the samurai, putting him at odds with his uncle, Lord Shimura, his former mentor and the the jitō of Tsushima.
Jin's actions, which are the antithesis of the samurai, put him at odds with those around him, leading to exile and a target being placed on his head, both from his former brothers-in-arms and the invaders trying to wipe out his existence and legacy.
There Are Actually A Lot Of Parallels Between John Wick And Ghost Of Tsushima's Jin Sakai
Another reason I am craving the Ghost of Tsushima movie more so now than ever before is the way in which John Wick and Jin Sakai have so much in common. I mean the parallels between the two protagonists are wild, especially in John Wick: Chapter 4. Both are severely injured and left for dead, both are nursed back to health by those who go against the natural order of things, both have bounties on their heads, and the only way each can get out of their situation is by fighting through it.
On top of the story elements, both protagonists live in between the black and white of society, instead navigating this gray area where they aren't forced to subscribe to the concept of absolute good and absolute evil. LIke Wick, Jin is also incredibly talented in multiple forms of combat, whether it's hand-to-hand, with blades, or in ranged weapons, with the bow and arrow taking the place of Wick's Pit Viper.
I think Chad Stahelski could do wonders with the character of Jin Sakai, his story, his skills, his legacy, and a kill count rivaling that of John Wick.
John Wick: Chapter 4's Action Sequences Accomplish So Much From A Narrative Standpoint, Which Will Be Key To Ghost Of Tsushima's Story
One aspect of the John Wick franchise that doesn't go unnoticed is the way in which the action sequences are rarely action-packed just for the sake of being action-packed, as the narrative of each film is progressed through the various fight scenes, chases, and shootouts. Some of the best scenes in the franchise so far have been those that have used heart-stopping action as a way to progress the narrative, including some key moments in John Wick: Chapter 4.
I keep going back to the expansive Osaka Continental sequence and the way in which the movie's central narrative is moved along by the brilliant action. The strengths and motivations of Hotel manager Shimazu Koji (Hiroyuki Sanada) and his daughter, Akira (Rina Sawayama) are introduced, Caine's (Donnie Yen) prowess with a sword (and various other weapons) is cemented, and a lot of the movie's themes are laid out in this sprawling sequence of events.
This type of storytelling will be key to Ghost of Tsushima and its narrative, especially if Chad Stahelski keeps the game's immersive and exhilarating opening invasion.
In Fact, The Osaka Sequence In Particular Felt Like A Tease For Ghost Of Tsushima
On top of progressing multiple storylines while showcasing some of the best action the John Wick franchise has seen so far, the Osaka Continental sequence also felt like a tease for Ghost of Tsushima, like it was Chad Stahelski's way of saying, "Just wait until I devote an entire movie to this."
With High Table soldiers looking like modern-day samurai with their elaborate masks and head-to-toe armor, various traditional Japanese weapons, and a duel between Caine and Koji that felt like something straight out of an Akira Kurosawa movie, there was jus so much to love throughout the sequence of events. But most of all, Stahelski and his team treated the imagery and iconography of Japanese culture with utmost respect, so much so it didn't feel ingenuine or degrading.
After John Wick's Showdown With Caine, I Can't Wait To See How Stahelski Handles Ghost Of Tsushima's Many Duels
Very similar to John Wick: Chapter 4, Ghost of Tsushima ends with an incredibly powerful, emotional, and beautifully shot duel that serves as a fitting conclusion to the game's sprawling and blood-soaked narrative (which includes plenty and plenty of duels throughout). When I was watching the final showdown between John Wick and Caine, I couldn't help but be transported back to my first time experiencing the game's closing moments where Jin Sakai and Lord Shimura have a slow, methodical, and personal duel beneath a Japanese maple tree.
I can't wait to see what Chad Stahleski does with this incredibly personal moment between uncle and nephew who reluctantly fight one another to the death. And if it's half as good as the closing moments of John Wick: Chapter 4, fans of the game will be very happy.
As you can probably tell, I'm extremely excited for Ghost of Tsushima under Chad Stahelski's direction. Though it's hard to say when the movie will come out (it hasn't even started production yet), there are plenty of upcoming 2023 movies to hold me over while I wait.
Your Daily Blend of Entertainment News
Philip grew up in Louisiana (not New Orleans) before moving to St. Louis after graduating from Louisiana State University-Shreveport. When he's not writing about movies or television, Philip can be found being chased by his three kids, telling his dogs to stop barking at the mailman, or yelling about professional wrestling to his wife. If the stars properly align, he will talk about For Love Of The Game being the best baseball movie of all time.