Jordan Peele Has Never Made A Bad Movie. Here's Why That's Important For Black Cinema
If Jordan Peele made it, then it must be good.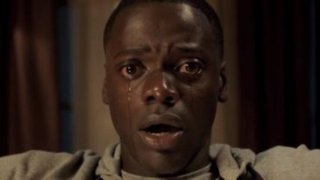 (Image credit: Universal)
Jordan Peele has directed three movies, and they're all amazing.
You could argue that Us isn't as good as Get Out, or that Nope isn't as scary as Us, but the fact is, for a man who got his start in TV, and only recently got into making movies, Peele has been on a hot streak.
In fact, I would argue that Jordan Peele movies are not just great in general, but also important for Black cinema as a whole, and here's why.
Jordan Peele's Audience Is Not Just Black People. It's Everybody
Not since we were getting consistent "Spike Lee joints" back in the '80s and '90s have I seen audiences of all different shades flock to see a Black director's work. But, people are showing up for Jordan Peele's movies. When our very own Sarah El-Mahmoud wrote about how Nope was even more satisfyingly scary than she expected, it made sense, because people don't see Peele's movies because they're "Black stories." They see them because they're good stories…that just so happen to also be Black stories.
When he revealed that he still gets hate about Get Out, that made sense, too, because it feels like EVERYBODY'S seen that movie. Even though he believes that some people hate the film because of the "agency" that it brought him and other people (and, of course, I think he's right), I also think that there's a whole other group that doesn't like that movie, and I know this because I've talked to said people.
They're the ones who have a distaste for Get Out because they don't like all the praise that it's gotten. They think it's supremely overrated, and, for that matter, that all of his movies are overrated. But, the only reason that such a group even exists is because SO many people (of all races) have watched Peele's movies. And, when a large swath of people watch something that they hear is supposedly "so great," then there will always be detractors who are angry that everybody else loves something that they don't.
Hell, that's how I felt about Avatar: The Way of Water, as I wasn't impressed by it. Like, at all. It kind of bothered me that the movie was so successful, when there are so many other better movies out there that people aren't watching, and that's how I think many must feel about Get Out, Us, and Nope.
This is how you know that they're successful, though, because if a large segment of viewers hate a movie, then that just means that a large segment of people have watched it, which is a good thing for Black cinema, as it means that even though a lot of people might hate it, it also means that a lot of people must love it. And not just Black people.
His Movies Are Consistently Profitable, Opening Up Opportunities For Other Black Stories
Do you know how much Get Out cost to make? $4.5 million dollars. Do you know how much it made at the box office? $255.4 million, which is just staggering. Us, which received a much larger budget of $20 million, made $256.1 million, while Nope, which had Peele's highest budget of $68 million, made $171.4 million.
While Nope may have made the least back out of his three films, it was still highly profitable, which can only be seen as good for other Black filmmakers, mostly because it proves that movies with Black leading characters can be profitable at the box office, and that they don't even need to be attached to a Marvel movie like Black Panther: Wakanda Forever to do it.
In fact, just look at other Monkeypaw Productions (Peele's production company) like Blackkklansman, which garnered Spike Lee an Oscar nomination and win, and the horror movie, Candyman, which reportedly cost $25 million to make, and made a handsome $77.4 million in return. A movie attached to his name, even if he didn't direct it, can be profitable, sure, but it can also bring other Black movies to the big screen, with resounding success. So, in other words, Jordan Peele = big bucks, which is good for everybody, yes, but especially for Black creators.
He Always Casts Black Actors In Prominent Roles
Peele, who directed Daniel Kaluuya in his debut movie, Get Out, brought him back for Nope, which I think is wonderful. But, what I think is even more wonderful is that he's cast Black actors in leading roles in all three of his movies.
Here are the leading roles he's cast in his movies thus far: Kaluuya, Lupita Nyong'o, Winston Duke, and Keke Palmer. And, that's just the leads. He's also cast LaKieth Stanfield, Lil Rel Howery, Betty Gabriel, Shahadi Wright Joseph, Evan Alex, Yahya Abdul-Mateen II, and Keith David in supporting roles.
Even better – and what separates Peele's movies from some other Black films – is that he'll have diverse casts all around, with actors like Steven Yeun, Brandon Perea, Elizabeth Moss, Catherine Keener, Allison Williams, and one of my favorite comedians, Tim Heidecker, just to name a few. In this way, his films could bring in many different audiences, and he does so with aplomb.
His Movies Are Challenging And Thus, Demand Discussion About Race
Besides Get Out, which is specifically about race, one could argue that Us is all about identity, both existential, but also racial, and that by the end of Nope, the UFO movie could have multiple meanings, with my interpretation being that Black people will never be trusted at face value, so they have to go through extreme measures to document everything, which could draw parallels to Black Americans needing to film police brutality.
Or, maybe Nope has nothing to do with that at all, and perhaps Us is just a spooky movie about doppelgangers. The fact is, after the tour de force that was Get Out, and what it had to say about race, I'm pretty sure that all of Peele's future movies will have people (many of whom will likely not be Black) discussing what possible racial undertones could be present in his films. And, if his movies get people talking about race, then that could only be good for other Black filmmakers, who could use racial cues that help elevate their stories, just like the recent Candyman remake did.
When He's Not Nominated For An Oscar, It's Often Considered A Snub, Which Invites Criticism Of The Industry
Last but not least, after Peele won for Best Original Screenplay at the 2018 Oscars for Get Out, he's pretty much expected to either be nominated himself, have one of his movies nominated, or have one of the actors in his films nominated. And, when none of the above happens, it's considered a huge snub at the Oscars.
And, do you know what? This is good for Black filmmakers, too, as it puts a spotlight on other Black films in any given year. For example, it's hard to mention how Nope wasn't nominated for anything, and not couple that with how The Woman King wasn't nominated, either. Remember #OscarsSoWhite back in 2015? Well, whenever Peele doesn't get nominated for anything, it kind of brings back memories of that, and how other Black filmmakers and actors are also frequently ignored.
Now, I'm not saying that Peele should just get nominated to fit some kind of quota. I am NOT implying that the Academy needs more affirmative action (I mean, maybe they do, but that's not the point I'm trying to make). What I am saying is just look at the title of this article. Peele has never made a bad movie, and that's being modest, as I think that he's only made GREAT movies, and he should be nominated for every one of them.
Those are my feelings on how Jordan Peele's success is helping all Black people in film. But, what do you think? For more news on all his movies, make sure to swing by here often.
Your Daily Blend of Entertainment News
Rich is a Jersey boy, through and through. He graduated from Rutgers University (Go, R.U.!), and thinks the Garden State is the best state in the country. That said, he'll take Chicago Deep Dish pizza over a New York slice any day of the week. Don't hate. When he's not watching his two kids, he's usually working on a novel, watching vintage movies, or reading some obscure book.