The Fast And The Furious Movies Streaming: How To Watch Each Of Them Before F9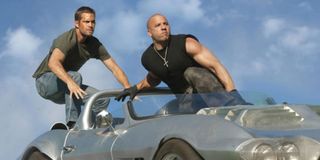 CinemaBlend participates in affiliate programs with various companies. We may earn a commission when you click on or make purchases via links.
In no time at all, we'll all be filing into theaters to see what Dominic Toretto and crew have in store for us with Fast and Furious 9, aka F9. But with so much time having passed between the release of the most recent entry in the mainline series — 2017's The Fate of the Furious — and the epic ninth installment, it's safe to say a lot of us have forgotten the finer details of the franchise and want to be caught up to speed. For some of us, Universal Pictures' "Fast Fridays" have served as an avenue to catch all eight installments of the "Fast Saga" before F9's June 25 release. But for those not ready to go to theaters or perhaps those without access to one of the selected cinemas, you're not out of luck.
You can watch all eight of the Fast and Furious movies streaming across multiple platforms and digital rental services. This means you can watch everything from the franchise's humble beginnings to the supercharged sequels that brought in hundreds of millions, and even billions of dollars at the box office. Below is a full list of all the Fast and Furious movies in order of release date and where you can watch them.
The Fast And The Furious (2001)
In what could be described as Point Break with souped up Nissan Skylines instead of surfboards, 2001's The Fast and the Furious follows undercover Los Angeles cop Brian O'Conner (Paul Walker) as he tries to nab a criminal outfit with ties to the street-racing community suspected of boosting DVD players by the truckload. When an attempt to earn the respect of the king of the streets, Dominic Toretto (Vin Diesel), blows up in his face, the eager O'Conner finds himself part of something much larger.
Stream The Fast and the Furious on HBO Max. (opens in new tab)
Rent/Buy The Fast and the Furious on Amazon. (opens in new tab)
2 Fast 2 Furious (2003)
2 Fast 2 Furious loses Dominic Toretto and the rest of the Los Angeles crew as Brian O'Conner finds himself as a major player in the Miami street-racing scene. Now an FBI agent, O'Conner goes undercover and is forced to mend a shattered relationship with his former best friend and future franchise mainstay Roman Pearce (Tyrese Gibson) to get to the bottom of a criminal organization. Chris "Ludacris" Bridges' Tej Parker is also introduced to the franchise in this 2003 sequel.
Stream 2 Fast 2 Furious on HBO Max. (opens in new tab)
Rent/Buy 2 Fast 2 Furious on Amazon. (opens in new tab)
The Fast And The Furious: Tokyo Drift (2006)
The biggest diversion from the franchise yet, 2006's The Fast and the Furious: Tokyo Drift introduces a completely new set of characters in a story centering on high-stakes drifting world in the Japanese megacity as told through the eyes of Sean Boswell (Lucas Black). When Boswell's need for speed leads to him mom sending him to live with his father in Tokyo, the high school trouble-maker quickly finds himself in a whole new world and new form of racing. Future franchise star Sung Kang makes his debut as Han Lue and quickly becomes a bright spot of the series.
Rent/Buy The Fast and the Furious: Tokyo Drift on Amazon. (opens in new tab)
Fast And Furious (2009)
Part sequel, part soft reboot, 2009's Fast and Furious (the first in the franchise to drop "The" from the title), picks back up with Dominic Toretto as he returns to Los Angeles to hunt down those responsible for killing someone he loves (setting up a major narrative thread for the next few movies). Along the way, the one-time leader of the city's racing scene crosses paths with Brian O'Conner, setting up a tense and fragile relationship that must be repaired through trust and an epic journey that completely revolutionizes the franchise. Gal Gadot's Gisele Yashar makes her Fast and Furious debut in the series' fourth installment.
Rent/Buy Fast and Furious on Amazon. (opens in new tab)
Fast Five (2011)
The fifth installment in the Fast and Furious franchise, 2011's Fast Five, really takes things to the next level with its story and over-the-top action set pieces that would eventually become the norm for the series moving forward. When Brian O'Conner and Mia Toretto break Dominic Toretto out of prison, they are forced to take a different path in life, one that leads them to the slums of Rio de Janeiro. Now a massive outfit, the Toretto gang prepare to pull off on hell of a heist, but only if Dwayne Johnson's federal agent Luke Hobbs doesn't get in their way.
Rent/Buy Fast Five on Amazon. (opens in new tab)
Fast And Furious 6 (2013)
Fast and Furious 6, which blew into theaters in 2013, follows the Toretto crew as they are given the opportunity of a lifetime from their new enemy-turned-friend Luke Hobbs: capture the deadly mercenary Owen Shaw (Luke Evans) and in return, receive a full pardon. What initially seems like an easy mission proves to be anything but when a ghost of Dominic Toretto's past comes back to haunt him. This would not be the last we would hear of the Shaw family name either.
Stream Fast and Furious 6 on Peacock. (opens in new tab)
Rent/Buy Fast and Furious 6 on Amazon. (opens in new tab)
Furious 7 (2015)
The final Fast and Furious movie to feature Paul Walker following the actor's tragic death two years earlier, 2015'sFurious 7 is one-part love sendoff to the franchise star and one-part logic-defying and globe-trotting adventure. When Deckard Shaw (Jason Statham) comes back to get revenge for his little brother, he sets his sights on the Toretto crew as well as the powerful satellite surveillance program known as God's Eye.
Rent/Buy Furious 7 on Amazon. (opens in new tab)
The Fate Of The Furious (2017)
Just when Dominic Toretto and company think they can sit back and relax with a bucket of ice-cold Coronas, they are brought back into the action, but this time on different sides. In the early stages of The Fate of the Furious, the mysterious cyber-criminal Cipher (Charlize Theron) blackmails Dom to betray his team and become part of her plan to enact nuclear war. Without their leader, Dom's crew must work with unlikely allies to save their family and the world from utter destruction.
Rent/Buy The Fate of the Furious on Amazon. (opens in new tab)
Fast And Furious Presents: Hobbs And Shaw (2019)
The first spinoff in the franchise, 2018's Fast and Furious Presents: Hobbs and Shaw shifts its focus from Dominic Toretto and company and instead follows Luke Hobbs and Deckard Shaw as they attempt to stop the cybernetically enhanced super-soldier Brixton Lorr (Idris Elba) from wiping out half the population with a deadly pathogen.
Rent/Buy Fast and Furious Presents: Hobbs and Shaw on Amazon. (opens in new tab)
Now there is nothing stopping you from catching up with the entire "Fast Saga" before the June 25 release of F9 at your local theater. If you want to know what else you can expect to see on the big screen, check out CinemaBlend's 2021 new movies guide for all the latest information.
Philip grew up in Louisiana (not New Orleans) before moving to St. Louis after graduating from Louisiana State University-Shreveport. When he's not writing about movies or television, Philip can be found being chased by his three kids, telling his dogs to stop yelling at the mailman, or yelling about professional wrestling to his wife. If the stars properly align, he will talk about For Love Of The Game being the best baseball movie of all time.
Your Daily Blend of Entertainment News
Thank you for signing up to CinemaBlend. You will receive a verification email shortly.
There was a problem. Please refresh the page and try again.