Pirates Of The Caribbean's Keira Knightley Explains How Being The 'Object of Everyone's Lust' Impacted Her Career And Sense of Self
Here's how playing Elizabeth Swann impacted Keira Knightly's career.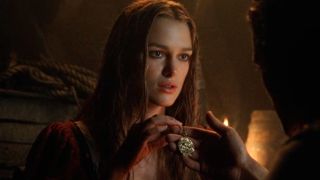 (Image credit: Disney)
When I think of Keira Knightley's movies the first films that come to mind are Pirates of the Caribbean, Pride and Prejudice and Love Actually. These films come to mind because, in the early 2000s, the actress blew up, and starred in many major roles that are still talked about today. However, from the actresses' point of view these movies, and Pirates in particular, made her feel like an "object of everyone's lust," and it impacted her future and sense of self.
As Knightley looked back on her career, she reflected on how audiences viewed her Pirates of the Caribbean character Elizabeth Swann, telling Harpers Bazaar:
Knightley went on to say that the form of femininity she was playing was not her own "lived experience," and she struggled to work with that. She continued talking about the period of time between 2005 and 2008 – which was when the movies Pirates of the Caribbean, Love Actually, Atonement and Pride and Prejudice came out – saying she felt trapped and "quite powerless" because she was constantly being looked at as a type of woman she's not. The actress said:
Also, in the article she discussed how women are perceived by the public, which is maybe why she felt caged, and explained why she has never liked it, saying:
Now, 20 years removed from her first appearance as Elizabeth Swann in the movie she thought would flop, but turned into a global success, Knightley has made a point to take on smaller projects where she can play more nuanced characters, as the story explains. However, this is not the first time the Oscar-nominated actress has spoken critically about her time in big-budget movies. She acknowledged how "fortunate" she is to have had such success, however, she always wanted to play women who are "complicated, interesting [and] strange."
In the years since 2008, Knightley has been able to take on projects she always wanted to do, like Seeking a Frend for the End of the World, Begin Again, The Imitation Game and Official Secrets, to name a few. Now, she's taking on another "complicated" and "interesting" role with Hulu's Boston Strangler.
It's really sad to hear how much making these beloved movies from the early 2000s hurt Knightley, however, I'm happy she was able to persist and use her success to get projects she had always dreamed of doing.
If you want to check out her latest project, be sure to check out the 2023 movie schedule so you are ready to stream Boston Strangler with a Hulu subscription on March 17.
Your Daily Blend of Entertainment News
Riley Utley is a Weekend Editor at CinemaBlend. She spent many years working in local journalism across the country writing about art, news and sports. One of her favorite films is When Harry Met Sally and she walks around constantly quoting Ted Lasso.