The 10 Best Movies Of 2014, According To Edgar Wright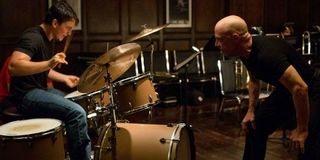 Now that we are closing in on the end of the year every man, woman, dog and grandmother is currently chomping at the bit to reveal their ten favorite movies of 2014. Most of the time you will probably have to politely nod and pretend to listen. But when Edgar Wright unveils his favorite films of the past 12 months you tune in intently and make notes. So without further ado, here are his stand-out movies of 2014 in no particular order:
Boyhood
The Grand Budapest Hotel
Birdman
Snowpiercer
Interstellar
Nightcrawler
Under The Skin
The Lego Movie
Whiplash
Edge Of Tomorrow
It's a pretty safe list from the Shaun Of The Dead and Hot Fuzz director. There aren't any avant-garde choices, they are all in the English-language and each of the films involve a cast or crew member who is a mainstay of America cinema too. However except for Interstellar, Edge Of Tomorrow and The Lego Movie they are all inexpensive, borderline independent, movies too. In fact Edgar Wright told Esquire: "I thought it was a great year for independent movies," while he also went into more detail about the specific reasons why he picked the aforementioned movies.
On Boyhood Edgar Wright admitted that he was so transfixed by Richard Linklater's intimate examination of growing up that he "left the cinema wondering if [he] had done everything [he] could with the last 12 years of [his] life." While Richard Linklater might be a tad worried about the mid-life crisis that his film provoked there's no denying the fact that Boyhood was one of the most thought-provoking and transfixing movies of the last decade. But Edgar Wright also found room to nod his hat to Hollywood's blockbusters too. Whether or not you found Interstellar to be either a soaring space opera that combined luscious visuals with a bombastic soundtrack to a rousing extent or simply a pompous dud you have to admit that seeing on the big-screen was a reminder of the power that cinema has. "Chris Nolan's most personal movie is also the best argument for seeing films on a giant silver screen," Edgar Wright explained.
And while I adore everything that Edgar Wright has ever overseen and find him cute as a button too, I have to admit that I didn't quite agree with one of his explanations. That might seem like a rather odd stance to take, especially considering that it is a person's opinion - and doubly especially when the person in question is one of the most stylish, visually arresting and idiosyncratic filmmakers in the world – but hear me out...
Edgar Wright describes Whiplash as his "favorite horror movie of 2014," and to me there was nothing terrifying about Damien Chazelle's rollicking masterpiece. I didn't even find JK Simmons terrifying in the film. I simply thought he was preposterously compelling to the point that by the end of the movie I found myself with a man-crush on bald 59-year-old man. It also swayed the camera, sliced the edit, and fizzled with acting energy in a way that cinema rarely does. Other than that I have no issue with Edgar Wright's list. In fact I agree wholeheartedly with everything on there.
It is strange that there wasn't any room for either Guardians Of The Galaxy or Captain America: The Winter Solder on Edgar Wright's list though. I wonder why …
Your Daily Blend of Entertainment News
Your Daily Blend of Entertainment News
Thank you for signing up to CinemaBlend. You will receive a verification email shortly.
There was a problem. Please refresh the page and try again.