The 10 Best Movies Of 2015, According To Fandango Users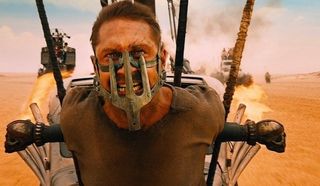 As the 2015 winds to a close, now is the time when everyone pours over the previous 365 days and makes their lists of the best movies to come out during the last calendar year. You've got critics groups, guilds, individual film fans, and just about everyone else who watches a lot of movies sounding off with their picks. Massive online ticket retailers Fandango spent the last few weeks of December polling users, and now that they've cast their votes, we have their list to pour over as well. As you probably guessed, these choices are a bit different than your average best-of list.
10. Mad Max: Fury Road
George Miller's return to the post-apocalyptic wastes he first visited in 1979, Mad Max: Fury Road, was a blistering, relentless blast of action directly to head and torso of viewers. Essentially one long chase scene, it didn't immediately strike a chord with wide audiences, but those who did see this raved about it and it wound up making a tidy sum of money. Besieged by production problems and delays, Fury Road, which recast Mel Gibson's Max Rockatansky with a nearly mute, borderline feral Tom Hardy, was worth every last second we waited. Add Charlize Theron to the mix as one of the most badass characters of 2015, and you've got a winner on your hands.
9. Inside Out
Animation studio Pixar is well known for pulling at our heartstrings and manipulating our emotions, and rarely has that been on as full a display as in this year's Inside Out. Following the adventures of the literal emotions that drive a young girl named Riley during a tumultuous time as her family moves across the country, characters like Joy, Sadness, Fear, Disgust, Anger, and Bing Bong, burrowed into the hearts of audiences across the world. For a studio renowned for such feats, Inside Out may go down in history as one of Pixar's crowing achievements, which is saying something indeed.
8. Trainwreck
Comedian Amy Schumer had a hell of a year in 2015, and she never shined quite as bright as in Trainwreck. Not only is it her first time leading a movie, it's her first time writing one as well, and her brand of crass, yet heartfelt humor is definitely at the forefront. Working with comedic director Judd Apatow, this is Schumer's show from end to end, and though it wasn't the biggest box office smash, it earned $110 million domestically against a $35 million budget. More important than that, however, it introduced Schumer to a wider audience and proved once again that she is a fresh new voice in comedy and someone to keep an eye on if you're not already.
7. Creed
Many of us scratched out head when we heard that there was another Rocky movie on the way, but Ryan Coogler, teaming up once again with Michael B. Jordan, gave us Creed, which is simultaneously another Rocky movie and something very much its own. Following the illegitimate son of Rocky Balboa's friend and rival, Apollo Creed, as he tries to carve his own way in the boxing world, Creed is emotionally engaging and proves that Sylvester Stallone can still act his ass off. This is another feather in the cap of Jordan, and illustrates that Coogler is one of the most exciting young filmmakers working his way up the ranks.
6. Jurassic World
Many people expected Jurassic World, the fourth installment in the Jurassic Park franchise, to be financially successful, but I don't think even the most optimistic executive at Universal expected it to become the third highest grossing movie of all time and the biggest box office earner of the year (at least until Star Wars: The Force Awakens unseats it). Fronted by Chris Pratt and featuring a number of new threats, including one particularly nasty lab-built hybrid, Jurassic World may have been big and dumb, but it certainly struck a nostalgic chord with older audiences and excited new generations, breathing fresh life into a franchise that looked dead in the water at one point.
5. Furious 7
When in doubt, jump a multi-million-dollar car from one skyscraper to another to yet another. In 2015 that go big or go home formula helped the Fast & Furious score it's first billion-dollar earner with Furious 7. Not only does the latest installment, which saw James Wan take over for recent franchise mastermind Justin Lin (who has now moved on to bring his adrenaline-fueled antics to Star Trek), have all of the over the top action sequences, exotic locations, and sex appeal that fans want out of the franchise, it also bid a tearful farewell to star Paul Walker, who tragically died in a car crash (not related to the movie). The chemistry among the characters is especially palpable in this chapter, which helped it to become one of the highest grossing movies of all time.
4. Avengers: Age Of Ultron
Avengers: Age of Ultron may have fallen short of its predecessors $1.5 billion global haul, but $1.4 billion ain't half bad; and though reviews were generally more mixed, they were still largely positive. Packed with superheroes both new and old, and tons of storylines, Age of Ultron isn't super surprising in any regard, but it is big and brash and fun, and, perhaps most importantly, sets the stage for a number of potentially interesting avenues for the Marvel Cinematic Universe to take as they dive head first into Phase 3.
3. The Hunger Games: Mockingjay—Part 2
The final installment of The Hunger Games franchise (at least until they start pumping out prequels) may be the lowest grossing installment of the franchise, but Mockingjay—Part 2 has quietly put together a nice sum. It may not be quite up to their standards, but the saga of Katniss Everdeen and the dystopian world of Panem quietly racked up more than $616 million at the worldwide box office. It does admittedly feel like the second part of a larger story, which it is (Lionsgate split the final book in Suzanne Collins' trilogy into two movies), but taken together with the first film, it should satisfy fans.
2. The Martian
If you ask us, Ridley Scott should only be allowed to make science fiction films from here on out. His adaptation of Andy Weir's novel, The Martian is fun, adventurous, and the legendary director's best offering in years. Matt Damon's astronaut Mark Watney is one of the first people to set foot on Mars, and he's likely going to be the first to die there. Left behind and for dead when his team has to evacuate due to a freak storm, The Martian is a story of survival, hope in the face of the greatest imaginable odds, and a celebration of how awesome science can be. Smart, harrowing, and surprisingly funny, this is deft blend of a small human story and a massive, special effects driven blockbuster.
1. Star Wars: The Force Awakens
Given the level of excitement and anticipation for Star Wars: The Force Awakens, not to mention the fact that it has already made more than $1 billion worldwide in less than two weeks, does this surprise any of you? Didn't think so. More a cultural phenomenon than a simple movie, this is one of those rare releases that multiple generations get stoked about. It's not perfect by any stretch of the imagination, but with The Force Awakens J.J. Abrams and company made a Star Wars movie that feels like a Star Wars movie. There are moments that will give you chills, moments that will move you to tears, and most importantly, it reminds you why you love Star Wars in the first place.