10 Big Reasons You'll Love The Avengers: Age Of Ultron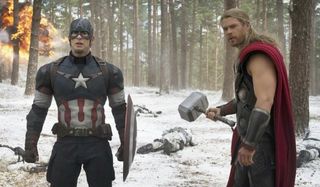 It seems like only yesterday when Marvel Studios President Kevin Feige and director Joss Whedon revealed the title of the anticipated Avengers sequel to an excited fanbase gathered in Hall H at San Diego Comic-Con. Instead, it was two full years ago, and the superhero sequel's actually unspooling in movie theaters around the globe. Some of you have been lucky enough to see the movie already -- The Avengers: Age of Ultron began screening at midnight in international markets. Others, like our readers in the States, have to wait until next week.
My Age of Ultron review went up yesterday, and I tried to avoid spoilers. I'll continue to protect the biggest reveals in this fun list exploring the joys of Joss Whedon's Avengers sequel. But there are a handful of interesting elements that I wanted to discuss in greater detail to help get you fired up for the first Marvel movie since last summer's Guardians of the Galaxy. Here are 10 reasons you are going to love Joss Whedon's The Avengers: Age of Ultron… with light spoilers, but pretty much focusing on things that you might have figured out from trailers and clips.
The Whole Team's Back Together
Avengers Assemble! It's more than just a rallying cry. It's the main reason why the Avengers movies are such a kick for comic book fans. We finally get to see the entire team in action, fighting alongside – and yes, occasionally against – each other. The solo, standalone Marvel movies have played with team ups. Namely, Captain America: The Winter Soldier found room for Black Widow (Scarlett Johansson) and Falcon (Anthony Mackie), while Mark Ruffalo made a funny cameo in Iron Man 3. But the only place you can see the whole team assembled is in an Avengers movie, and that's reason enough to celebrate.
It's A New Joss Whedon Film
Whedon remains one of our most creative and purely entertaining storytellers, but his commitment to the Marvel Cinematic Universe has meant that any output not tied to capes and costumes has been diminished. When Whedon turns away from Marvel, he stimulates and inspires with modern Shakespeare translations and deconstructions of the horror genre. More than anything, Age of Ultron marks the return of Whedon to our movie theaters, and with that comes all of the characteristics (snarky dialogue, kick-ass female characters, earned pathos) we've come to adore in his cinema.
Hulk, Hulk And More Hulk
At Joss Whedon's request, Marvel shelved the great green beast between Avengers movies. So while Cap, Thor and Iron Man prevailed in solo films, Hulk – and his diehard fans – waited patiently for Age of Ultron to roll around. The director has a few interesting character beats that he wants to take Dr. Bruce Banner through – and more than anything, you'll want to know exactly where Hulk is at the conclusion of this film (NO SPOILERS). But on a base level, The Avengers: Age of Ultron should get you pumped because it's the first time you will see Hulk on screen since 2012, and the mighty Marvel hero celebrates by pounding his fists into several Ultron robots, and even Iron Man, himself.
The Marvel Cinematic Universe Expands
With the release of The Avengers: Age of Ultron, Marvel's second Phase begins to draw to a close (it officially ends with this summer's Ant-Man). So a large part of Age of Ultron involves expanding the scope of the Marvel Cinematic Universe so that new threads can be picked up in Phase Three. Where the first movie mainly took place in and around New York City, the sequel globetrots to numerous locations, from a HYDRA base in Eastern Europe to a laboratory in South Korea. Pay attention to the references to Wakanda, also. They will be very important when Black Panther enters the MCU.
We Finally Get Quicksilver And Scarlet Witch
Joss Whedon selected six heroes as the founding members of his initial Avengers team. But those who know their Marvel history understood that key characters from the comic-book company's past needed to one day make their silver screen debuts as part of the MCU… and two legends get their chance in Age of Ultron. Aaron Taylor-Johnson faced an uphill climb, seeing as how Bryan Singer beat him to the punch with an incredible Quicksilver in X-Men: Days of Future Past. But it's Elizabeth Olsen who really brings a terrifying force to the character of Scarlet Witch. After seeing Age of Ultron, you come to realize what Captain America states in a TV spot for the film: she has the power to tear "Earth's mightiest heroes" apart like they were made out of tissue paper.
It's Wall-To-Wall Action
Sequels frequently up the ante, building on their immediate predecessor to increase the "wow" factor. For Age of Ultron, it really had to find ways to top the Battle of New York that concluded Joss Whedon's initial movie (and sent ripples through the MCU that was felt as far away as Iron Man 3 and the Daredevil Netflix show). Though he keeps a tight focus on character development, Whedon delivers on the huge, comic-book action you require. There are multiple, massive set pieces in Ultron that will have Marvel geeks bouncing in their seats, amazed at the imagery of their favorite heroes in action.
Every Hero Gets A Chance To Shine
We know that this will be Joss Whedon's last stint in the director's chair for an Avengers movie, at least for the foreseeable future. Joe and Anthony Russo have been tapped to helm the two-part Infinity War saga, and if there's one thing I hope they learn from Whedon, it's how to give each Avenger his or her own time in the spotlight. It's an impossible task, juggling the weight (and ego) of each person in the Avengers cast. But in scene after scene, Whedon figures out who to give the right line to, and who to insert when he needs an action flourish in a powerful fight scene. No matter your favorite Avenger, you'll likely leave Age of Ultron satisfied by their involvement in the ensemble.
But Hawkeye Kind Of Steals The Show
This is a make-good from the 2012 movie, and Whedon knows it. In fact, he includes a couple of pointed jokes about how Jeremy Renner's Hawkeye was shelved for the better part of The Avengers, controlled by Loki in a humdrum mind meld. Well, the expert archer is loose and ready in Age of Ultron, and he gets a number of exciting action beats… as well as an unexpectedly quiet and emotional character arc that places these heroes in a much different light. It's nice to be reminded every once in a while that Marvel hires actual actors for these roles (Renner is a two-time Academy Award nominee!), and you'll be thankful that Whedon finally figured out the right way to use this interesting tool that he has at his disposal.
The Vision Is Incredible
We've known for some time that Paul Bettany's J.A.R.V.I.S. program was going to evolve into the classic Marvel hero The Vision. But Marvel really has gone the extra mile to keep the hero out of as much of the marketing as it could leading up to The Avengers: Age of Ultron. Well, the payoff is worth the wait. Vision's a spectacular addition to the Avengers roster, and you will think it's worth the price of admission to Ultron just to see this Marvel figure in action. He's a spectacular creation, and one who I hope Marvel finds use for in numerous movies through Phase Three and beyond.
OK. This last one is a super big spoiler. I'm going to include ONE juicy reveal. And you do NOT want to click over to the last page unless you really want to know something NEW about The Avengers: Age of Ultron! You have been warned!!
You Get Another Look At Thanos!
The next time we see the Avengers assembled, they will be taking on the mad titan, Thanos, in the first part of the Infinity War saga. That's not until 2018, though. So, to remind viewers of the looming threat, Marvel included a mid-credits stinger of Josh Brolin in character as Thanos, grabbing an Infinity Gauntlet and proclaiming, "Fine, I'll do it myself." It's time for Marvel to start delivering on the promise of Thanos. He has been teased for far too long with no payoff. The punch doesn't land in Ultron, but I get the sense that Phase Three will be the villain's time to shine.
Sean O'Connell is a journalist and CinemaBlend's Managing Editor. He's frequently found on Twitter at @Sean_OConnell. ReelBlend cohost. A movie junkie who's Infatuated with comic-book films. Helped get the Snyder Cut released, then wrote a book about it.
Your Daily Blend of Entertainment News
Thank you for signing up to CinemaBlend. You will receive a verification email shortly.
There was a problem. Please refresh the page and try again.