Kevin James To Lead New Swiss Family Robinson-Inspired Adventure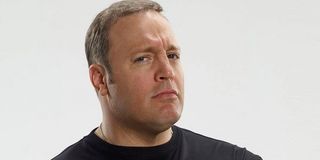 Kevin James won our hearts as the lovable schlub at the center of the sitcom The King of Queens. But after a string of supporting roles and leads in comedies like Paul Blart: Mall Cop, Grown Ups and Here Comes The Boom, is he about to become an adventuring hero?
THR reports Kevin James has been attached to headline Stranded, a shipwreck family-adventure inspired by The Swiss Family Robinson. No director has been announced in conjunction with the in-development production just yet, but Sony has secured Tripper Clancy to script it. Clancy's only credit to date is for a short film he wrote and produced called "Just One of the Gynos," which follows the journey of a male gynecologist whose work gets in the way of connecting sexually with his wife.
Check out a NSFW trailer for this sex-comedy short below.
Perhaps it's unfair to judge based on this trailer, but "Just One of the Gynos" doesn't personally inspire confidence in Tripper Clancy's scripting skills. Nonetheless, he's an up-and-coming scribe who has a slate of projects in the works, including Winter Break, Shedd and The Ambassadors. So maybe he really shines in feature-length screenplay form.
Few plot details about Stranded are being shared right now. But based on its comparison to Johan David Wyss's beloved novel The Swiss Family Robinson, we can assume that Sony's family-adventure will focus on a family being stranded, perhaps on a desert island, where presumably they not only learn to survive, but thrive by working together. It's easy to imagine Stranded as a road trip movie that location-wise goes nowhere, but tracks the same emotional and narrative terrain as Little Miss Sunshine or We're The Millers.
Swiss Family Robinson has previously been adapted a slew of times, first in 1925, and most recently as another movie called Stranded. This one was a made-for-TV movie that boasted no major stars, so this Stranded has no need to worry over title confusion. What Sony may have concerns about is Disney, which produced the most popular Swiss Family Robinson in 1960. The studio not only scored a critically praised box office hit with their version, but also has been floating the idea of a remake.
Could Sony's play for Stranded kick Disney's Swiss Family Robinson revamp back into play? We'll keep you posted. In the meantime, look for Kevin James in the dramedy Little Boy, which will hit theaters June 6th. And of course there's Paul Blart: Mall Cop 2, due out April 17th, 2015.
Staff writer at CinemaBlend.
Your Daily Blend of Entertainment News
Thank you for signing up to CinemaBlend. You will receive a verification email shortly.
There was a problem. Please refresh the page and try again.