10 Galactic Truths We Learned From The Guardians Of The Galaxy Q&A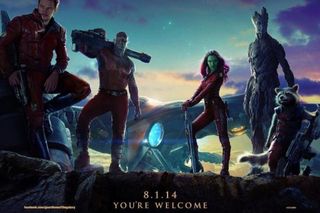 Facebook was the place to be this afternoon for an in-depth Guardians of the Galaxy live Q&A and trailer release event. On hand to answer questions were director James Gunn, Marvel Studios chief Kevin Feige, and stars Chris Pratt, Vin Diesel, Dave Bautista, and Karen Gillan. What followed was a 45 minute session of questions about subjects both serious (running time/getting into character), as well as funny (Rocket's work ethic/who'd win in a fight between Hulk and Drax). Amidst the thousands of posts were a couple really good pieces of information, and we've got a couple more pieces to the puzzle that go beyond what was seen in the new trailer.
1. Even Star Lord's Mix Tape Is Being Treated As Secret
Everyone has identified the film with its successful usage of Blue Suede's Hooked On A Feeling, so much so that the single spiked in sales after the first trailer's debut. But what we learned today is that there's going to be plenty more hits where that came from, and it's all part of the film's plan to help us identify with Peter Jason Quill.
If the trailer is any indication, Spirit In The Sky will also play a part in Quill's musical backstory. Also, if the mix tape is that important to the character, it wouldn't be a shock (in fact, it'd almost be expected) if it were to get its own soundtrack release. Whether it will be independent of the Tyler Bates score and whatever pop music compilation they may have planned for the film (if one is in fact in the offing), is to be seen. But if this winds up happening, then fans will probably be begging for the exact mixes used for both songs in the trailers.
2. The Run Time Looks To Be Close To Two Hours
Not every question was a hard hitting, or hysterical, home run – but we did manage to get some crucial details about the film. When a rather detail minded fan asked about the running length of the film, Gunn replied with a very cut and dry answer:
Most movies can keep editing until later in the process than the point we're at now, but knowing the machine Marvel is running (and knowing how exacting James Gunn is with his films), it's no surprise we're almost at the point of a final picture lock. Between the 3D conversion process and the test/preview screenings the studio will want to run, the finished product will need to be up and running at a fairly advanced interval than the film's August 1st premiere. It's also good to know that not every Marvel film has to be two and a half hours in length. Not that they've overstayed their welcome yet, but letting filmmakers know it's OK to bring in an uncompromising, briskly-paced length of a film is always a good thing.
3. Marvel Understands Sequel Fatigue, While Feeding Into It Very Carefully
Marvel's master plan involves a slate of two to four films every year until 2028, and they are not shy at all about this fact. While this is undoubtedly going to be filled with Avengers, Ant Man, and even Captain America and Thor sequels, the studio is also keen to keep some fresh blood circulating in the system. In fact, that's pretty much the core reason the studio brought Guardians of the Galaxy on board in the first place.:
It may sound like a good hedge of a bet, especially coming out of Mr. Feige's official mouth, but even a successful studio like Marvel has known when to ease the throttle, and when to feed the beast. Iron Man was a hit, so naturally it was the first to get into the sequel game, while The Incredible Hulk needed a successful overhaul in The Avengers in order to get the public to ask for his return. Should the film be as successful as everyone hopes it will be, Guardians of the Galaxy could prove to be a massive boon to the Marvel canon, thanks to its far far out their nature and wide array of characters.
4. Chris Pratt Is A Decent Enough Wrestler That Dave Bautista Can't Even Peg A Clear Winner
One of the more colorful members of the team (as well as the Q&A) was wrestler turned actor Dave Bautista. In the same session where he espoused a strong belief that Drax could take The Hulk in a hot minute, he also revealed that Chris Pratt himself was actually an experienced grappler himself:
For Bautista to not even try to pick a winner in the match shows either one of two things: either he really thinks Pratt could give him a run for his money, or he's being diplomatic to a friend and not trying to stir the pot. Both are believable, especially considering how jacked Pratt has gotten for movies like Zero Dark Thirty after being in a lesser shape for his roles in Her and Parks And Recreation. Still, no matter which version of the truth is actual, it's cool to know that Bautista is following in the cool-headed footsteps of Dwayne "The Rock" Johnson, and proving to be just as cool of a talent.
5. Star Lord May Have A Close Call With Death
When asked about the first and last events in his own personal Guardians Of The Galaxy timeline, Chris Pratt had a really interesting and involved answer. An answer that may perhaps give away part of the film's events:
So now we know that at least once Star Lord is going to be running out of air, and therefore time, coming ever close to death before being rescued from the jaws of oblivion. For some reason the first scenario I can think of in terms of his rescue is a triumphant act of heroism by everyone's favorite "house plant/personal muscle," Groot. Or, if the romantic angle is what we're looking for, this would be a perfect time to have a close and personal moment with Gamora. Guess we'll have to find out what the test audiences rule in favor of.
6. Karen Gillan Wants You To Love To Hate Nebula
Much like her Doctor Who co-star Matt Smith, Karen Gillan has taken her departure from the famed British science fiction show as an opportunity to let her hair down. Or in this case, liberate herself completely from it, in order to play the bad ass sadist Nebula. And much like Smith before her, Ms. Gillan looks ready to embrace the darker side of her acting range:
Guardians of the Galaxy looks to be a break out role for Karen Gillan, as the role has required a heaping dose of physical training as well as transformation, and both look to have paid off. The added drama of Nebula and Gamora's mutual connection to Thanos will definitely fuel what already looks to be a rough and tumble fight sequence that's been hinted at more than once in the footage released. Let's just hope that there's still enough of Nebula left to return in a sequel, as she's looks to be as much of a fan favorite as the actress behind her.
7. Marvel Knows How To Market To Its Fans
Two words resonated with audiences when the first poster for Guardians of the Galaxy dropped. Two words no one would ever expect to see on a serious poster for a serious movie, yet there they were sitting on the bottom of the one-sheet: "You're Welcome." Yet the geniuses in Marvel's marketing machine came up with a sly, unexpected way to sell a confident blockbuster, and it paid off in spades:
How do you not see a movie that has the tag line "You're Welcome?" A movie as confident in itself as this one certainly deserves a look from the curious public, and when you've got a genetically enhanced raccoon with the voice of Bradley Cooper present, you've already set yourself apart from the rest of the pack. While The Guardians will definitely pull some comic style heroics to save the day, the film looks like it's shaping up to be a film in the vein of Lethal Weapon for kids, with each Guardian personifying a little bit of Martin Riggs in a system of Roger Murtaughs.
8. Background In The Comics Is Not Necessary (But A Specific Set Of Works Are Sourced)
So another obvious question fans will want answered before seeing Guardians of the Galaxy is which stories they should be current with in order to have relevant and up to date background information. While a definitive answer is there to be had, the director suggested an alternate approach as an equally successful strategy:
Watchmen stands as a time tested example of what happens when you adhere just a little too closely to the source material. Thankfully, Guardians of the Galaxy seems to be a looser story to keep track of, which means you can pick and choose which details to include and when to include them. Much like The Avengers, the team is more of a focal point to the story than the actual plot line of the books. While there will undoubtedly be a certain level of fidelity to the source material, it's probably best for fans of all stripes to just enjoy the ride as it happens.
9. Groot Helped Vin Diesel Cope With A Personal Loss
The challenges of getting into character with a character like any of the Guardians of the Galaxy are tough whether you're on screen or not. But there's no denying that for Vin Diesel or Bradley Cooper, the challenge is a little greater, as their characters are physically created off set. For Diesel though, the role of Groot was not only a geek dream come true for him, it was also a form of therapy:
Everyone knows how close Vin Diesel was to Paul Walker, and if anyone forgot – that answer is the perfect reminder. With moments both gentle and raging in store for his character, it's nice to know that there was a healthy outlet for Mr. Diesel to vent his sorrow through.
10. Lloyd Kaufman Will Have A Cameo
While the standard Stan Lee cameo may or may not be in the film, there's another cameo that we should be looking out for when Guardians Of The Galaxy un-spools before our eyes. Apparently, James Gunn was asked by his old boss and Troma impresario, Lloyd Kaufman for a bit part in the film. When telling the story during the Q&A, the director basically summed up the entire Kaufman's smooth, yet subtle approach to requesting his cameo:
It's nice to see that even with a big-budget, family friendly franchise under his belt; James Gunn is still pretty close to his roots as a filmmaker. (It's also nice to see that all it takes is a polite request of grovelling to gain a cameo in a James Gunn film. Hey James, please please let me be a slug minion in Slither 2: The Last Temptation of Bill Pardy?) From everything we've seen up to this point, this movie looks like it's a great crossroads between Gunn's out there sensibilities and the comic excitement Marvel has been hoping to cash in on.
Guardians Of The Galaxy will open in theaters on August 1st, 2014. No word yet on when we'll be able to pre-order Rocket Raccoon plushies, but more on that as it develops.
CinemaBlend's James Bond (expert). Also versed in Large Scale Aggressors, time travel, and Guillermo del Toro. He fights for The User.
Your Daily Blend of Entertainment News
Thank you for signing up to CinemaBlend. You will receive a verification email shortly.
There was a problem. Please refresh the page and try again.