10 Greatest Football Movies, Ranked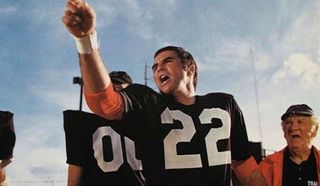 Football is a game that ignites passion in millions of fans across the country, with the fever spreading further across the globe every year. As a sport it often plays out a very human drama in the compressed space and time. It can symbolize us at our very best, and at our very worst, but there's certainly something very special about the haphazard flight of an oddly shaped ball thousands of miles away that make strangers cheer and hug a cry in bars across the country on any given Sunday.
As such, it's been easy fodder for movies throughout the years, both great and terrible. Perhaps this would have been better timed last week, to coincide with the kick off of the football season (the NFL anyway, the college game burst out of the gates a few weeks ago, but now I'm mixing metaphors), but we thought what better time to count down some of the greatest football movies of all time. There are tons to choose from, and I openly admit at least a few of my selections are very questionable. Let us know what you think of this list, and what changes you would have made, in the comments section below.
10. Wildcats
Right out of the gate I know I'm going to get grief for this one, but since I was a kid, I've loved the hell out of Wildcats. Goldie Hawn plays an assistant high school football coach who no one takes seriously because she's a woman, despite a lifelong love of the game, a deep knowledge, and more skills than any of her colleagues. When she finally gets her shot, it's the job no one wants, at the head of a predominantly black team full of misfits that have a long history of losing. Sure, there's a definite white savior complex going on, but the film actually hits on race, class, and gender issues, has a cast that includes Wesley Snipes, Mykelti Williamson, Woody Harrelson, and more, and is damn funny to boot. And Goldie Hawn raps.
9. Paper Lion
Writer George Plimpton did not look like a football player, but that didn't stop him from participating in the Detroit Lions' training camp, an experience documented in his book Paper Lion. A wish-fulfillment stunt to be sure, it was adapted into a movie in 1968 with Alan Alda playing the role of Plimpton as he attempts to hide his lack of football skills and navigate the world of professional sports. There are differences from the source, but the result is sharp and funny, not to mention full of real-life pro football players and personalities, including Vince Lombardi himself.
8. Varsity Blues
Kind of the flipside of Friday Night Lights (more on that later), Varsity Blues captures the sense of just how big a deal high school football is in the state of Texas, but doesn't take its subject matter in an over serious manner (the barbecue argument between two fathers is spot on). When Mox (James Van Der Beek at the height of his Van Der Beekiness) takes over as quarterback from the injured starter, Lance (a pre-Fast and Furious Paul Walker), his life changes overnight. All of a sudden he has the keys to the kingdom, and you can be damn sure he's going to take full advantage of that. And we can thank this movie for popularizing the whip cream bikini.
7. The Blind Side
Based on the dramatic, real life story of Michael Oher (played by Quintin Aaron), who is still a professional football player, it was Sandra Bullock who walked away with an Academy Award for her performance in The Blind Side. Another movie that has been criticized for having a white savior narrative, the story sees Bullock's Leigh Anne Tuohy (Bullock) take in and ultimately adopt Michael, then a young high school runaway. While the source material may be a little bit bland, despite the fact that it is based on real events, Bullock's fiery performance carries the inspirational film.
6. Remember The Titans
Over the years, football, among many other sports, has often crossed paths and intersected with social justice and civil rights struggles, and those issues are front and center in Remember the Titans. The story of an African American high school coach, played by Denzel Washington, who must get his racially diverse team to put aside generations of ingrained differences and play as a single cohesive unit. Perhaps not a particularly deep examination of embedded prejudices, it serves as a simple parable about racial unity and human similarities, all gussied up as a triumphant sports movie.
5. Friday Night Lights
Based on the nonfiction book of the same name, Peter Berg's Friday Night Lights is an examination about the fandom and fanaticism surrounding high school football in Texas. Set in the pigskin obsessed hamlet of Odessa, this is a very different take on the subject that Varsity Blues. Following a football team over the course of a season, it shows how the entire town, from social to political lives and beyond, revolves around the team, and illustrates the pressure the players are under almost from birth. Billy Bob Thornton plays the hard-assed coach, always on the verge of being fired, no matter how successful the team is, and the film and book served as the inspiration for the critically acclaimed series that followed.
4. The Longest Yard
Not to be confused with the 2005 remake starring Adam Sandler (though Burt Reynolds does appear in both, taking over the coach role in the new version), former pro football player Paul "Wrecking" Crewe (Reynolds) finds himself incarcerated in 1974's The Longest Yard. A sadistic prison warden forces Crewe to field a team of inmates to play his own semi-pro team, and though the results stakes could very well turn out to be life or death, and it is set in a prison full of violent criminals, this is also a comedy. Featuring legendary football player like Ray Nitschke and a Hal Needham choreographed car chase, this has been remade a number of times, including in Egypt, and is a damn fine time.
3. North Dallas Forty
Part sports drama, parts sharp satirical comedy, 1979s North Dallas Forty pulls back the curtain and offers an insightful look behind the scenes at professional football of that era. Based on a novel written by a former Dallas Cowboy, the action follows the fictional North Texas Bulls, and the film—which stars Nick Nolte and Mac Davis as a wide receiver and quarterback, respectively—has been praised for its strong characters and authenticity in its depiction of both the lives of the players and the hypocritical bureaucracy of the institution of professional football.
2. Rudy
The world is full of sports metaphors that transcend the game where they originated, and one of the most pervasive is how the name Rudy has become synonymous with triumphant underdog. Even non-sports fans know what this means. 1993's Rudy tells the true story of Rudy Ruettiger, a walk on player at perennial college powerhouse Notre Dame, who, through sheer grit, guts, and determination to never give up, gets his triumphant moment to shine. Of course, the real story has been prettied up some as the legend has grown over the years, but it still remains a moving tale of believing in yourself and never giving up.
1. Brian's Song
Technically an ABC Movie of the Week, 1971's Brian's Song is regarded as one of the best made-for-TV movies of all time. Based on the memoir by legendary running back Gayle Sayers, the film recounts the friendship between Sayer (Billy Dee Williams) and Brian Piccolo (James Caan). After turning pro following college, Piccolo is stricken with a terminal form of cancer, and the film follows him as he battles the disease, which ultimately cost him his life at just 26. It's a powerful movie about friendship that transcends just football, and was so well received initially that it got a theatrical run and we even remade in 2001.
Your Daily Blend of Entertainment News
Thank you for signing up to CinemaBlend. You will receive a verification email shortly.
There was a problem. Please refresh the page and try again.