Friday Night Lights Vs. Varsity Blues: Which Texas High School Football Movie Is The Real Champ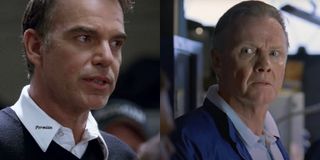 Anyone who has spent any amount of time in and around Texas during the fall months knows that the general population in the Lone Star State is obsessed with high school football. There have been books, TV shows, and documentaries about the phenomenon that is prep football, but few capture the passion, pageantry, and raw emotion that is a Friday night under the stars in the Heart of Texas Friday Night Lights and Varsity Blues. But which film does a better job?
Below we will break down and compare several aspects that can be found in both movies and decide once and for all, which Texas high school football is not only the better movie but also which of the two films better captures the essence of the only thing Texans love more than the Dallas Cowboys. Let's find out who's the real champ of the Lone Star State.
The Plot
Before we get into all the nitty gritty details about the specifics of Friday Night Lights and Varsity Blues, let's first break down each movie's plot and which one is more effective.
Friday Night Lights' Plot
Based on a true story, Friday Night Lights tells the story of the 1988 Permian Panthers, a high school football team based in Odessa, Texas. When star running back James "Boobie" Miles suffers a potentially career-ending injury during the opening game of the season, his teammates, classmates, and fellow Odessites fear all is lost. What follows is an improbable season that takes the Panthers to the State Championship game in a losing effort against Dallas Carter High School.
Varsity Blues' Plot
Set in the fictional town of West Canaan, Texas, Varsity Blues follows Jonathan "Mox" Moxon (James Van Der Beek), the backup quarterback for West Canaan High School as he is thrust into the spotlight after the starting QB, Lance Harbor (Paul Walker) suffers a horrific knee injury and is forced to stand on the sidelines. Going against the tyrannical head coach and conventional wisdom, Mox leads the Coyotes to the District Championship game which they win in spectacular fashion.
Which Movie's Plot Is Better
While Varsity Blues' story about Jonathan "Mox" Moxon is great (as are various subplots about his teammates) and makes for some great drama, the movie's plot pales in comparison to that of Friday Night Lights' and how it tackles so many different issues off the field that go beyond high school drama. The story of James "Boobie" Miles (Derek Luke) and his uncle going on a crusade to fix his ACL to the way the town responds to the loss is absolutely heartbreaking.
Depiction Of Football Culture In Texas
With both movies being set in the heart of Texas, it only seems natural for each film to showcase the football culture that is so prevalent throughout the state, but which does a better job?
Friday Night Lights' Depiction Of Football Culture
One of the best examples of Friday Night Lights' true-to-life depiction of football culture can be seen in the character of Charles Billingsley (Tim McGraw), the alcoholic father of fullback Don Billingsley (Garret Hedlund) who won a State Championship with the Panthers in his day but has never let go of youth or gotten over his "glory days," creating a myriad of issues.
Varsity Blues' Depiction Of Football Culture
In Varsity Blues, West Canaan, like many small towns in Texas, essentially shuts down every Friday night as the Coyotes take to the gridiron. Students, teachers, school officials, parents, business owners, you name it, they're all there to watch the game under the lights each week, creating this close-knit and high-intensity environment that feels as real as anything you'll see on ESPN.
Which Movie's Depiction Of Football Culture Is Better
This round has to go to Varsity Blues simply for the fact that it faithfully captures the feel of football-obsessed small town in Texas on a Friday night. It gets bonus points for the way Jonathan "Mox" Moxon is transformed from a nobody to the most popular person in town in a split-second.
How Injuries Affect The Team
Another thing Friday Night Lights and Varsity Blues have in common is the way in which the conflict of both films largely has to do with star players suffering devastating injuries on the field. It's only the approach that is different.
Friday Night Lights' Injuries
Multiple players on the Permian High School football team sustain injuries throughout the course of the movie but none compare to running back James "Boobie" Miles who tears his ACL after being tackled in the opening game of the 1988 season. Ahead of the playoffs, Boobie lies to Coach Gary Gaines (Billy Bob Thornton) and says that his knee is fine, but the injury becomes even more severe when he takes a hard hit later in the game.
Varsity Blues' Injuries
At the start of the season in Varsity Blues, Lance Harbor is the starting quarterback and star of the team so when a nagging knee injury threatens West Canaan's hopes of a championship season, Coach Bud Kilmer (Jon Voight) pressures the high school athlete into injecting shots into the affected area to numb the pain. This shortsighted plan backfires and Lance's knee is injured once more, this time costing him not only the season but his football scholarship to Florida State University.
Which Movie Does A Better Job Of Tackling Injuries
Lance Harbor's injury and the driving force behind it in Varsity Blues does make for great drama, it lacks the subtlety of Boobie Miles' journey in Friday Night Lights, which is more effective at showing the lengths athletes will go to follow their dreams while not being forced to do so by a tyrannical coach.
The Quarterback
Friday Night Lights and Varsity Blues both feature teams led by improbable leaders with Mike Winchell (Lucas Black) and Jonathan "Mox" Moxon, respectively, but which quarterback brings more to his team?
Friday Night Lights' Quarterback
At the start of the season, Mike Winchell essentially has one goal: get the ball to Boobie Miles. That obviously goes out the window with the running back's injury in the opener, forcing Winchell to step up his game and become a leader both on and off the field if the Panthers are to win the State Championship.
Varsity Blues' Quarterback
Mox Moxon starts off the season counting down the days until West Canaan and his life in Texas are in the rearview mirror, but that all changes when he's thrust into the spotlight. Through it all, Mox keeps his wits about him and pulls through to win the District Championship on his own terms and while also not sacrificing himself or his teammates to fuel the ego of his head coach.
Which Movie Has The Better Quarterback
Nothing against Lucas Black and his portrayal of Mike Winchell, but there is no way he can compete with the charm, athleticism, and intelligence of Mox Moxon from Varsity Blues. By the end of the postseason, he is literally running the show and giving everyone on the team a shot and a voice, becoming the embodiment of a hero.
The Coach
The coaches in Friday Night Lights and Varsity Blues could not be any more unlike one another in every possible way and represent two completely different leadership philosophies.
Friday Night Lights' Coach
Coach Gary Gaines in Friday Night Lights is a tough and stern man, but he genuinely cares about the players on his team and members of his community. Gaines didn't want Boobie Miles playing when he got injured and only did so after the running back blackballed his backup prior to the fateful play. There's a similar situation later when Miles lies to Gaines to get back on the field, further injuring himself.
Varsity Blues' Coach
Coach Bud Kilmer, on the other hand, is an egotistical maniac who cares about one thing and one thing only: his ego. Sure, he wants to win, but not for his players or his school's pride. Instead, Kilmer wants to win, through any means necessary, to feed and stroke his ego. Lance Harbor, Billy Bob (the late Ron Lester), and others pay dearly for this mentality.
Which Movie Has A Better Coach
This one isn't even close; Coach Gary Gaines from Friday Night Lights is the better high school football coach.
And The Winner Is...
Well, after going through each of the rounds, we have a clear winner: Friday Night Lights. While Varsity Blues does get points for its lead in James Van Der Beek and its depiction of small-town life in Texas, Friday Night Lights' plot, delicate handling of on-field injuries, and its more grounded portrayal of a high school football coach give it the edge here.
Both of these dramas deserve a spot on the list of best sports movies for their own reasons, and that's before you even consider the great soundtracks that were included with each of them.
Your Daily Blend of Entertainment News
Philip grew up in Louisiana (not New Orleans) before moving to St. Louis after graduating from Louisiana State University-Shreveport. When he's not writing about movies or television, Philip can be found being chased by his three kids, telling his dogs to stop barking at the mailman, or yelling about professional wrestling to his wife. If the stars properly align, he will talk about For Love Of The Game being the best baseball movie of all time.