Remember The Titans: The Cast Then And Now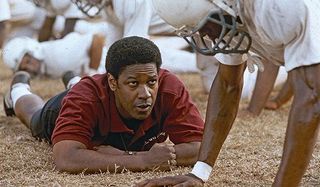 A good team sports movie always needs an extensive cast to fill out all the roles, but that's especially true for good football movies, which have several different positions to fill with strong actors, both on and off the field. Remember the Titans however, was sold on the star power of the head coach, so the team itself was made up of mostly unknowns at the time.
But a lot can change in the span of 15 years, and many of those previously unknown actors are as far from unknown as you can get today. So what happened to the cast of Remember The Titans? Let's take a look back at one of the most inspirational football teams in movie history and see where the individual members of the fantastic ensemble wound up.
Denzel Washington
Denzel Washington was the only real movie star when Remember the Titans hit screens in 2000. He'd already won his first Academy Award for 1992's Glory, and he'd been nominated for another the year the year before for his lead role in another sports film: The Hurricane. Following his role as Titans coach Herman Boone, Washington would go on to win the Best Actor Academy Award in 2001 for his performance in Training Day. He recently reunited with director Antoine Fuqua for the remake of The Magnificent Seven, which will be out in 2016.
Ryan Hurst
Fans will remember Ryan Hurst for portraying linebacker and team captain Gerry Bertier in Remember The Titans - a character tragically paralyzed in the film. In the years since the film's release, Hurst took on a number of big screen roles (including films like We Were Soldiers and The Ladykillers, but today the actor is probably best known as Opie Winston from the recently concluded FX series Sons of Anarchy. With that show now over, he will continue his run on the small screen and will next be seen in the new series Outsiders, which will be premiering in January 2016.
Hayden Panettiere
Hayden Panettiere started acting in soap operas at the age of five years old, playing Sarah Victoria 'Flash' Roberts on One Life To Live and Lizzie Spaulding on Guiding Light. However, she moved to the big screen to play Will Patton's daughter, Sheryl, in Remember the Titans, and it wound up being huge exposure for the young actress. Years later, Panettiere got notice playing "The Cheerleader" Claire Bennet in the original run of the series Heroes. She has since stuck to the small screen, and can now be found playing country music star Juliette Barnes on the ABC series Nashville.
Will Patton
While Will Patton is usually not called a movie star, he's one of the more familiar faces in movies today thanks to dozens of memorable character roles. Whether you remember him as General Bethlehem in the Kevin Costner bomb, The Postman, as Bruce Willis' sidekick Chick in Michael Bay's asteroid movie Armageddon, or as Atley Jackson in Nicolas Cage's remake of Gone in 60 Seconds you probably saw him someplace of note prior to seeing him as Titans assistant coach Bill Yoast. In recent years Patton has, like many actors, been spending a lot of time on television, primarily on TNT's alien invasion series Falling Skies.
Wood Harris
In Remember The Titans, Wood Harris played DE Julius Campbell, one of the African American students who had the hardest time dealing with the desegregated high school. In the time since the film was released, Harris has continued to act and had two small but prominent roles on the big screen in 2015. In July he could be found in the Marvel Cinematic Universe playing Officer Gale, one of the detectives chasing down Paul Rudd's Scott Lang in Ant-Man. More recently he was featured as part of the Rocky franchise, featured in Creed as Tony "Little Duke" Burton, the boxing trainer of Apollo's Delphi Gym.
Donald Faison
Donald Faison was not exactly an unknown quantity going into his role as Petey Jones in Remember the Titans, as audiences were already familiar with him from his role in Clueless - which he also reprised for three seasons on TV. Since the football film was released, however, it's much more likely that you got used to seeing him in what would be his next big role, spending nearly a decade playing Dr. Christopher Turk on the mediscal comedy series Scrubs. More recently, he just wrapped up four season on the TV Land series, The Exes.
Ethan Suplee
In Remember the Titans, Ethan Suplee played the teams Left Tackle, Louie Lastik, and thanks to his loveable charm, provided the movie with some of its most memorable moments. Prior to the movie, the actor had already crafted a solid career for himself, appearing in movies like Mallrats and TV shows like Boy Meets World, and his career has stayed strong since. He now has over 60 acting credits to his name, and is probably best known for playing Randy Hickey, the younger brother of Jason Kee's Lotto winner character Earl Hickey on the underrated series My Name is Earl. He'll next be seen in the Peter Berg-directed drama Deepwater Horizon, which will be out in September 2016.
Kate Bosworth
Emma Hoyt was the young girlfriend of team captain Gerry Bertier in Remember The Titans, and while you may not remember it, she was played by a young Kate Bosworth in the movie. It was one of her first film roles, and obviously wouldn't be her last. She went on to take the lead role in surf feature Blue Crush, and she notably played Lois Lane in director Bryan Singer's attempted reboot Superman Returns. She can currently be seen on Crackle series The Art of More, which was just renewed for a second season.
Kip Pardue
"Sunshine" Ronnie Bass was the quarterback who gets thrown into the game before he's ready but makes it work anyway in Remember The Titans, and it was one of the earliest roles played by actor Kip Pardue. Since thenn, he's staked up many more titles on his resume including recurring spots on shows like ER, Ray Donovan and Mad Men. He will soon be seen in the new show Outcast, which comes from Walking Dead creator Robert Kirkman. He also has two features on his upcoming docket, including the Anne Hamilton written/directed thriller American Fable, and an untitled World War II drama co-starring Stephen Lang, Sean Patrick Flanery, Rutger Hauer and Tom Sizemore.
Ryan Gosling
Who knew that one of the biggest stars coming out of Remember The Titans was going to the wiry little cornerback Alan Bosley? Buried among all these giant football players was a guy named Ryan Gosling, who started his career as a Mouseketeer and would go on to become one of the biggest movie stars/heartthrobs in Hollywood. Six years after the football film he received his first Oscar nomination playing a drug-addicted high school teacher in Half Nelson. He can be seen on the big screen now in The Big Short, and has a big 2016 lined up with both Shane Black's The Nice Guys and Damien Chazelle's La La Land.
Burgess Jenkins
The role of Tight End Ray Budds in Remember The Titans was only the second acting job for young actor Burgess Jenkins, the part following a one off role as "Brad" on a 2000 episode of Dawson's Creek. He's gone on to perform on over 30 different TV shows and movies, and had a recurring role on the series Army Wives, but has found a home in the soap opera world. Since 2014, he has been playing Billy Abbott on The Young and the Restless, and so far as appeared in more than 120 episodes.
Nicole Ari Parker
Nicole Ari Parker had several credits in her career prior to playing the wife of Denzel Washington's coach Boone in Remember The Titans, and while she has had roles in multiple features since, most of her work has been found on the small screen. She's had a number of recurring roles on television in recent years including shows like the sci-fi show Revolution, the crime drama Murder in the First and most recently Fox's freshman series Rosewood, where she plays Kat Crawford.
CinemaBlend's resident theme park junkie and amateur Disney historian. Armchair Imagineer. Epcot Stan. Future Club 33 Member.
Your Daily Blend of Entertainment News
Thank you for signing up to CinemaBlend. You will receive a verification email shortly.
There was a problem. Please refresh the page and try again.