10 Movies You Would Never Believe Led The Box Office At Least 3 Consecutive Weeks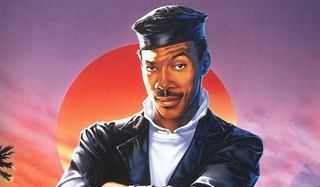 Jurassic World is a rare breed indeed, as it has led the box office three weekends in a row. It's an increasingly difficult feat, what with so many films being distributed throughout the year and tentpole seasons being more crowded. Still, even a couple decades ago, there were some interesting films that managed to hold the top of the box office for more weeks than even the staunchest fan of said films would be able to plausibly believe.
Join us, as we tackle 10 films that you'd never believe actually led the box office with three or more consecutive top finishes. Or, in the case of Tootsie, a staggering 14 weeks in the No. 1 slot!
The First Wives' Club
Release Date: September 20, 1996
Weeks At #1: 3
What happens when you put Bette Midler, Goldie Hawn and Diane Keaton in a film together? Today you'd probably have a modest Nancy Meyers hit with stamina, but in 1996 Paramount had a three-week champion! With Independence Day in the rear view for audiences that flocked to see Will Smith whup E.T's ass, audiences apparently wanted to celebrate three jilted ex-wives getting revenge in style. This movie even managed to beat out That Thing You Do! in its last weekend on the top, after which it was dethroned by another Paramount picture – The Ghost And The Darkness.
Hot Shots!
Release Date: July 31, 1991
Weeks At #1: 4
1991 was a hell of a year for blockbusters, the biggest of them all being Terminator 2: Judgment Day. As the No. 1 film of that year, it banked four straight weekends of top-tier cash flow, until it was replaced by the most unlikely of forces: a "Zucker Brothers" comedy. Hot Shots! banked on the comedic reputation of the brothers behind Airplane! and The Naked Gun… even though it was written and directed by two of their partners on said films, and had nothing to do with them. Even funnier than the movie itself is the fact that in its fifth weekend, it was kicked down to 4th place! Blame Dead Again, Child's Play 3 and the T-800 – as those three films scored big on Labor Day weekend and sent Hot Shots back to the hanger, and Charlie Sheen off to once again partner with Jon Cryer years down the road.
Disturbia
Release Date: April 13, 2007
Weeks At #1: 3
The first of D.J. Caruso's duo of films taking a Hitchcock premise and recasting Shia LaBeouf in the lead, Disturbia fended off Blades Of Glory, Fracture, and The Invisible for the top spot of films you probably barely remember from 2007. Its success was probably what spurred Caruso and LaBeouf to make Eagle Eye together – but that film couldn't make it past Beverly Hills Chihuahua in the second frame. While D.J. Caruso still hasn't had as big of a hit as he did with this picture, as well as Eagle Eye, LaBeouf would go on to star in three Transformers films that grossed so much in their lifetime that it clearly drove Shia LaBeouf insane. Maybe if he'd stuck to the Hitchcockian Neo-Noir flicks, he and Caruso could have had a brighter future.
The Hand That Rocks The Cradle
Release Date: January 10, 1992
Weeks At #1: 4
Ah, the 1990's: the decade that made the "sexy thriller" a thing, and then kicked it out of bed for less titillating fare. Basic Instinct, released in 1992, made a splash earlier in the year, and The Hand That Rocks The Cradle was another thriller that took a crazy protagonist and had her wreak havoc on an innocent family. Like Sharon Stone before her, Rebecca DeMornay managed to lure audiences in for four straight weekends of thrills and mania, before losing her crown to Sean Connery's Medicine Man. While many may not remember it, The Hand That Rocks The Cradle also has another distinction under its belt: it's the third highest grossing "Psycho/Stalker/Blank From Hell" picture in Box Office Mojo's ranking of thrillers.
The Golden Child
Release Date: December 12, 1986
Weeks At #1: 5
The Golden Child lived up to its name in more ways than one, as you'll see it was one link of a particularly awesome chain for Paramount Studios in the latter half of 1986. Star Trek IV: The Voyage Home was the film that eventually had to fall to the hands of Eddie Murphy's mystical comedy, about a detective searching for the missing child the title takes its name from. While it's not as memorable as any of Murphy's other starring vehicles of the era, it did capture five straight weeks at the top for Paramount – ringing in 1987 in spectacular fashion. So what unseated the golden age of Eddie Murphy? Another Paramount comedy – Richard Pryor's Critical Condition.
Stakeout
Release Date: August 5, 1987
Weeks At #1: 5
Stakeout had a rough start, and an even rougher finish, in its box office conquest. But after a week at #2, something about Emilio Estevez and Richard Dreyfus as two snooping cops embroiled in a mystery hit with the audience. That hit lead to five straight weeks of topping the domestic box office, as well as an eventual sequel with Rosie O'Donnell. But by time those five weeks ended, a four-way competition sunk these gumshoes to number five. Two of the films that helped end Stakeout's championship went on to become classics in their own right, as Fatal Attraction topped the charts and Hellraiser came in third on the same weekend that pushed Stakeout into the background.
Look Who's Talking
Release Date October 13, 1989
Weeks At #1: 5
When you look back on the so-called "blockbuster summers," 1989 is one of those years that is hard to beat. Batman took its first bow, while Indiana Jones And The Last Crusade was the then-final turn for everyone's favorite archeologist. But in the same summer that gave us those and many other franchise delights, there's one movie that perplexes us when it comes to its longevity: Look Who's Talking. Apparently bored with heroes, time travel, and buddy cop films, the audiences of 1989 took five weeks to throw their money at a baby. Did we mention the baby had the voice of Bruce Willis, and had Kirstie Alley and John Travolta for parents? If you ever wanted to curse the source of the eTrade baby, your best bet is probably those responsible for the success of Look Who's Talking, as well as its two sequels.
Porky's
Release Date: March 19, 1982
Weeks At #1: 8
While American Pie has more of a hold on the cultural zeitgeist of millennials, it owes a lot to its spiritual predecessors from the 1980's. The decade that birthed the teen sex comedy popped out one of the funniest, and most surprising success stories ever in Bob Clark's Porky's. The story of a handful of horny teenagers engaged in a battle of wits with a corrupt county government and a seedy strip club owner, Porky's managed to take eight consecutive finishes at the box office. If you were wondering what it takes to slay a teenage boy's libido, apparently the answer is a Steve Martin comedy and Conan The Barbarian. Though, to be honest, the latter just redirects the same energy.
Crocodile Dundee
Release Date: September 26, 1986
Weeks At #1: 9
So remember how we talked about Eddie Murphy's The Golden Child raking in five consecutive top finishes, and how it was part of a chain of awesome wins for Paramount? Well, another huge link in that chain was the Paul Hogan-starring comedy Crocodile Dundee, which took the box office for nine straight weeks on the top. What knocked that film down? Star Trek IV: The Voyage Home, which reigned for two weekends before Eddie Murphy took the crown for the rest of the year. So from September 26, 1986 up until the weekend of February 1, 1987; Paramount was on top of the box office. All thanks to the strong start from Down Under, and one hell of a knife.
Tootsie
Release Date: December 17, 1982
Weeks At #1: 14
On the list of the longest streaks of #1 weekends, there are three films that stand at the top, two of them being tied for the honors of second best: Titanic is the reigning champ, while Beverly Hills Cop and Tootsie are the two that duke it out for second place. Seriously, the year that brought us Porky's, E.T.: The Extra-Terrestrial, and Tron gave way to a 14-week streak that started at the end of the year, and would continue until a trio of contenders spelled out Tootsie's reign was over. Nowadays, you'd be extremely hard pressed to find a comedy with that sort of staying power, but between the cross-dressing gimmick and Dustin Hoffman's charm, we can kinda see how this could happen. It's just still hard to believe that it did.
Your Daily Blend of Entertainment News
Senior Movies Contributor
CinemaBlend's James Bond (expert). Also versed in Large Scale Aggressors, time travel, and Guillermo del Toro. He fights for The User.