10 Oscar Campaigns That Will Take Off During The Toronto Film Festival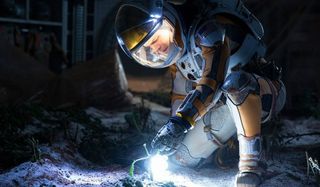 Technically, the Oscar "season" is supposed to last all year long, with movies released at any time during the year considered in contention for the industry's top prize. Realistically, though, the awards season kicks into full gear when the annual trio of international film festivals held in Venice, Telluride and Toronto come around. It's during these fertile festival runs that studios bring the movies we often will be talking about for the next few months, hopefully leading up to successful Oscar campaigns that produce Academy Awards wins early next year.
The race already has begun, with multiple movies collecting the ever-important buzz in Venice and Telluride. The latter, in particular, serves as a terrific barometer for a movie's chances at entering the awards race and sustaining momentum. And now, it's on to Toronto, where the heat either will be introduced (for World Premiere films) or turned up another few degrees. Considering what we have heard out of Venice and Telluride – and applying what we know about the films in question – here are the 10 Academy Awards campaigns we expect to come out of this week's Toronto International Film Festival with a firm grip on a clear path to Oscar glory.
Johnny Depp, Best Actor
Don't call it a comeback. Johnny Depp has been losing himself in roles like this for the duration of his career. Only, his choices recently have drifted closer to family-friendly fare like the Pirates of the Caribbean movies, or his Mad Hatter shtick with Tim Burton. Black Mass sees Depp slipping into the menacing shoes of Boston gangster James "Whitey" Bulger, and by all accounts, he devours the screen with a terrifying performance. The best news? You don't have to wait forever to see it, as it opens on Sept. 18.
The Martian, Best Picture
Sir Ridley Scott's name isn't necessarily synonymous with Oscar's Best Picture race. While Gladiator won Best Picture and Actor back in 2001, Scott really hasn't had a movie in the running since 2002's Black Hawk Down. This year, The Martian could power him right back up the Oscar charts, particularly if the Academy is still feeling the love they sprinkled on Alfonso Cuaron's Gravity. Like that film, The Martian largely focuses on one person (Matt Damon) conducting an impossible rescue mission on themselves. The source material is great, and the trailers look incredible. Will this be a popcorn flick, or an awards contender? We're about to find out.
Bryan Cranston, Best Actor
Could Bryan Cranston place an Oscar next to all of those Emmys on his personal awards shelf? It's certainly possible. Breaking Bad fans already argue that Cranston is the best actor working today, and Trumbo gives him an opportunity to carry his talents to a leading role in a feature film (where he usually appears as part of a star-studded ensemble). Dalton Trumbo was a polished screenwriter in the 1940s who gets blacklisted by the industry for being a Communist. How he responds could be the story that leads Cranston down the path to Oscar glory.
Eddie Redmayne, Best Actor
Do you know the last time an actor or an actress followed up one Oscar win with a subsequent win the following year? You have to go back to Tom Hanks' wins for Philadelphia and Forrest Gump. Oddly enough, two of last year's winners are coming back with Oscar-potential roles, the first being Eddie Redmayne in The Danish Girl. Hot off his win for playing Stephen Hawking in The Theory of Everything, Redmayne once again loses himself in a role, this time playing pioneering transgender artist Lili Elbe – a man who realized he was more comfortable as a woman. Early reviews say Redmayne's performance is one for the ages. Time will tell.
Spotlight, Best Picture
Will the real Tom McCarthy please stand up? After delivering exquisite character studies like The Station Agent, The Visitor and Win Win, McCarthy directed an Adam Sandler stinker named The Cobbler. Was he fooling us all along? It seems like the director returns to glorious form with Spotlight, a thrilling journalism drama about the Boston newspaper team that went after the Catholic Church for its alleged child molestation charges. The incredible cast includes Michael Keaton, Mark Ruffalo, Rachel McAdams, Liev Schreiber and Stanley Tucci, while buzz out of Toronto was deafening. Expect the movie to gain serious momentum during Toronto this year.
Julianne Moore, Best Actress
Eddie Redmayne is one of last year's Oscar winners making a return to the annual awards marathon. Julianne Moore (Still Alice) is the other. In Freeheld, Moore plays a distinguished New Jersey detective who must fight the system in order to secure rights for her domestic partner, played by Ellen Page. The movie is based on a documentary short, which actually won an Oscar in that category back in 2008. Can the narrative-feature version of the same powerful story strike gold twice? With Moore and Page in the mix, we wouldn't be surprised.
Ben Foster, Best Actor
The Lance Armstrong doping scandal is ripe for an awards-friendly tell-all, so we are keeping a close eye on The Program, Stephen Frears' account of the famed cyclist's domination of the Tour de France… and the work of an Irish journalist who risked everything to take him down. The seriously underrated Ben Foster will slip into Armstrong's form-fitting bike tights, while Bridesmaids co-star Chris O'Dowd plays the fiery sports reporter David Walsh. Frears' past credits include High Fidelity, The Queen and Philomena, so the Academy's well aware of this talents. We hope The Program is up to snuff.
Brooklyn, Best Picture
Toronto isn't the only festival that can launch an Oscar campaign. Sundance often delivers a handful of films that resurface toward the end of the year and start to claim awards momentum. (See last year's Oscar-winning drama Whiplash, for one example.) This year, we're keeping tabs on John Crowley's Brooklyn, a period romance working off Nick Hornby's adaptation of Colm Toibin's best-selling book. We have heard incredible things about the film, as well as the performance of Saoirse Ronan. If this independent is going to make a push into the Oscar hunt, a strong showing at TIFF is a must.
Tom Hiddleston, Best Actor
When he isn't playing Loki in the Marvel Cinematic Universe, the immensely talented Tom Hiddleston is… playing country music legend Hank Williams in the biopic I Saw the Light? OK, fine, we'll admit that the British-born bloke wouldn't be our first choice to bring Williams' story to the screen. But writer/director Marc Abraham had to have seen something in Hiddleston to think he's the right man for the job, and maybe that magic gets the gifted, charismatic performer on the Oscar trail. This is one we're eager to see in Toronto, if only to see if the pairing of Hiddleston and Hank actually works.
Ellen Page, Best Supporting Actress
I'm banking on Peter Sollett's Freeheld being an emotional powerhouse that catapults its two leading women into a still developing Oscar race. With Julianne Moore holding down the Best Actress category (again), I'm imagining Ellen Page angling for a Best Supporting Actress nod… sight unseen. For all I know, the roles may reverse, with Page grabbing more screen time. Doubtful, though. If Freeheld connects with the intensity I'm anticipating from it, I think audiences are going to walk out of Toronto movie theaters singing the praises of both Moore and Page – and we will continue to talk about them as the Oscar season rolls along.
Sean O'Connell is a journalist and CinemaBlend's Managing Editor. He's frequently found on Twitter at @Sean_OConnell. ReelBlend cohost. A movie junkie who's Infatuated with comic-book films. Helped get the Snyder Cut released, then wrote a book about it.
Your Daily Blend of Entertainment News
Thank you for signing up to CinemaBlend. You will receive a verification email shortly.
There was a problem. Please refresh the page and try again.