10 Superhero Costumes Too Sexually Explicit For Movies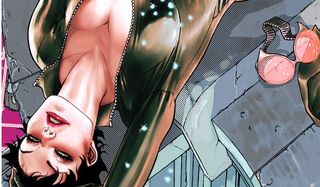 Happy Halloween, everyone! We hope you're ready for some costumed fun, as this is that wonderful time of the year where we get to dress up as something we don't normally wear, and really rock it out. In fact, tonight's one of the best nights, outside of a movie opening, to dress up like your favorite superhero. Now depending on who you choose to dress up as, your options will more than likely range from conservative, comic accurate costumes to less accurate, more risque options.
While either version makes for good Halloween fun, there's some variants of your favorite super heroes that would never be allowed on the big screen. And guys, don't think you're totally immune to the phenomenon, because there's some rather racy stuff you'll never see the male heroes wear on the silver screen. So while you're preparing your costumes for this evening's festivities, have a look at these costumes that might win you a prize, but certainly won't be anywhere near winning an Oscar.
Vampirella
Vampirella is pretty much the OG of inappropriate comic costumes, considering her cape and underwear are probably the most consistent uninterrupted pieces of fabric she wears into action. It's not like she'd get a chance to be in anything other than an R-rated feature anyway, but even with a story that involves defeating evil by reaching a high shelf could cause problems.
Nightwing
The 70's were not kind to Nightwing, and while disco might still get some love from time to time, the plunging male neck line really isn't a thing right now. Besides, this outfit just screams of outdated awkwardness, and would elicit more laughs than anything else.
Black Cat
Speaking of plunging necklines, another costume that will undoubtedly undergo an overhaul before hitting any sort of filmed media is that of Black Cat from the Spider-Man series. Unlike her DC Comics counterpart, Black Cat has no zipper to modify her costume to her own tactical needs.
Martian Manhunter
Another entry into the male side of the equation is future Justice League member, Martian Manhunter. Seen here in one of his more interesting comic variants, you can just sense the parents groups focusing on any sort of bulge that might offend their childrens' eyes... and this isn't even his worst costume.
Catwoman
Just because Catwoman has a zipper on her suit doesn't mean she's particularly prone to use it. While Christopher Nolan and Tim Burton have both shown that Selina Kyle's wardrobe isn't an impossible feat of moviemaking, Zack Snyder isn't exactly known for subtlety in his female costume choices. Here's one New 52 costume that Snyder should steer clear of.
Spider Woman
Now Spider Woman isn't exactly a very revealing costume, but it's definitely form fitting. In fact, it's skin tight enough that you're very limited in the way you can pose the character in action. As evidenced in the comic cover seen 'round the internet, typical superhero camera angles could come off as exploitative with the wrong framing. Take heed, Sony
Starfire
You're as surprised as we are that Teen Titans member Starfire actually has a much more grown up form in some of the comics, as the version everyone remembers the most is that of the much more covered Cartoon Network varieties. As if gravity (or the lack of) weren't enough to worry about, you're going to have a hell of a time explaining the difference to your kids.
Aeon Flux
While the Charlize Theron film did manage to maintain some of the more wearable costumes that the Aeon Flux anime presented, there's still the matter of this one costume. Even when she's just stealing sushi, this outfit could cause Aeon's costume to flux more than the storyline. Let's not even talk about if she missed and got caught on the conveyor belt.
Bwana Beast
Just when you guys thought you were safe and sound, along comes Bwana Beast. The man is so skimpily clad, a gentle breeze would be serious trouble for the MPAA. Needless to say, there would have to be some revisions made to the costume, otherwise you'd have your first superhero who's only able to walk at 5 mph or sit cross legged in the face of danger.
Witchblade
And the most inappropriate costume for the silver screen is... Witchblade, naturally. While TNT had a live action show that clothed the character in more civilian wardrobe, the comics and anime have had no problem making the titular heroine as buxom as possible, with bare coverage available for her modesty. Good luck getting a PG-13 with this getup!
Your Daily Blend of Entertainment News
Senior Movies Contributor
CinemaBlend's James Bond (expert). Also versed in Large Scale Aggressors, time travel, and Guillermo del Toro. He fights for The User.