Spider-Man: The Crazy Plan Sony May Have To Save The Franchise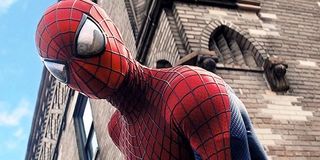 Financially, the Amazing Spider-Man film series is still going strong (relatively speaking), but creatively it's had a bumpy ride. The Amazing Spider-Man 2 opened to mixed reviews in May, forcing Sony to reformat their plans for the Wall-Crawler's cinematic universe. The Amazing Spider-Man 3 was delayed until 2018, the villain ensemble Sinister Six was bumped up to November 2016 and Sony may be trashing the Venom spinoff. There have even been rumblings that Andrew Garfield may be replaced as Peter Parker in Sinister Six. Whatever is truly happening, it's clear Sony is scrambling to pick up the pieces, but now they may have a project in the works that will not only save the franchise, but put them in the spotlight.
Earlier this year, it was reported that Sony is looking to release a female-led spinoff in 2017, but according to Badass Digest, this film may be offering more than just one female protagonist. The project, tentatively titled Glass Ceiling, would bring together "all the female Spidey characters." While this plan isn't set in stone yet, it's one of the many ideas that Sony has been playing around with to revitalize their Spider-Man plans. Unlike the Sinister Six, there is no all-female Spider-Man team in the comics, so other than the individual characters, there's nothing they can draw from the source material.
Spider-Man has one of the biggest supporting casts in all of comic books, and women make up a large portion of it. There's love interests like Gwen Stacy and Mary Jane Watson, family like Aunt May, former classmates like Liz Allan, the list goes on. However, on the superpowered/crime fighting side of things, there aren't many characters for Sony to pick from. The first that springs to mind is Felicia Hardy, a.k.a. Black Cat, an acrobatic burglar whose been both a villain and a romantic partner to Spider-Man. Think of her as the Catwoman to Spider-Man's Batman. Felicia had a minor role in The Amazing Spider-Man 2, so the door is open to bring her back.
There's also Spider-Woman, although besides the shared animal, she has almost nothing in common with the Wall-Crawler. And since she hangs out with the Avengers more frequently in the comics, Marvel Studios may have a claim to her. If they're looking to find an international character, there's mercenary Silver Sable, who has been an occasional ally to Spider-Man. Sony could also go outside the box and choose characters who exist outside the main continuity, like Firestar from the 1980s animated series Spider-Man and his Amazing Friends, or the recently introduced Spider-Gwen, Gwen Stacy from an alternative universe who becomes Spider-Woman.
If "Glass Ceiling" becomes a reality, not only will it face competition from Marvel Studios, but it won't even be the only female-led superhero film of 2017, since DC is releasing Wonder Woman. While this is an intriguing idea, Sony needs to iron out the details of this project before moving forward. It's an interesting concept that would be a great step forward for superhero movies, but if they're just putting together random Spider-Man females for the hell of it, that's not good enough to justify a feature film.
Connoisseur of Marvel, DC, Star Wars, John Wick, MonsterVerse and Doctor Who lore. He's aware he looks like Harry Potter and Clark Kent.
Your Daily Blend of Entertainment News
Thank you for signing up to CinemaBlend. You will receive a verification email shortly.
There was a problem. Please refresh the page and try again.