The 11 Best Musicians-Turned-Actors Of All Time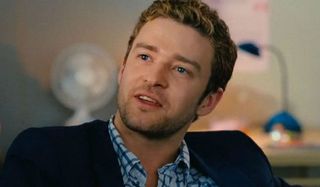 When we think of actors, we often put them in many different categories of performance. It makes sense considering these men and women make a career out of encapsulating a slew of different characters. It's common to see many actors go on to perform in the musical variety whether it be on stage or in recording. But, it is particularly special when we see the move from the other direction, and a successful move at that.
There are a number of musicians who have taken a stab at acting, whether it be in playing themselves on screen, or a different role. But there are few that do so successfully. Here we pay tribute to those musicians-turned-actors. While many of them could have stuck with the music industry entirely, these 11 musicians-turned-actors showed off an entirely new set of skills, and left us all immensely impressed.
Justin Timberlake
Justin Timberlake began acting with a pretty boy role in a Disney Channel Original movie around the same time his boy band NSYNC had taken off. But within time, the musician-turned-actor began taking more interesting and unexpected roles that would set him apart as an actual actor. The move towards actor came after the Janet Jackson wardrobe malfunction, when Timberlake was gaining a lot of negative media attention for his role in the incident. Afterwards, he began landing bigger roles in a few feature films including the direct-to-video movie Edison Force as well as a few appearances in popular films such as Alpha Dog and Southland Tales.
While Timberlake continued to produce music, especially in collaboration with other artists, his acting career started to take off when he settled down with his music career. Going from starring roles in Mike Myers' The Love Guru and the Mike Meredith drama The Open Road, Timberlake soon landed the role of Sean Parker in the critically acclaimed Facebook-drama The Social Network. His acting chops truly began to shine, and on top of the continuing roles in comedy pictures the musician-turned-actor continues to shine in dramatic roles such as his character in Inside Llewyn Davis.
Bing Crosby
Bing Crosby still stands as one of the most popular musical acts of the 20th Century, but that even seems small compared to his popularity as an actor. Crosby is measured as the third most popular actor of all time based on ticket sales, behind Clark Gable and John Wayne. His most popular film White Christmas in 1954 was a monumental success commercially, but it wasn't just Crosby's popularity as a musician that was filling seats at the theater. The musician-turned-actor was a performer at heart, and it translated on screen just as much as it had off. Crosby made his film debut in The King of Jazz in 1930 and by 1945 he won an Academy Award for Best Actor in Going My Way.
Crosby would go on to gain even further critical acclaim, with Academy Award nominations for The Bells of St. Mary's and The Country Girl, and a Golden Globe nomination for his role in Here Comes the Groom. He starred in seven Road to musical comedies with Bob Hope and actress Dorothy Lamour between 1940 and 1962, which made the trio an unstoppable commercially successful team. Crosby would appear in everything from cameos to Disney animated films to comedies. His acting career probably takes top as the most successful on this current list.
Will Smith
Though Will Smith is universally known for his acting resume, the star began his career as the MC of hip-hop duo DJ Jazzy Jeff & The Fresh Prince. The trio quickly rose to critical acclaim and won the first Grammy awarded in the Rap category in 1988. But, by 1990, Smith was nearly bankrupt, so he decided to sign on with NBC to build a sitcom around him. From The Fresh Prince of Bel-Air, the young star's acting career took off.
Will Smith bounced from blockbuster to blockbuster, with films ranging from Bad Boys to Men in Black to Wild, Wild West. Smith soon became a blockbuster draw, and fans flocked to theaters to see his films. But the actor continued to hold critical acclaim as well, and was even nominated for Best Actor for his roles in Ali and The Pursuit of Happyness. He continues to spit out hit after hit, and though some of his movie choices as of late have been rocky, the actor is already set up for his big comic book debut as Deadshot in Suicide Squad.
David Bowie
David Bowie pretty much invented the idea of playing a character in pop music. But the beginnings of his acting career come before his music made an real commercial success. The musician started his acting career studying avant-garde theater and mime with his first landed role in a 1967 theatrical production of Pierrot in Turquoise. He followed up his theatrical debut with a brief film appearance and short, but his first major role portraying Thomas Jerome Newton in The Man Who Fell to Earth immediately generated critical acclaim. Bowie would then take the lead role in Just a Gigolo and the 1980 Broadway production of The Elephant Man. He was noted for his expressive performances, a quality often defining his musical performances as well.
Bowie's acting career continued on with great strength, as his music career skyrocketed ahead as well. He would go on to play major roles in a number of genres ranging from supernatural to biopics. He is often most remembered for his role as the king of goblins in Jim Henson's Labyrinth, but has also scored roles in Martin Scorsese's The Last Temptation of Christ, David Lynch's Twin Peaks: Fire Walk with Me, and even Christopher Nolan's The Prestige.
Mark Wahlberg
It's easy to forget that Mark Wahlberg started out as the frontman for Marky Mark and the Funky Bunch. It seems that his acting career has been what takes center stage. But the musician-turned-actor made his mark in the early '90s with his debut album Music for the People. A couple years later, Wahlberg made his acting debut in the TV film The Substitute, and subsequently dropped the name Marky Mark. His big screen debut followed with Renaissance Man, and started gaining critical attention after his appearance alongside Leonardo DiCaprio in The Basketball Diaries.
His acting career blew up, with much critical praise from successful movies such as Boogie Nights, The Perfect Storm, Three Kings, The Italian Job and Four Brothers. His critical praise wouldn't end there though, as the actor started to hone in on choice roles such as his Academy Award nominated supporting role in Martin Scorsese's The Departed and The Fighter. There have been a few odd choices here and there for Wahlberg as of late, as he has been featured in a few comedies as well as a Transformers film, but overall, the successful actor is far from done filling in his already lengthy resume.
Queen Latifah
Another musician turned actor that's acting career seems to now take center stage is Queen Latifah. Beginning her artistic career with beat boxing in the hip-hop group Ladies Fresh, Queen Latifah went on to make an important mark in the hip-hop industry by covering feminist topics. A few years after her first album, Latifah scored a starring role on a FOX sitcom which she also wrote and performed the music for. She began her film career with with many supporting roles, and would break out with the 1999 role of Thelma alongside Denzel Washington and Angelina Jolie in The Bone Collector.
While The Bone Collector gained Queen Latifah critical acclaim, her commercial acclaim would come a few years later in the Academy Award-winning musical film Chicago. Latifah was even nominated for best supporting actress for the film. That then began her truly extensive acting career. Ranging from her role alongside Steve Martin in Bringing Down the House to her Golden Globe award-winning role in Life Support, Latifah has been the center of both critical and commercial hits.
Tom Waits
Tom Waits is predominately known for his work as a singer-songwriter and composer, but his performances on the big screen are nothing to scoff at. The man has talent. And whether or not he is at starring capacity in many of these features, his performance tends to shine through. First appearing in the 1978 film Paradise Alley, Waits had already been deep into his music career. But soon after, Waits married his screenwriter wife Kathleen Brennan, and began appearing in more movies in minor roles. He had also begun a relationship with Francis Ford Coppola after providing music for One from the Heart and the two continued collaboration with a number of Tom Waits cameos.
Waits spent some time on stage as well, but also continued to cameo in a number of large films. The musician turned actor continued to split his time between both the world of film and music, but his acting was increasingly becoming more impressive. Waits is best known for his supporting roles in Paradise Alley and Bram Stoker's Dracula and my personal favorite, Wristcutters: A Love Story. He's worked aside a slew of critically acclaimed actors ranging from Denzel Washington to Colin Farrell and Christopher Walken, and with every performance is distinctively impressive.
Frank Sinatra
Frank Sinatra saw a full and successful music career before he got into the acting game. His music career had taken a stall by the early 1950s, but was completely reborn when the musician-turned-actor won an Academy Award for his supporting role in From Here to Eternity. In his earlier filmography, he often appeared as himself, such as in the 1944 film Higher and Higher, 1945's The House I Live In, and 1946's Till the Clouds Roll By. After his Oscar win though, the legend took on more interesting and in depth roles, following up with another Academy Award nomination for Best Actor in The Man With The Golden Arm.
Sinatra's film career didn't let up either. The actor was filming a tiresome amount of movies, but continuing to gain more and more critical acclaim as the years went on. The Manchurian Candidate gained particular critical attention for his performance. Then, in 1963, Sinatra took home a Golden Globe for Best Actor for the comedy Come Blow Your Horn and continued to appear in a number of movies up through the '80s. His musical career didn't stop either, as many of the films he worked on also featured many of his original songs, many of which won Academy Awards for Best Original Songs.
Jennifer Hudson
With a voice like Jennifer Hudson's it almost doesn't make sense that she'd go on to become such a successful actress as well. After rising to musical fame from her time spent on American Idol, Hudson quickly followed up with her film debut in the musical drama Dreamgirls. The film gave Hudson the opportunity to not only show off her insane musical chops, but also featured a critically acclaimed performance from the actress that won her the Academy Award for Best Supporting Actress and a Golden Globe. Hudson's acting career is probably one of the youngest on this list, but the actress resonates impressive talent.
Hudson followed Dreamgirls with another impressive performance in The Secret Life of Bees alongside other musicians turned actors, Queen Latifah and Alicia Keys. She'd go on to boast another outstanding performance in Winnie Mandela, all while continuing to top the charts with her singing career. Hudson continues to stack up her acting resume with Black Nativity, Lullaby and is currently filming the upcoming Spike Lee film Chiraq.
Elvis Presley
The King of Rock and Roll was no stranger to the big screen. Just a couple years after his musical career began, Elvis Presley made his film debut in the 1956 Western Love Me Tender. A couple years later, Presley was drafted, and upon his return, dedicated his time to producing some of his most commercially recognized music. But, for the majority of the 60s, Presley decided to devote his time to making Hollywood movies. His musical comedies were commercial successes, and though Presley tried to move toward more serious roles with Flaming Star and Wild in the Country which saw more dramatic performances from the musician-turned-actor, he tended to stick with his successful formula.
The King started off strong with impressive performances in Jailhouse Rock and King Creole, but as his films started to gain easy commercial success, many started to be made more cheaply to increase overall profit. Presley starred alongside a number of established actors at the time including Walter Matthau, Mary Tyler Moore, Barbara Stanwyck, Charles Bronson and more. He also worked with young Kurt Russell in the actor's screen debut in 1963's It Happened at the World's Fair. Though Presley's commercially successful films were critically panned throughout, his early debuts featured notable performances.
Madonna
One of the biggest pop stars of all-time also happens to be an incredibly impressive actor. Madonna, is, and always will be, predominately known for her music career as the Queen of Pop, but the performer skill-set is anything but limited to that category. Madonna started her artistic career as a modern dancer, and soon went on to release her debut album and commercially successful hits. Madonna's filmography begins in the early 80s with the oddball indie film A Certain Sacrifice which the singer was not particularly happy with the turnout. But from there Madonna went on to be featured in a variety of different films that were more often than not panned by critics, but by the '90s her acting saw a huge improvement.
Madonna's starring role in Warren Beatty's 1990 film Dick Tracy took in positive reviews, as well as her role in A League of Their Own. She took on roles in a range of smaller films as well including Blue in the Face, Four Rooms and Spike Lee's Girl 6. But it was Eva Peron's Evita adaptation that would show how truly talented Madonna had become as an actress. The performance gained the major pop star a Golden Globe for Best Actress. Madonna definitely had her up-and-downs, with arguably more negative reviews than positive, but for her few strong performances, they shone extra bright.
Your Daily Blend of Entertainment News
Thank you for signing up to CinemaBlend. You will receive a verification email shortly.
There was a problem. Please refresh the page and try again.