Madonna Might Be Lining Up Her Next Movie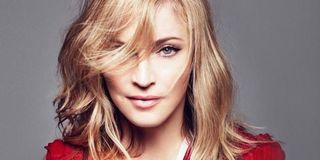 While she's repeatedly managed to successfully reinvent herself in the realm of pop, Madonna has failed to develop as an actress or director. But that doesn't mean she's given up. Litseen (via The Playlist) reports The Material Girl has bought the movie rights to Andrew Sean Greer's recently released novel The Impossible Lives Of Greta Wells. Rather than a press release or some shady insider, it was the author himself who shared the news during a reading in San Francisco, saying:
Greer didn't comment on who these "other people" are or whether Madonna is looking to produce, direct, and/or star in her adaptation of his book. At this stage, maybe she hasn't even decided. But the book's plot description does sound like something that could appeal to Madge as it involves romance in different eras, similar to her last movie W.E. The Impossible Lives Of Greta Wells centers on the titular woman whose life becomes unbearable when her beloved twin brother dies and her long-time lover cheats on her then leaves her. To cope, Greta opts for an aggressive treatment of electroshock therapy, and it has some seriously unexpected results.
Her sessions transport Greta from her present to alternate realities in 1918 and 1941. In the former, she's a devoted mother; in the later she's a saucy bohemian and adulteress. Whether amid the streets lit by gas lamps and horse drawn carriages or the drunken haze of '40s Manhattan, she finds her brother and lover there too. While glad to have her brother alive, Greta's disturbed by his dedication to hiding his true personality. And though pleased to be reunited with her lover, she fears his fidelity will fail and wound her once more. Every setting has its virtues and setbacks, and Greta must choose which is best for her.
Let's assume at 54 years old Madonna considers herself too old for the role of Greta. Should she choose to direct, The Impossible Lives Of Greta Wells would mark her third film, following her little known 2008 release Filth and Wisdom and her critically panned history-inspired romance W.E., which interwove the romance of King Edward VIII and Wallis Simpson with a modern girl's quest for true love. Adding in a third setting makes The Impossible Lives Of Greta Wells a more complicated production, but it remains to be seen if Madonna is eying this for her next challenge.
Staff writer at CinemaBlend.
Your Daily Blend of Entertainment News
Thank you for signing up to CinemaBlend. You will receive a verification email shortly.
There was a problem. Please refresh the page and try again.