Watch Will Smith Get His Deadshot On In Suicide Squad Training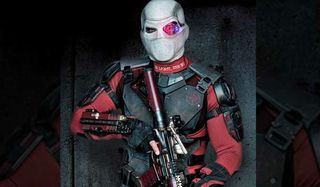 Will Smith is locked and loaded. The actor is undergoing some serious gun training in preparation for his upcoming role as Deadshot in the Suicide Squad, and he's quite impressive. Take a look.
In the TMZ video, Will Smith is seen getting some shooting practice in at Taran Tactical Innovations in Moorpark, CA. No doubt the Focus actor is preparing for his role as skilled marksman turned hired assassin Floyd Lawton/Deadshot in the Suicide Squad. And from the looks of things, Smith indeed has things under control, so no worries there.
Will Smith spent the entire day with Navy SEALS and Army Rangers, practicing firing a Glock 9mm handgun and an AR-15 assault rifle. According to TMZ sources, the actor was a quick learner, particularly with long distance shots using the AR-15. Obviously Smith has handled guns in movies before, so it should come as no surprise that the After Earth actor is such a good shot. As they say, practice makes perfect. But then again it also helps sell the fact that he is perfectly casted in the role if he can pull off a perfect shot, given that he playing a nearly perfect marksman.
Portraying Floyd Lawton/Deadshot in the Suicide Squad also won't be Smith's first time playing a gun wielding action star. In fact, when you think about it, the majority of Will Smith's career in film has featured him totting a gun. From the action comedy Bad Boys franchise movies co-starring Martin Lawrence, to the science fiction action comedy Men in Black franchise films co-starring Tommy Lee Jones, to the superhero film Hancock, and even the action western comedy Wild Wild West, Smith has spent a good deal of his career practicing his shot. Hancock, however, was the only actual superhero character that Smith has played in film to date that is up until now.
Alongside Will Smith, Suicide Squad also stars Jared Leto as The Joker, Margot, Robbie as Dr. Harleen Quinzel/Harley Quinn, Joel Kinnamen as Rick Flag, Jai Courtney as George "Digger" Harkness/Captain Boomerang, Cara Delevingne as June Moone/Enchantress, Viola Davis as Amanda Waller, Adewale Akinnuoye-Agbaje as Waylon Jones / Killer Croc, Adam Beach as Christopher Weiss / Slipknot, Karen Fukuhara as Tatsu Yamashiro / Katana, and Jay Hernandez as Chato Santana / El Diablo. Filming commenced in Toronto on April 13, 2015 and will conclude on August 30, 2015. Suicide Squad is scheduled to hit theaters on August 5, 2016.
Your Daily Blend of Entertainment News
Thank you for signing up to CinemaBlend. You will receive a verification email shortly.
There was a problem. Please refresh the page and try again.