Scarlett Johansson Is In A Girl Band And They Are Actually Pretty Good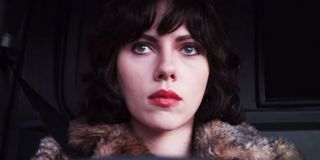 Once again, Scarlett Johansson proved that she is the coolest chick to step foot on the planet. Whether she's playing a badass superhero or a seductress serial killer, Johansson has proven that her skills go far beyond just having a pretty face, and now she's gone a step further, teaming up with a handful of hip ladies to create a indie pop band called The Singles. Their first song off their debut album, entitled "Candy", dropped earlier today, and it is just as addictive as the name suggests. Take a listen:
The Singles combines Johansson with the Este Haim (of the popular sister-band Haim), Holly Miranda, Julia Haltigan, and Kendra Morris under the label Federal Prism, which is run by TV on the Radio's Dave Sitek. Johansson, who has an on-and-off again music career, has worked with Sitek previously, namely on her debut album, Anywhere I Lay My Head. The 2008 album, which was an indie folk/ dream pop compilation of Tom Waits covers received mixed reviews from critics (weighted heavier on the negative). And to be honest, this newest single, "Candy" is a huge improvement on that debut album, which produced some painfully bad monotone-sounding alto, as you can hear in the official music video for the single "Falling Down".
But, in working towards a new, and poppier sound, it seems like Scar Jo has found a better tone. And we're sure it helps having some talented females rocking out alongside. The electro jam single features some seriously teeny-bopper lyrics though, which we're still a bit unsure about, all obviously associated with different types of candy. But, Johansson assured that her new project is a little bit ironic and in on the joke. She told Rolling Stone that her band's influences included Grimes, the Bangles and the Go-Gos and continued:
While the song is definitely catchy, I don't know if it is quite as ironic at Johansson may have hoped. If anything, this song will be popular among the preteen crowd who likes to sing into their hairbrushes and pretend they too can one day be pop stars. But, that doesn't mean that within context of the rest of the album, we can't find the joke that Scar Jo refers to. We'll just have to see whether or not the album, titled by the same name as the single, "Candy", can surprise us. You can pre-order it on Pledge Music.
Your Daily Blend of Entertainment News
Thank you for signing up to CinemaBlend. You will receive a verification email shortly.
There was a problem. Please refresh the page and try again.