2009's Top Nude Scenes, Jessica Biel Falls Short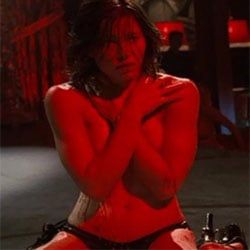 We're a legitimate movie blog so we don't write about celebrity nudity (much), we just secretly enjoy it. For all your celebrity nudity needs your best bet is probably the infamous Mr. Skin who has spent all of his life in a basement fast forwarding through DVDs looking for nipples. But it's the end of the year and with everyone announcing awards Skin has to take his turn. He's announced the top ten nude scenes in entertainment for 2009, and surprisingly, not all of them are in film.
With edgy, pay-cable like HBO and Showtime pushing the envelope, they've taken the crown as the best place to see famous and semi-famous women naked. The top nude scene of 2009 happened on the David Duchovny show Californication and starred someone named Eva Amuri. If you watch it, then maybe you know who the hell Skin's talking about. But runner up was the Jessica Biel, who played a stripper and actually took her clothes off in Powder Blue. Unfortunately nudity doesn't equal box office and no one saw it.
But since we know you're interested, here's Mr. Skin's full list of the best nude scenes in movies and TV for 2009.
Your Daily Blend of Entertainment News