2011 Black List Includes Alan Turing Biopic, Chewbacca Script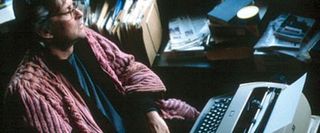 It's that time again. Each year around this time, the Black List is unleashed on the world and sets many a Hollywood tongue a-wagging. Not familiar with the Black List? Well, first off, it's not the Communism/Joseph McCarthy/Hollywood Ten one. No, this is the annual list of the best unproduced screenplays, as voted on by film executives. It is, as they explain, not a "best" list, but rather a "most liked" list. Here's how the Black List creators explain it:
Why should you care? Because, "best of" list or not, the Black List has a damned impressive track record of providing a glimpse at the movies that are going to be generating buzz and, in many cases, winning awards over the next few years. These are the scripts that Hollywood insiders are talking about. For instance, past Black List titles have included The King's Speech, the Hunger Games adaptation, and I'm With Cancer, which became this year's outstanding 50/50.
This year's list includes the usual mix of genre, ranging from a biopic about World War II cryptographer and mathematician Alan Turing, all the way to a dark comedy about an embittered foreclosure victim kidnapping and planning to murder a real estate agent. The writers include a few names you'll recognize, and a lot more you won't. But given that they're showing up on the Black List...that might well change.
Here's the rundown on the List's top five scripts, plus our thoughts.
The Imitation Game (133 votes)
by Graham Moore
Synopsis: The story of British WWII cryptographer Alan Turing, who cracked the German Enigma code and later poisoned himself after being criminally prosecuted for being a homosexual.
CB's take: As we told you a month or so back, Imitation Game is the movie Harry Potter director David Yates may tackle next, a project that would also theoretically delay his big-screen Doctor Who movie. Leonardo DiCaprio is also rumored to be interested in playing Turing.
When the Street Lights Go On (84 votes)
by Chris Hutton, Eddie O'Keefe
Synopsis: In the early 1980s, a town suffers through the aftermath of a brutal murder of a high school girl and a teacher.
CB's Take: We don't know much about this one yet, but it was reported a mere two days ago that Drew Barrymore has signed on to direct.
Chewie (59 votes)
by Evan Susser, Van Robichaux
Synopsis: A satirical behind the scenes look at the making of Star Wars through the eyes of Peter Mayhew who played Chewbacca.
CB's Take: These guys don't have much of a resume to go by, but Robichaux was a production assistant on the short-lived CBS show Swingtown. Either way, the concept of a behind-the-scenes look at the making of Star Wars could be awesome. Now they just have to find somebody who can pass for the 7' 3" Mayhew.
The Outsider (53 votes)
by Andrew Baldwin
Synopsis: In post World War II Japan, an American former prisoner-of-war rises in the yakuza.
CB's Take: Baldwin is also the most recent writer hired to work on the Logan's Run remake for director Nicolas Winding Refn (Drive) and Ryan Gosling.
Father Daughter Time: A Tale of Armed Robbery and Eskimo Kisses (43 votes)
by Matthew Aldrich
Synopsis: A man goes on a three state crime spree with an accomplice, his eleven-year-old daughter.
CB's Take: This is set to be Matt Damon's directorial debut, and will star The Office's John Krasinski.
You can read the full 2011 Black List right here.