22 Jump Street Delivers Hysterical New Footage At CinemaCon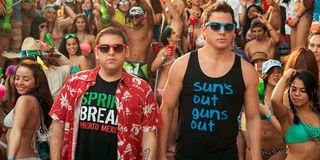 Directors Phil Lord and Chris Miller have already had a pretty excellent run so far in 2014. Getting back to their animation roots, the filmmakers released The LEGO Movie earlier this year, and not only earned near-universal praise from critics, but also an insane amount of money (the film is currently the number one film of the year with a $244 million take domestically so far). You'd think that would be enough, but in just a few months the directors will be bringing us their second feature of the year, 22 Jump Street… and from the look at the footage that was shown at CinemaCon we should be in for yet another real treat.
The footage began with Schmidt (Jonah Hill) and Jenko (Channing Tatum) coming back together like we've never seen them before: in partner counseling. Acting somewhat like a married couple, Schmidt is upset that he and Jenko aren't as close as they used to be, while Jenko just seems massively awkward about the whole situation. The counselor (Marc Evan Jackson) urges for the two partners to hold hands, and when Jenko refuses it's pointed out that he is literally rejecting Schmidt as he is "reaching out." Jenko finally acquiesces, but things only get more awkward when the counselor and Schmidt force him to interlock fingers as well.
From there we get to know a little bit more about the plot – which is dripping with meta-awesomeness referencing the fact that the film is a sequel following a massively successful first movie. The 21 Jump Street unit has moved across the street to 22 Jump Street – an awesome high tech new facility that is pretty obviously a reference to the sequel getting a bigger budget than the last one. As we learned at the end of the first film, the new movie will feature Schmidt and Jenko going to college, but the funny twist is that they are once again working another case where they have to stop the spread of a dangerous drug (blatantly making fun of the fact that most comedy sequels are just carbon copies of their predecessors in a different context).
Then begins the investigation. Seeking the advice of a drug expert, Jenko and Schmidt head down to the prison where they meet with Mr. Walters (Rob Riggle) and ask him about a potentially dangerous drug that could wind up making its way to spring break. Of course, Walters isn't exactly too keen on helping the two undercover cops who shot his dick off, and instead spends his time doing dumb impressions of Schmidt. When Schmidt says that he doesn't sound like that, Walters calls to Eric (Dave Franco) in the cell behind him and tells him to close his eyes and guess who is speaking. Walters does a stupid mongoloid voice and Eric guesses, "Schmidt being a little bitch."
Similar to the pre-prom scene in 21 Jump Street, the footage then continued with a new "gearing up scene," but the new added element is that Schmidt has taken to the idea of keeping a grenade in his underwear ("it just feels right.") This joke paid off perfectly by the end of the reel, as one scene featured Jenko and Schmidt hanging from the skids of a flying helicopter and Schmidt calling to Jenko to take the grenade out of his underwear. While this may seem like an okay idea, it just ends up with Jenko grabbing his partner's penis multiple times by accident.
Perhaps the funniest scene in the 22 Jump Street footage, however, was a scene featuring Schmidt and actress Jillian Bell as a new character named Brandi. While it's not entirely clear why, the two are extremely pissed at each other and are ready to start throwing punches (even though Schmidt doesn't want to hit a girl). What makes the whole thing so hilarious is that the situation is sprinkled with insanely weird moments of bizarre sexual tension where it looks like they are about to kiss, but then just end up yelling and accusing the other of "leaning in." The whole thing comes to a head when Schmidt exclaims, "This is the most uncomfortable fist fight I've ever been in!"
Finally, the reel also introduced the fact that Schmidt has a new love interest in the sequel, Maya (Amber Stevens) – who Schmidt brags about having missionary-position sex with a lot – but even that relationship comes with its own special unfortunate kink. It turns out that Maya is actually Captain Dickson's (Ice Cube) daughter – a fact that makes Jenko so deliriously happy that he starts running and dancing around 22 Jump Street singing, "Schmidt fucked the captain's daughter."
In case you couldn't already tell, 22 Jump Street looks absolutely hilarious and I'm incredibly excited to see the whole thing. Part of me does fear that by the time the movie comes out we will have seen too much in the trailers, but at this point I'm willing to give Lord & Miller all of my faith.
22 Jump Street arrives in theaters on June 13th.
Your Daily Blend of Entertainment News
Assistant Managing Editor
NJ native who calls LA home and lives in a Dreamatorium. A decade-plus CinemaBlend veteran who is endlessly enthusiastic about the career he's dreamt of since seventh grade.