A 24 Movie May Actually Happen After All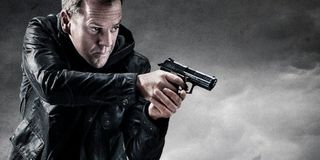 24 star Kiefer Sutherland and director Jon Cassar took the stage at Ballroom 20 during Comic-Con in San Diego today to talk about 24: Live Another Day and reflect on the series as a whole. The final question during the fan Q&A addressed the possibility of a 24 movie. From what Jon Cassar says, it sounds like Jack Bauer may reach the big screen after all, but we'll probably have to wait for it.
When Jon Cassar was asked if he'd direct a 24 movie, his response first addressed how vastly different TV is from movies, but say that the 24 movie is "still potentially out there, so that's good news." And then he added that it's really down the line. He didn't elaborate much beyond that, other than to express interest in directing if the opportunity arose.
After wrapping up its eighth season in 2010, a 24 movie was anticipated, but it didn't happen, and then Fox announced that they were bringing the show back for a limited series event. 24: Live Another Day aired this spring and brought back the terrorist fighting Jack Bauer (Kiefer Sutherland), his faithful friend and occasional assistant Chloe O'Brien (Mary Lynn Rasjkub), and a number of other new and returning supporting stars, Kim Raver and William DeVane among the returning, Tate Donovan, Benjamin Bratt, Michelle Fairley and Yvonne Strahovski among the newcomers.
Given how 24: Live Another Day left off, fans are likely hopeful that there will be more to Jack Bauer's story. Talk of the movie at the end of the panel was the only indication that we may not have seen the last of Jack Bauer. But we did learn some interesting things at the panel. Here are some of the highlights:
"The gun thing" was kind of an issue filming in London, but it sounds like that forced them to get creative when going for dramatic… like throwing someone out the window.
Sutherland says London has a "unique and special" texture that they tried to use as much as possible. He also said the stunt team in London was fantastic.
"This character has been the greatest gift in my career," Sutherland said of playing Jack Bauer.
Kiefer Sutherland joked about having Jack pull out a grenade in the helicopter at the end of Live Another Day and having him blow it up (for a DVD extra.)
Kiefer Sutherland says Michelle Fairley is "the strongest shortest person you've ever met." And he revealed that Jack and Fairley's character were just supposed to fight, but a few lines were added to their scene because Sutherland really wanted to work with her.
Reflecting back on working with Kim Raver when she first joined the series, Kiefer met Raver and her husband about five minutes before they shot a scene where he pushes Audrey against the wall and kisses her.
If he could work with any actor on 24, Kiefer Sutherland says he'd like to work with Gene Hackman.
When asked if Kiefer Sutherland and his father ever argue over whose character is more badass, Sutherland said they don't talk about work much. "It's almost like an odd family rule. You don't bring the business to the table... But I can kick his ass."
Kelly joined CinemaBlend as a freelance TV news writer in 2006 and went on to serve as the site's TV Editor before moving over to other roles on the site. At present, she's an Assistant Managing Editor who spends much of her time brainstorming and editing feature content on the site.
Your Daily Blend of Entertainment News
Thank you for signing up to CinemaBlend. You will receive a verification email shortly.
There was a problem. Please refresh the page and try again.