24: Live Another Day Adds Kim Raver And William Devane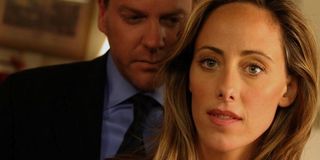 Earlier this week, Fox passed along word that the production of 24: Live Another Day was headed across the pond to London for "a thrilling international adventure." The clock has restarted on this series, and it's on London time! Today comes word that Kim Raver and the gold-peddling William Devane are signed on for the event series, which is due to air next summer on Fox.
If your memory's rusty on who these two characters are, Raver played Audrey Raines, one of the great loves of Jack's life. It's barely a spoiler to say that their romance ended badly, as that's the case for every woman who can't help but fall for the gruff but determined counter-terrorist agent. In the case of Audrey, she died trying to find Jack in China. And by "died" I mean, not really (see also Jack Bauer and Tony Almeida). But Audrey was torturted and psychologically abused and after finally getting rescued, ended up in a catatonic state. Her father, James Heller (Devane) -- the former Secretary of Defense -- told Jack he'd take care of Audrey and basically made Jack let her go, which Jack did. Audrey was last seen on life support at Heller's house. That was Day 6. Heller was also last seen on Day 6, and he and Jack weren't exactly on good terms by that point. I think Jack blamed Heller for not trying to find him in China, and Heller in return didn't want Jack to be with his daughter. Given the state of Audrey at the end of the day, it's not that hard to understand why.
The show went on for two more seasons during which time Jack loved and lost again at least once. I'd have to rewatch to keep an official count. The point is, Audrey was a "big one" in terms of Jack's romances, and her fate was left hanging in the balance. So it's particularly interesting to hear that she's coming back, as this is one more major loose end to tie up. And if there's anyone (alive) that Jack should end up with, it's probably her. As to how they'll fit in to the series -- or more to the point, what state Audrey will be in when she makes her appearance, Fox doesn't say, only that Raver and Devane will reprise their roles, joining fellow returners Mary Lynn Rajskub, who played Chloe in the original series, and Kiefer Sutherland, who lit up the next stage of his acting career as a TV action hero with Jack Bauer.
24: Live Another Day may be the closest fans get to a 24 movie, and that's ok, as the movie has seemed like a longshot for a while. When the series ended after its eighth season, Jack was defeated, alone and skulking off into the sunset, a wanted man. I'm hopeful that this summer-set limited series will bring the character back to glory, or at the very least, give him some less depressing closure. The same can be said for Audrey Raines, who's also had a tough time of it and deserves a better fate than the one she was scripted back in Season 6.
24: Live Another Day is expected to debut Summer 2014 on Fox.
Kelly joined CinemaBlend as a freelance TV news writer in 2006 and went on to serve as the site's TV Editor before moving over to other roles on the site. At present, she's an Assistant Managing Editor who spends much of her time brainstorming and editing feature content on the site.
Your Daily Blend of Entertainment News
Thank you for signing up to CinemaBlend. You will receive a verification email shortly.
There was a problem. Please refresh the page and try again.