3 Things San Andreas Gets Wrong About Earthquakes, According To A Scientist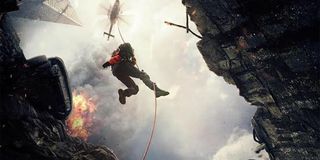 This weekend's big budget popcorn piece, San Andreas, finds Dwayne "The Rock" Johnson laying the smackdown on some earthquake's candy ass. However, that insane matchup aside, the film's main tectonic-based attraction seems to have drawn the critical eye of a USGS seismologist, who essentially rips the film a more gigantic gaping chasm than the one that befalls California in the film.
Taking her various technical gripes about San Andreas to Twitter, Dr. Lucy Jones vents on the film's apparent pseudo-science, dropping some serious knowledge about what the film got wrong regarding its depicted seismic cataclysm. Apparently, it was everything.
Jones would clarify that she meant the Los Angeles/San Francisco area, rather than all of California, generally. Yeah, that's right, San Andreas, you mistook those fault lines as falling within a subduction zone! Even the Cascadia subduction zone in the Pacific Northwest only typically rocks an M9 mitigated by its offshore activity that wouldn't match what's happening to L.A./S.F. in the movie. Duh...right?
Chasm = no earthquake? Well, I guess that abruptly renders the film's premise moot. Unless… aliens?
Well, California is going through a bit of a drought. Perhaps, the evil earthquake, in its attempt to lure The Rock out of hiding, has been gradually hoarding the potable water in a secret pocket, mixing it with some Pacific drink, readying it to be unleashed upon his family across California.
Kidding aside, it's probably no tightly-kept secret that a film as ridiculously premised as San Andreas might be bending the constraints of real-life science just a bit. However, it's fascinating and hilarious to see Hollywood fare dissected in a scientific manner. The film has certainly nestled itself comfortably within the confines of disaster-film conventions, as moviegoers will morbidly pay to see the visual spectacle of wanton destruction reaped by a fantastically vengeful set of natural forces. What can we say? We just like seeing that sort of thing, and the pseudo-science that apparently fails to adequately explain it will not be a factor in its success or lack thereof. (The plot, on the other hand…)
What's also clear about the film is that it will mostly showcase itself as a vehicle for the ever-rising stardom of Dwayne Johnson, who is experiencing quite the year, having already been part of the $1.5 billion grossing Furious 7, a highly-anticipated HBO TV vehicle, Ballers, and who just recently set his hands in the cement outside the TCL Chinese Theater, venerating himself as part of Hollywood's Walk of Fame. San Andreas, scientific warts and all, should be strong competition starting tomorrow for a box-office field coming off a rather tepid Memorial Day weekend showing.
Your Daily Blend of Entertainment News
Your Daily Blend of Entertainment News
Thank you for signing up to CinemaBlend. You will receive a verification email shortly.
There was a problem. Please refresh the page and try again.