Of Course The Rock Just Broke A Guinness World Record On The San Andreas Red Carpet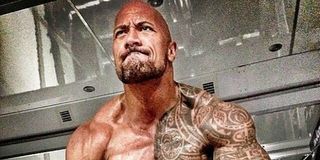 It's been a pretty impressive week so far for The Rock. Not only is he gallivanting around the world to promote San Andreas, but just a few days ago he officiated at the wedding of a super-fan. Now he's broken the Guinness World Record for the most selfies taken in three minutes. OK, yeah it's arguably the lamest world record that's ever been broken, but it still counts.
The good folks over at Guinness World Records confirmed that Dwayne The Rock Johnson did indeed captured105 selfies on the red carpet at London's Odeon Leicester Square, which propelled him into the record books. The Rock did this with the help of his legion of fans, each of whom had gathered to see him before the first screening of San Andreas in the English capital.
To celebrate his achievement, not only did The Rock get a certificate that will now probably take up a place of great pride on his wall, but Guinness World Records also uploaded a Tweet congratulating the muscle-bound behemoth.
According to the official website, Dwayne Johnson's record-breaking attempt was overseen by Guinness World Records adjudicator Mark McKinley, who made sure that a very specific set of selfie rules were followed. I know what you're thinking: what the hell is a selfie rule? Well, McKinley needed to make sure that the full face and neck of each participant was included in the image, while it also needed to be in focus and have no blurring. Unfortunately for The Rock, a number of the selfies he tried to take were disqualified, but in the end 105 was still enough to set the record.
Johnson broke this particular record in front of his San Andreas co-stars Alexandra Daddario and Carla Gugino, as well as director Brad Peyton, each of whom were also at the premiere. I think it's safe to say that they were all mightily impressed. In fact, The Rock was so overjoyed with his triumph that he took to Instagram soon after to celebrate with his fans courtesy of a specially created video.
The Rock's busy week continues as his press duties for San Andreas will proceed all the way until the disaster flick is finally released on May 29, 2015.
Your Daily Blend of Entertainment News