3 Ways Johnny Depp Can Save His Career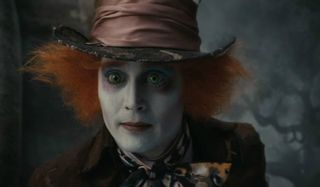 It's been a pretty bad week for Johnny Depp. While there's been some accusations made against the actor that we won't go into here, yet another one of his films has opened to a tepid box office response, which highlights just how far his star status has fallen.
Johnny Depp now hasn't led a box-office barnstormer since 2011's Pirates Of The Caribbean: On Stranger Tides. Since then, The Rum Diary, Dark Shadows, The Lone Ranger, Transcendence, Mortdecai, Black Mass and now Alice Through The Looking Glass have either been a flop, performed poorly or have been critically savaged. While it's hugely disappointing to see Johnny Depp struggling so badly to create films that resonate with a mainstream audience, he's still undeniably talented. Johnny Depp just needs to make some slight adjustments to get back on track. Thankfully for the three time Oscar nominee, I have some suggestions for him.
Start Acting His Age
Johnny Depp is 52-years-old. However, except for his stunning performance as Whitey Bulger in Black Mass – which was undone by some needlessly pandering sentimentality to try and provide a reason for the Boston gangster's mindset – in recent years we haven't seen Johnny Depp act his age or take on a character that seems genuinely personal. Instead, he's been masked behind makeup (Alice Through The Looking Glass) or has been overly eccentric (Mortedcai), which only seems to exacerbate his tabloid reputation as an odd-ball. In order to remind us of the acting prowess that we all know he possesses, we now need to see a truly honest, naked performance from him. Althogh his bombastic efforts previously worked so well for him in the past, they now seem to be alienating audiences.
Embrace Lower Budget Films
The fact that Johnny Depp's films have grossed over $7.6 billion worldwide means that studios have never had a problem giving his productions huge budgets. His star-appeal usually means that they'll earn it back, especially since his outlandish portrayal as Jack Sparrow was seen as the main reason why the Pirates Of The Caribbean franchise has taken in $3 billon. That said, now that The Lone Ranger, Transcendence, Mortdecai, and Alice Through The Looking Glass have each flopped, it continues the narrative that Depp is on a downward spiral. If he was to star in a more independent and cheaper film, which went on to make money, it would help to swerve opinion. It would also probably help if said film was well received critically, too, but being in the black will do for now.
Work With Actors Directors
In 2009 and 2010, Johnny Depp worked alongside Michael Mann (Public Enemies), Terry Gilliam (The Imaginarium Of Doctor Parnassus), Tim Burton (Alice In Wonderland) and Florian Henckel von Donnersmarck (The Tourist), providing an eclectic array of performances that audiences and critics responded to. Since then, Johnny Depp has either been given too much reign to take his characters to places that audiences aren't interested in, or filmmakers simply haven't got the best out of him. Which is strange, because he's worked with the Pirates Of The Caribbean director Gore Verbinski (The Lone Ranger) and Tim Burton (Dark Shadows) during this time. Or maybe that's the problem. Maybe Depp is now covering the same ground by working with the same directors, while new filmmakers have been unable to get the best out of him and have failed to either contain his quirks (Mortdecai) or provide him with a story that was befitting of his ability (Black Mass, Transcendence, The Rum Diary). Johnny Depp now needs to pick a director who is not just going to challenge him as an actor, but who also isn't afraid to tell him to hone it in. Because if he doesn't adjust, then Johnny Depp films could soon dry up, and despite his current problems, that would be heartbreaking.