Mortdecai Is A Box Office Disaster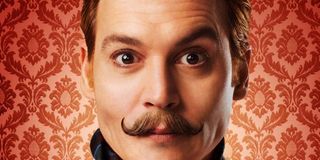 It appears that Johnny Depp's comedy vehicle, Mortdecai, showed up embarrassingly anemic at the box-office this past weekend. With a tragic domestic gross of $4.13 million ($5.2 foreign), the film will have a long and arduous path towards making back its $60 million budget.
According to the weekend report, Mortdecai made its debut placed at number 9, failing to even surpass the 5-week-old Selma, 9-week-old release, The Imitation Game and was most definitely denied sharing any oxygen with the 5-week-old headline-making momentum of multi-week topper, American Sniper. Compounding the film's underperforming ignominy, it will now take its place firmly within the top 20 of the worst all-time openings (for 2500+ theater releases) at number 18, nestled comfortably between Walk Hard: The Dewey Cox Story and Punisher: War Zone. So, what could have possibly gone wrong to have reduced the once unbreakable force of Johnny Depp's box office appeal?
Barring the more qualitative criticism of the film's laborious proclivity for dragging the audience through a series of tired, unfunny attempts at humor, the film likely did itself no favors by releasing itself as an R-rated comedy. When you think of successful contemporary R-rated comedies, thoughts come to mind of The Hangover films (at least, from a financial standpoint, the first two), Bridesmaids, Wedding Crashers, and even the 21 Jump Street films (the first of which even featured a Depp cameo). Looking at a list of such titles, you see pattern of films that firmly court specific demographics (in this case, young adults) and understands what appeals to those groups.
Mortdecai, unfortunately, was a bit of an anomaly in that it bills itself as almost a quasi-sophisticated Peter Sellers-type fish out of water farce. (Whether or not it actually accomplished that, is another story.) However bad it might have ultimately been, Mortdecai seemed to close itself off from the PG-13 audience-friendly film fanatics that probably enjoyed the Austin Powers series and maybe have fond memories of the tongue-in-cheek humor of The Naked Gun series. It was almost self-sabotage from the get-go, and it begs the question of exactly WHO did they expect to see this movie in the first place?
The point being, Mortdecai is a "stupid comedy." That is not intrinsically a bad thing to be. However, those kind of films especially need to consider the audience to whom they are trying to speak because humor is so firmly rooted in culture. If they thought that the film's presentation mixing old-fashioned pseudo-sophistication and fake British accents of Johnny Depp and Gwyneth Paltrow were going to make anyone old enough to take in an R-rated flick tell themselves "I have GOT to see that!", then the tragedy of Mortdecai may truly lie in the fact that Lionsgate gave us a film that all signs indicated that nobody wanted.
Mortdecai is out at theaters now, should you be looking for some place to be alone and undisturbed.
Your Daily Blend of Entertainment News