The Star Wars Star Who'll Replace Johnny Depp In That Long-Awaited Don Quixote Movie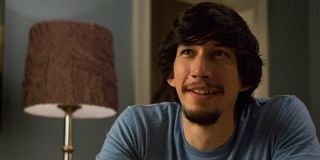 Adam Driver is developing a wonderfully eclectic resume. While most movie fans will now forever know him as Star Wars' Kylo Ren/Ben Solo, he's also made sure to push his acting talents with roles in a variety of smaller films, including Frances Ha, Inside Llewyn Davis, Midnight Special, and While We're Young. Clearly no project is too intimidating for the actor, because Adam Driver has now signed on to replace Johnny Depp in Terry Gilliam's Don Quixote film, which the director has been trying to get made for nearly 20 years.
Variety has revealed that filming on The Man Who Killed Don Quixote will begin in October with Adam Driver taking on the role of Toby Grisoni, while The Quantum Of Solace's Olga Kurylenko will play the wife of Toby's boss. Terry Gilliam admitted that replacing Johnny Depp with Adam Driver has led to some changes to the character, though.
Rather excitingly, The Man Who Killed Don Quixote will also include a Monty Python reunion, as Michael Palin has been cast as a villager who believes he is Don Quixote. But that's merely a footnote in this story, because it now finally looks as though we'll get to see what Terry Gilliam has been dreaming up for close to 20 years. It's believed that Terry Gilliam has been given a $19 million budget to play with on The Man Who Killed Don Quixote, and production will start as early as June. The film will take place in Spain, Portugal, and the Canary Islands, and it's hoped that it will be finished by Christmas.
The Man Who Killed Don Quixote will see Toby (Adam Driver) returning to the small Spanish village where he studied and previously made a film based on Miguel de Cervantes' novel. Unfortunately, he's now a jaded young advertising executive looking for inspiration in his own life. Toby soon gets caught up in an epic adventure back through time, which sees him tackling all kinds of individuals, including giants and knights.
As usual, Terry Gilliam announced that work will begin on his latest iteration of The Man Who Killed Don Quixote in an honest, self-deprecating, and hilarious manner, as he told a Cannes press conference, "I want to get this film out of my life so I can get on with the rest of my life."
Between 1998 and 2014 Terry Gilliam has made seven attempts to get the film produced. The first, which would have been led by Johnny Depp, was sabotaged over financial difficulties, equipment being destroyed by a flood, and the illness of actor Jean Rochefort. These struggles made up the famed 2002 documentary Lost In La Mancha.
Since then, Robert Duvall, Ewan McGregor, John Hurt, and Jack O'Connell have each been attached to the film, but funding has always collapsed. Additionally, Hurt's diagnosis with pancreatic cancer in September 2015 suspended filming again.
There now looks to be no turning back, with Terry Gilliam admitting that he's adjusted the script to match the modern world and to suit Adam Driver. We'll finally get to see The Man Who Killed Don Quixote at some point in 2017. Well, hopefully.
Your Daily Blend of Entertainment News
Your Daily Blend of Entertainment News
Thank you for signing up to CinemaBlend. You will receive a verification email shortly.
There was a problem. Please refresh the page and try again.