To 3D Or Not To 3D: Buy The Right Godzilla Ticket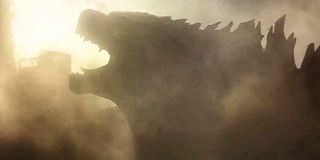 Forget that silly 1998 Godzilla. The King of The Monsters is back, rebooted, and better than ever in a new adventure from Monsters director Gareth Edwards. When a series of bizarre natural disasters are rattling Asia, an American engineer (Bryan Cranston) and a Japanese scientist (Ken Watanabe) suspect there's something more deadly and devastating than earthquakes at its source.
Our theatrical review will weigh in on whether or not this new release is worth your time, while this column will focus solely on the film's use of 3D. Considering seven separate categories, To 3D Or Not To 3D evaluates the full scope of the 3D viewing experience. Think of it as a consumer's guide for your movie-going, complete with a viewers poll where you can weigh in on how you plan to see Godzilla.
Note: This reviewer screened an IMAX 3D version of the film.
Fit Score
5/5
That's a bingo. Godzilla is big in just about every way you can imagine with sprawling action sequences, a globetrotting adventure, and of course the titular titan himself. Godzilla was born for spectacle, and the boost of 3D is a natural part of his onscreen evolution.
Planning & Effort Score
5/5
Remarkably Godzilla was not shot in 3D, but you'd never guess to look at it. Gareth Edwards, his director of photography Seamus McGarvey and his editor Bob Ducsay actually plotted out every frame of the film in advance with an exhaustive pre-visualization. And it seems to have served them well when it came to the 3D post-conversion, as the leaping from different shots, focuses and locations was never jarring to the eye. For more on the specifics of Godzilla's masterful post-convert, check out this special featurette.
Before the Window Score
4/5
This is the element of 3D where things seems to fly out from the screen. Godzilla teases its use over its opening credits when ash flits out into the audience around the name of the movie's monster. From there, smoke and debris will lash out as this adventure heats up. But Edwards also smartly creates foreground elements of windows (smudged or broken) that gives us the sense of being embedded in the movie, dangerously close to ancient beasts that could tear our world to pieces.
Beyond the Window Score
5/5
Alternately, this is the element of 3D that gives the film an enhanced sense of depth. For Godzilla this means an enveloping world where the tangles of wild jungles, the cruel stretches of long hallways, the deep cuts of city streets, and the incoming back spikes of Godzilla himself have a striking sense of real-life depth.
Brightness Score
5/5
Godzilla is a decidedly dark movie, where its monsters move in shadows of caves, buildings, and cliffs. The additional dim of 3D glasses could be a real buzz kill of you're in a theater with a poorly lit projection. But in my screening, I found the darkness moody, but never murky. Godzilla artfully painted in shadows, and you won't miss a thing--even with 3D glasses.
Glasses Off Score
5/5
A simple test to get a sense of how much 3D is happening onscreen is pop off your glasses, and observer the blurs. To be honest, I got so caught up in Godzilla that I nearly forgot to administer this test. But I caught myself in its final act, and found that the 3D is thoroughly used, but keenly focused on where it wants the viewer's eye.
Audience Health Score
5/5
Bad 3D can be bad for you, causing nausea, eyestrain, or headaches. Godzilla's got some of the best 3D I've ever seen, and never caused me a single moment of physical discomfort.
3D SCORES RECAP
3D Fit
5
P & E
5
Before The Window
4
Beyond The Window
5
Brightness
5
Glasses Off Test
5
Audience Health
5
Total Score
34/35
Final Verdict: As it got nearly a perfect score, I would obviously recommend seeing Godzilla in 3D, IMAX if you can. Gareth Edwards was careful to consider how to implement the device into the film he wanted to create. The cinematography does make use of rack focus, and out of focus foreground elements, which are both elements that I have docked points for in other films. But while I noticed them here, they didn't jolt my eye as they have in the past. Instead, I felt like Edwards was gently guiding my eye to focus on what was on importance to him in the scene.
The use of 3D in Godzilla is a major boost to its spectacle, throwing audiences into the world with its enhanced depth and the bolstered sense of motion the 3D brings to the experience. But also, Edwards careful direction feels like he is leading us and our eye through the story in a way that is totally masterful, pulling our focus to a poignant moment between parent and child, then throwing us into a dizzying action sequences where Godzilla roars into focus in all his glory. If you're only going to see one 3D movie this year, I'd make it Godzilla.
This poll is no longer available.
Click to visit our full To 3D Or Not To 3D Archive.
Your Daily Blend of Entertainment News
Staff writer at CinemaBlend.