42 Star Chadwick Boseman Is The Latest Name On Black Panther Shortlist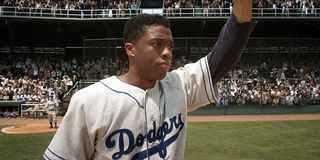 These days pretty much any rumor about a Marvel character getting his or her own movie can sound legitimate-- in a world where a gun-wielding raccoon will be trotted out as movie star, anything is possible. But conversation around Marvel's Black Panther has been starting and stopping for years now, with Marvel Studios president Kevin Feige hinting at it from time to time, but nothing ever moving past the rumor stage.
What we have today is still technically just a rumor, and it's one of those maddening shortlist stories that don't always turn into anything real… and yet, it's pretty interesting all the same. Latino Review, who have been following Black Panther news pretty closely, say that 42 star Chadwick Boseman is the latest to join the shortlist of actors in line to play the role, thanks to that modest film's pretty major box office success ($69 million after just 2 weeks in theaters). They point out, rightly, that Marvel has a track record of snagging up-and-comers for their biggest roles, from bringing in Chris Hemsworth as Thor when he was just "Captain Kirk's dad from Star Trek to taking a gamble on Parks & Rec goofball Chris Pratt to lead the Guardians of the Galaxy. The fact that pretty much nobody knows Boseman's name probably makes him more likely to get the job.
He may still have to beat out Morris Chestnut, a much older and more established actor who's also been rumored for the role, and who knows what other actors who might be on the shortlist. But the fact that a shortlist may exist at all is a strong sign that the Black Panther movie really is happening-- even if the likes of Ant-Man, Dr. Strange and who knows what else still seem to be ahead of it in line.
Staff Writer at CinemaBlend
Your Daily Blend of Entertainment News
Thank you for signing up to CinemaBlend. You will receive a verification email shortly.
There was a problem. Please refresh the page and try again.