45 Important Lessons Christmas Movies Have Taught Us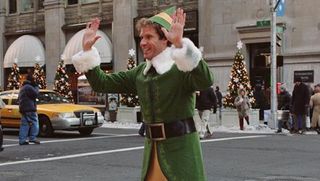 For the seasoned holiday celebrator, there are many vital Christmas lessons that will eventually be learned over the years. Like not to wait until Christmas Eve to do your shopping, remember to keep the tree watered and if you have a cat, put the shiniest and most delicate ornaments out of paw's reach, if possible. Also avoid tinsel. If you have a cat, you know why. As it happens, movies are also chock full of learning lessons, especially Christmas movies (and in some cases, movies with memorable Christmas scenes), which is where this list comes in, complete with helpful gif illustrations...
We'll start with basics that apply to life as much as to Christmas...
It's ok to turn down a dare once in a while. You don't want to be the kid standing out in the cold.
Don't take rides from strangers...
...or fruit spray...
Sometimes you get a gift you don't want. Wear it with pride. Someone loves you...
Ornaments hurt a lot more on the floor than they do on the tree...
Candy cane grams are a fair indication of social status (You go Glen Coco!)...
Egg nog may lead to mildly destructive behavior...
Make sure you have enough to eat...
...especially if you plan on drinking heavily during tense family gatherings...
A good song can be wrecked with a bad Christmas cover...
But good dance moves never go out of style...
Just be sure to watch where you're going...
Don't assume that just because it's Christmas, you stand a chance against Arnold...
Unless you're the Big Show...
Watch out for that escalator, it's a doozy...
And is better ridden standing up...
Don't underestimate the resourcefulness of children...
Or the pissed off cop sneaking through your air ducts and elevator shafts...
Be sure to clean out the car once in a while...
...and empty the shitter.
On the subject of Santas, it's crucial to recognize the difference between real Santa and fake Santa...
Real Santa...
Fake Santa...
Real Santa...
Drunk Santa...
Mean Santa...
Bad Santa...
As for Christmas ghosts...
If you find yourself getting visited by spirits, Dickens-style, they might try to fool you into thinking that the Ghost of Christmas Present is the friendly one...
But check which version you're in! Sometimes he is really, seriously creepy...
Or he's a she, and she's really violent...
She's rough but she means well...
Things can get crazy around the holidays...
Emotions are running high...
Family tension can erupt...
And for some people, the holiday triggers sad memories...
Also in rare cases, horrible memories about dad dying in a chimney...
Some people are just going through a rough patch...
So try to keep in mind what really matters...
The music...
The smiles...
Ok, fine, the presents too...
And the food...
But also family...
Laughter and good friends...
Expressions of love...
And the squirrels...
Merry Christmas to all! And to all a good, safe and happy holiday season...
Your Daily Blend of Entertainment News
Assistant Managing Editor
Kelly joined CinemaBlend as a freelance TV news writer in 2006 and went on to serve as the site's TV Editor before moving over to other roles on the site. At present, she's an Assistant Managing Editor who spends much of her time brainstorming and editing feature content on the site.