5 Cinderella Secrets You Need To Know About Disney's Remake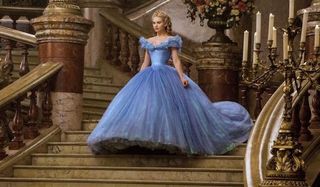 For an extended period of time back in 2013, actress Lily James had the chance to see the world through the eyes of Cinderella. Starring as the fairy tale princess in director Kenneth Branagh's live-action adaptation, she got to step into the life of the fictional character and literally take a walk around her in glass slippers. As you might imagine, this time gave her some special insight into the philosophy, psychology and mentality of her adopted personality, and she was kind enough to share some of her insight with me during a recent interview.
I had the chance to sit down one-on-one with the young actress during a press day for Cinderella in Los Angeles, and it was during our conversation that James gave me a fascinating look into the character of Cinderella, her personal approach to the film, some of the source material's key issues, and her experience on set.
Richard Madden Wasn't Lily James' Only Prince Charming
Kenneth Branagh has been known to take key roles in the movies he directs, be it Henry V or Jack Ryan: Shadow Recruit, but he wound up deciding not to take a part in his live-action version of Cinderella. Just because the filmmaker isn't seen on screen in the fairy tale doesn't mean he didn't utilize his experience as an actor during the making of the film, though.
While discussing her relationship with Branagh on the Cinderella set, Lily James revealed to me that when she was testing for the lead role in the movie, the director actually stood in as her Prince Charming – an experience she was floored by. She explained,
Given Branagh's impressive filmography both in front of and behind the camera, this isn't a difficult enthusiasm to understand.
Why It's 100% Okay That Cinderella Doesn't Have Any Flaws
When first diving into a performance, actors look at their characters in every dimension. They see the heroic sides of their antagonist characters, and the darker sides of their heroic characters. This, however, was not how Lily James chose to approach Cinderella. Instead, she fully embraced that the titular heroine is a fairy tale princess, and that gave her the freedom to actually play her as an entirely flawless person.
Fully understanding the cynical perspective of "creating your own happiness," the actress told me that her version of Cinderella is permitted to be the perfect individual that all of us want to be, while still fully comprehending pain and allowing the audience to empathize with her. Said James,
Are you glad she's free of on-screen flaws?
This Is How Cinderella Is Able To Be Happy All The Time
One of the trademarks of Cinderella's personality is her indelible spirit and enthusiasm. Despite living a rather awful life – serving as a slave for her horrible step-mother and step-sisters – she refuses to let go of her smile. From an outside perspective, one might think that the girl's a bit demented. But in exploring the mentality of the character, Lily James found access to why she can always be upbeat. It's all about making your own happiness. She explained,
Of course, having that kind of courage and strength is damn near superhuman, but there's a perfectly simple explanation as to why Cinderella can have that, and it's tied to the previous post of her being 100% flawless.
Why Cinderella's Relationship With The Prince Lasted Since 1950
When one watches the Walt Disney Animated Cinderella from 1950 as an adult, you realize something about Prince Charming: he's not really a character. He sees the titular heroine at the royal ball, sings and dances with her, and then sends his henchmen to look for her when she's gone. That's it. Obviously that wouldn't fly in a modern day adaptation of the same story, but it's really one key scene in the new film that fixes this rather ridiculous plot flaw 65 years later.
The scene in question is a pre- ball "meet cute" in the woods that finds a flustered Cinderella bump into her future royal boyfriend while riding on horseback in the woods. For Lily James, this moment was absolutely crucial in the movie, and not only because it gave dimension to Richard Madden's character. She explained,
Still, some see the story's central relationship as a bit dated in a modern context, but Lily James has a defense for that, too. Read on.
Why This Version Of Cinderella Isn't Anti-Feminist
From a macro perspective, the basic story of Cinderella doesn't mesh too well with modern feminism and female empowerment. It's a classic damsel-in-distress tale, where a woman's only savior from destitution is a handsome, rich man. From Lily James' perspective, however, there is a very key way in which she believes the movie and her interpretation skirts this controversy. It boils down to Cinderella's perspective on her relationship with Prince Charming. As the actress put it,
Going further, Lily James believes that Cinderella winds up showing immense strength in revealing who she really is to the prince, and that she felt very much empowered at that part of the story. She added, "I wouldn't want to do it the other way."
Assistant Managing Editor
NJ native who calls LA home and lives in a Dreamatorium. A decade-plus CinemaBlend veteran who is endlessly enthusiastic about the career he's dreamt of since seventh grade.
Your Daily Blend of Entertainment News
Thank you for signing up to CinemaBlend. You will receive a verification email shortly.
There was a problem. Please refresh the page and try again.