Disney's Cinderella Hands Kenneth Branagh Its Glass Slipper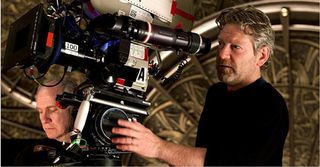 Going from one completely unlikely director to another, Disney's upcoming live-action Cinderella may now finally be able to get started. Just three weeks after Mark Romanek dropped off the project, the studio has reportedly picked Kenneth Branagh to take over. Yes, he's the Kenneth Branagh who played Hamlet and Professor Gilderoy Lockhart on screen, but more fittingly he's the guy who directed Thor and the upcoming Jack Ryan-- a blockbuster and a blockbuster-in-training that have clearly made him a director for Hollywood to watch.
According to Vulture, which broke the news, the studio is currently negotiating with Branagh and hoping to keep the film on track to start production in London this fall. Cate Blanchett, who has been interested in playing the wicked stepmother since last fall, is reportedly still on board, though they still haven't managed to pick the title character. As of December the studio was eyeing Saoirse Ronan, Alicia Vikander and Gabriella Wilde, but with a director shakeup like this, it seems safe to assume they're starting from square one.
Cinderella will be part of a recent trend of female-led revisions of classic tales that are clearly a priority for the studio after the massive global success of Alice in Wonderland in 2011. Next up will be Oz The Great And Powerful, which technically stars James Franco but features Mila Kunis, Michelle Williams and Rachel Weisz all in major roles. Next year will be Angelina Jolie's Maleficent, a spin on the Sleeping Beauty story. And if Branagh falls in to place, Cinderella will presumably come not long after-- a brilliant way for Disney to continue marketing its popular princesses in brand new ways. It's the product--ahem, I mean story-- that never quits.
Your Daily Blend of Entertainment News
Staff Writer at CinemaBlend