5 Things Everyone Should Know About Doctor Strange, The Character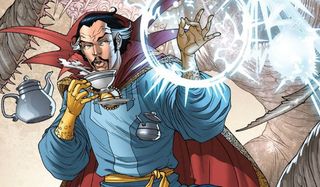 If you peruse the geeky side of the Internet, chances are you've run into a few articles about Marvel's upcoming movie Doctor Strange. Set for release in 2016, the film is set to explore a whole new area of the Marvel Cinematic Universe. While Thor, Thor: The Dark World and Guardians of the Galaxy have shown us the extraterrestrial facets of this universe, Doctor Strange will expose audiences to something that hasn't been seen yet: magic. The good Doctor was name dropped earlier this year in Captain America: The Winter Soldier, and lately there's been a lot of buzz over who will play him, with everyone from Benedict Cumberbatch to Ewan McGregor rumored for the role. Combined with Sinister director Scott Derrickson at the helm, this movie is sure to be one of Marvel's more unique offerings.
That being said, despite being a Marvel mainstay since 1963, Doctor Strange is not on the same level of popularity as characters like Captain America or Hulk. Sure he may be a sorcerer, but who is he? What's his background? Who's in his supporting cast? Why should we care about this guy when he appears in the theaters two years from now? Don't worry, we've got you covered. Considering how important he's been to the Marvel universe over the decades, Doctor Strange will likely be a major player in the MCU, especially since he'll be our main window into the world of magic. To get you excited for his solo film, here's a rundown on everything you need to know about Doctor Strange, from his origin to his rogues gallery to the tools he uses to combat magical threats. If his comic history is any indication, we're in for a wild ride with the movie.
He Really Is A Doctor
Yes, in Stephen Strange's case, the title of Doctor is more than just a clever superhero name. Before he put on the cloak, Strange was a gifted neurosurgeon, but was extremely selfish and only cared about the wealth he reaped from his career. After a car accident damaged the nerves in his hands, he stubbornly refused to take a teaching or consulting position, opting instead to find a way to restore his prized tools. After many failed attempts, he finally found his way to the Himalayas to ask for help from The Ancient One, a mysterious hermit. The Ancient One refuses to help him at first because of his selfishness, but after Strange thwarts an assassination plot on the elderly sorcerer from his apprentice Baron Mordo (more on him later), the Ancient One decides to teach Strange about the mystical arts. Abandoning his attempts to heal his hands led him on a new path, and once his training was complete, Strange became Earth's new Sorcerer Supreme. However, his medical knowledge has come in handy on several strange anatomic cases, which in the Marvel universe tend to occur quite a bit. We already know the film won't explore his origin, but for the sake of giving audiences some clarity, there at least needs to be some dialogue included about how Strange went from surgeon to sorcerer.
He Has His Own Base And Manservant
Every superhero needs a cool pad to chill out at, and Doctor Strange's is the Sanctum Sanctorum, a three-story mansion in Greenwich Village. It would be an understatement to say this building is a peculiarity. Like the TARDIS from Doctor Who, the Sanctorum is bigger on the inside, and contains many of Strange's magical artifacts. It's protected by a variety of spells, so unless you're extremely powerful, the chances of breaking in are near impossible. The house may seem odd to the random visitor, but for Strange, it's the perfect environment to conduct his magical studies and keep his unique items safe from the rest of the world. The Sanctorum also came in handy post-Civil War as a hideout for superheroes refusing to register with the U.S. government.
Of course, even the Sorcerer Supreme needs help, which is why Strange is assisted by his manservant Wong. Descended from an ancient order of Chinese monks, Wong was sent by the Ancient One to serve Strange, and over the years the two have become close friends. Though he doesn't have any superpowers or magical abilities, Wong is knowledgeable about the mystic arts and is a talented martial artist who has trained Strange in self-defense, as well as taught some other Marvel characters a few moves. When Doctor Strange comes out in 2016, Wong is a must-have character for the supporting cast.
His Rogues Galley Is Intense
Spider-Man may have the biggest Marvel rogues gallery, but Strange has some of the scariest. As mentioned earlier, Strange prevented an assassination attempt from the Ancient One's apprentice Baron Mordo. Since then, Mordo and Strange have frequently clashed, and Mordo has cemented himself as one of the Sorcerer Supreme's greatest enemies. Although their mystical abilities are similar, the Baron frequently uses black magic and summons demons, something which Strange is hesitant to do. It's a good bet that Mordo will be an antagonist in Doctor Strange, if not the primary one. Excluding him from the movie would be like if the Joker was excluded from the first Batman film.
While Doctor Strange has faced other dangerous forces, the most powerful has typically been Mordo's master Dormammu, ruler of the Dark Dimension. Once described as "worse than a demon," the entity's powers are near limitless and as a being of pure energy, he can never truly be killed, as he will always reform himself. The only reason he hasn't succeeded in overtaking the universe is that when he is away from the Dark Dimension, his powers weaken, allowing Strange defeat him, though that's still a difficult task. If Dormammu is introduced in the Marvel Cinematic Universe, he needs to be saved for one of the Doctor Strange sequels. The series can't make the same mistake Green Lantern did and introduce the powerful entity in the first movie. He's something that needs to be built up to.
He's A Team Player When He Needs To Be
Doctor Strange is typically off doing his own thing, but he's also been a member of several teams throughout the decades. In the '70s, he led The Defenders, a lineup that included Hulk, Namor the Sub-Mariner and Silver Surfer, a.k.a. the outsiders of the Marvel universe. Since the Defenders of the MCU will consist of street-level heroes like Daredevil and Jessica Jones, it's doubtful Strange will be a member of this incarnation. His chances of joining the Avengers are more likely considering he's been a part of the New Avengers on and off since Civil War ended. Strange is also a member of the Illuminati, a group of superheroes that have secretly guided events in the Marvel universe. Alongside original members Iron Man, Black Bolt, Mister Fantastic, Namor and Professor X, Strange helped make several crucial decisions to keep Earth safe, including hiding the Infinity Gems and launching Hulk into outer space.
He Has Plenty Of Cool Toys
On his own, the good Doctor is already quite powerful. By casting the right spells (many of which he draws from the Book of Vishanti), Strange can exhibit many abilities, like astral projection, healing, energy manipulation, telekinesis and so on. However, he also has access to several magical artifacts that give him an extra boost. There's the Cloak of Levitation, which allows the wearer to fly, the Eye of Agamotto, which lets Strange see through illusions, and Orb of Agamotto, which gives Strange clairvoyance and allows him to detect magic being used anywhere. All three objects were left behind by Agamotto, a powerful entity that was Earth's first Sorcerer Supreme. The Orb cameoed in Thor as one of the items in Odin's treasure vault. How Strange will eventually get his hands on the artifact is unclear considering how heavily protected the vault is. On the other hand, Strange's magic may be powerful enough so that he can sneak in to steal it. After all, he can put it to good use in his hands, and Strange without all of these magical items is like Batman without his utility belt: he's still talented, but seeing him without the proper tools is just weird.
Your Daily Blend of Entertainment News
Connoisseur of Marvel, DC, Star Wars, John Wick, MonsterVerse and Doctor Who lore. He's aware he looks like Harry Potter and Clark Kent.