7 Huge Things To Know About Robert Downey Jr's Return And Marvel's Civil War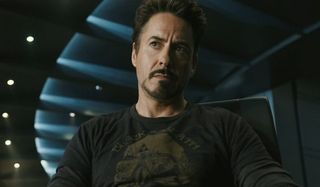 In what can only be described as one of the most shocking announcements for the Marvel Cinematic Universe, it was revealed that Robert Downey Jr. is in final negotiations to play Tony Stark in Captain America 3, which will adapt the 2006 crossover event Civil War. The movie will see Captain America and Stark on opposing sides of the Superhuman Registration Act, a bill that forces superhumans to reveal their identity to the U.S. government and serve under their jurisdiction, with Stark pro-registration and Cap anti-registration. There has been speculation for weeks that Downey's role in the MCU would be expanded in some capacity, but few saw something like this coming. This is intended to kick off years of new films and franchises given how heavily Civil War affects the status quo.
There are still way more questions than answers at this point, one of which is how they'll adapt Civil War when there are significantly less superhumans in the MCU than in the comics. Regardless, in case you're not familiar with the nearly decade old storyline that turned the Marvel universe askew, here's a rundown of the main plot points, as well as what Downey's inclusion in Captain America 3 means for the MCU.
The Superhero Registration Act
The Civil War kicks off with the passing of the Superhuman Registration Act after multiple incidents of mass casualties between superpowered individuals plague the Marvel universe, including a Hulk rampage in Las Vegas and an attack on Manhattan to strike back against former S.H.I.E.L.D. director Nick Fury. The final straw occurs was when a superhero group called the New Warriors tried to capture several supervillains for a reality TV show. It quickly turned into a fight, and antagonist Nitro uses his explosive powers to destroy several city blocks, killing hundreds of civilians. Nitro and the superhero Speedball were the only survivors.
Under the Act, any person in the United States with superpowers, whether it's genetic, magical or even through use of unusual technology, is required to register with the government as "living weapons of mass destruction." It doesn't matter if you help defend the law or work against it. If you have superhuman abilities of any kind, be they natural or artificial, you must register with the government or face imprisonment.
Allies Become Enemies
The Act creates a divide between the heroes: those who are pro-registration and those who are anti-registration. Leading the pro side is Tony Stark, who, despite months of attempting to stop the passing of the bill, is stirred to action after Nitro's attack. Seeing that working against the law is pointless, he, along with other notable supporters Mister Fantastic and Hank Pym, believes that superpowered people have run about unregulated for too long. With the proper training and oversight, superheroes under the watchful eye of the government can do more good.
Leading the charge against the bill is Captain America, who argues that this bill infringes on civil liberties, especially considering that every "superhuman" is forced to disclose their true identities to the government, which jeopardizes their personal life. It also restricts them in how they react to emergency situations that normal protocols can't predict. Joined by other heroes, including Luke Cage and Falcon, Cap goes underground and continues fight supervillains while avoiding being caught by Stark's pro-registration forces.
Spider-Man Gets Put Through The Ringer
Iron Man and Captain America may be the representatives of the two opposing sides, but Spider-Man plays an important role in the story. After finding himself caught in the middle, Peter Parker is convinced by Tony Stark to disclose his identity to the public. Peter unmasking himself on live TV is the turning point of the series. Peter was soon given an Iron Spider costume by Stark and helped the pro-registration forces, despite his personal life being ruined. However, after learning that captured superhumans are imprisoned indefinitely in the antimatter universe called the Negative Zone, he realizes he chose the wrong side and joins forces with Cap's anti-registration movement.
Previous discussions about Civil War being adapted for live-action have often pointed out that without Spider-Man, a crucial element of the story wouldn't be represented since the live-action rights to the Wall Crawler are held by Sony. However, there have been rumors of Sony and Marvel Studios attempting to work out a deal, as well as an image released today teasing a different version of the Civil War coming out in the comics in summer 2015, it's possible that Spider-Man may actually play a part in the Marvel Cinematic Universe, whether it's as soon as Captain America 3 or further down in the future.
It All Culminates In A Huge Battle
Granted, this happens with most comic book events, but this battle was especially brutal. After many fights between pro and anti-registration forces, one of which resulted in Cap teammate Goliath being killed by a defective Thor clone, both sides met for one last battle after Cap's Secret Avengers attempted to free the superhuman prisoners being held on Riker's Island. The battle was soon teleported to New York City, and soon Cap and an armor-damaged Iron Man were fighting each other. Cap was about to finish his former friend off, but after seeing the devastation that both sides had unleashed on the city, he ceased fighting and surrendered. The Civil War was over.
Tony Stark Becomes Director Of S.H.I.E.L.D.
Emerging victorious, though not without great loss, Tony Stark was appointed the new Director of S.H.I.E.L.D., with Maria Hill as his second-in-command. After the War, Stark and his teammates enacted the 50 State Initiative, which appointed a dedicated superhero team for each state after they were trained at Camp Hammond. Stark also creates The Mighty Avengers, another government-approved superhero team. However, his time as leader didn't last for long. After Stark is discredited during the Skrull attack in Secret Invasion, he is forced to go into hiding, and former Green Goblin Norman Osborn takes the reigns, reorganizing S.H.I.E.L.D. as H.A.M.M.E.R.
Captain America Is Killed Soon After
After surrendering, Cap is taken into custody and indicted on criminal charges. Weeks later, he is brought to a federal courthouse to be tried, but before he can enter, he is seemingly shot and killed by Red Skull lackey Crossbones, although it was later revealed that a hypnotized Sharon Carter actually fired the killing shots up close. His death had a huge impact on the superhero community; especially Tony Stark, who felt guilty over what his victory resulted in, commenting later that "it wasn't worth it." As with most comic book deaths, though, Cap's wasn't permanent, and after two years, the hero was brought back to life. The explanation involved a lot of weird comic book science, primarily due to the gun Carter used actually "phasing" him through time, but it didn't matter because the Star Spangled Avenger was back!
After Avengers: Age of Ultron, Chris Evans is signed on for two more movies: Captain America 3 and presumably a third Avengers movie. Evans has expressed interest in directing after his stint as the patriotic superhero, so him signing on for more movies is unlikely, though not impossible. What is possible is that if Captain America 3 is adapting Civil War, then Cap may be killed at the end of the movie, but this would be permanent. Another possibility is the events of Captain America 3 prompts Cap to hang up his shield until Avengers 3 where he helps his comrades one last time. If the latter is the case, then perhaps Cap will die a heroic death against Thanos...or maybe he'll escape unscathed. Either way, big things are in store for the Star Spangled Man with a plan.
This Expands Robert Downey Jr.'s Role Significantly
Before this was announced, it was common knowledge that Downey was only signed on for one more Avengers film after Avengers: Age of Ultron. However, last week Downey hinted that he would be doing "other stuff" with Marvel, prompting speculation that his role in the Marvel Cinematic Universe would be expanded past being an Avenger. Obviously that speculation proved correct. While each character in the MCU is important, Tony Stark arguably its biggest character. Downey kicked off the MCU with Iron Man in 2008, and it propelled him to levels of stardom. Thanks to that film and later appearances, Iron Man is now one of the most well-known superheroes in the world. With name recognition like that, it's understandable that Marvel wants to keep Downey around for as long as possible, which is why both parties are back at the negotiation table. The Captain America film series is already extremely successful, but now it will get an extra boost from Marvel's eccentric genius, billionaire, playboy philanthropist.
From the announcement, we can deduce that something will happen, either in Captain America 3 or at the end of Avengers: Age of Ultron, that will eventually culminate in the MCU's Civil War. If things go like they did in the comics, then Tony will likely don the armor again. Here's one unusual route they could take Stark in the MCU: at the end of the film, Tony follows in the steps of his comic book counterpart and becomes Director of S.H.I.E.L.D. Yes, Phil Coulson may be head of the organization right now, but leadership can change, and Tony would certainly bring a...unique perspective to dealing with global incidents.
Your Daily Blend of Entertainment News
Connoisseur of Marvel, DC, Star Wars, John Wick, MonsterVerse and Doctor Who lore. He's aware he looks like Harry Potter and Clark Kent.