5 Tomorrowland Easter Eggs To Keep An Eye Out For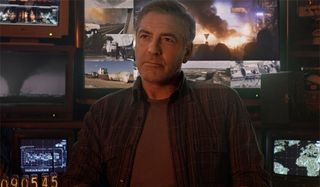 With Brad Bird and Damon Lindelof both serving as the masterminds behind Tomorrowland, it was inevitable that the final cut of the film would wind up being jam packed with Easter Eggs. After all, both of the filmmaker's resumes are filled with titles that feature tiny little references to either their own past or things that they are fans of. With the film hitting theaters this weekend, I can now tell you that the movie does indeed have a number of fun little goodies specially planted for eagle eyed fans.
Collecting both my own observations, as well as fantastic details revealed to me in one-on-one interviews I did with both Bird and Lindlof, below you'll find a list of five Easter Eggs to be on to be on the look-out for in Tomorrowland. And be sure to hit the last page as well to learn about the Easter Eggs you definitely won't find in the film.
The Iron Giant Display
Before breaking out in the feature world, Brad Bird was best known for his work on the small screen – working on shows like The Simpsons and The Critic , but it was The Iron Giant that wound up changing everything. The beautiful and emotional animated film proved that Bird had what it takes to be a big name in movies, and in the years since he has lived up to that promise. Because of this, it's only appropriate that Tomorrowland make reference to it. When Casey (Britt Robertson) arrives at the Blast From The Past toy shop in the first half of the film, check out the display shelf on the left side of the wall opposite the door. It's a full shelf of Iron Giant memorabilia!
Michael Giacchino Cameo
While you may not recognize Michael Giacchino's face, I can pretty much guarantee that you've heard his music. In the last few years he has proven himself to be one of the most talented composers working in Hollywood today, and has provided absolutely fantastic scores for films like Up, 2009's Star Trek, and Dawn of the Planet of the Apes. He also provides the sweeping themes of Tomorrowland - his fourth movie with director Brad Bird – bit that's not the extent of his contribution. In one of the earliest scenes, you can also spot Giacchino as an operator of the Small World ride during the 1964 World's Fair.
Mr. Incredible Action Figure
The Iron Giant wound up launching Brad Bird's career as a director, but it's not the only movie he's made that gets a tiny little nod in Tomorrowland. There is also a very quick Easter Egg relating to his critically-acclaimed superhero epic The Incredibles. While it's a bit hard to talk about without spoilers, let's just say that the subject is a Mr. Incredible action figure, it's also featured in the scene at the Blast From The Past toy store, and it appears at the edge of what I'll just call a bubble. Note that the action figure isn't wearing the red costume that most associate with Mr. Incredible, but instead the blue get-up from when he was younger.
Emperor Zurg From Toy Story 2
Unlike Iron Giant and The Incredibles, Brad Bird didn't actually direct Toy Story 2, but the filmmaker did put a reference to the movie into Tomorrowland as a shout out to the folks at Pixar who really helped him blossom into the blockbuster director that he is today. This little Easter Egg is also located in the Blast From The Past toy shop, but if you'll blink you'll miss him. When I interviewed Bird about the film recently, he gave me the heads up about the reference, explaining, "I put a Zurg right in front of the television, from Toy Story 2, a little nod to my Pixar friends."
A113
At the California Institute of the Arts, Classroom A113 is the studio for first year graphic design students, and as a tribute, many filmmaker alumni stick the room number in a variety of projects. Brad Bird is one of these filmmakers (he even has A113 in his Twitter handle), and has promised that the letter and three numbers are featured in Tomorrowland. While I personally didn't spot it during my screening of the film, but during my interview with the filmmaker he told me, "There is an A113. I won't say where it is, but it is in the movie." So keep an eye out, folks!
But Don't Bother Looking For Anything From Lost
With Damon Lindelof co-writing the script of Tomorrowland with Brad Bird, you probably predicted that the movie would feature at least one reference to the television show Lost, didn't you? Well, you don't have to bother looking now, because I can guarantee that there isn't one in there. During an interview with Lindelof, I asked him about Easter Eggs in the movie, and he explained, "I went out of my way to not do any Lost references in Tomorrowland, because I thought it would be distracting. There are lots of numbers as it is!" So don't waste time looking for the Dharma Initiative symbol – it's definitely not in there.
Your Daily Blend of Entertainment News
Assistant Managing Editor
NJ native who calls LA home and lives in a Dreamatorium. A decade-plus CinemaBlend veteran who is endlessly enthusiastic about the career he's dreamt of since seventh grade.
Your Daily Blend of Entertainment News
Thank you for signing up to CinemaBlend. You will receive a verification email shortly.
There was a problem. Please refresh the page and try again.