6 Fascinating Things About The Interview Every Seth Rogen Fan Should Know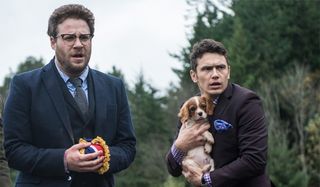 After years of success writing some of the funniest moves in Hollywood, Seth Rogen and Evan Goldberg truly stepped up their game in 2013. The duo made their directorial debut with This Is The End, and the apocalyptic comedy was not only a smash hit at the box office, but also won mass critic approval. Now they are back to show that their freshman effort was no fluke, and they're doing so with a project that is equal parts funny, epic and controversial. In December, audiences worldwide will get to see the new comedy The Interview, but it was around that time last year that I got a special early sneak peek at the film.
Based on a screenplay by Rogen, Goldberg and Dan Sterling, The Interview centers on Dave Skylark (James Franco) and Aaron Rapoport (Rogen), a celebrity talk show host and his producer. Together they are offered a rare and extraordinary opportunity to travel to North Korea and interview dictator Kim Jong-un (Randall Park), as the despot turns out to be a big fan of Skylark's work. But as though this situation weren't strange enough, it escalates even further when the CIA gets wind of the trip has asks Dave and Aaron to assassinate their interview subject.
Last winter, I had the pleasure of flying up to Vancouver, British Columbia where I joined a small group of other film journalists to visit the set of the upcoming political comedy - which was actually in its final day of production when we were on site. Both watching some of the filming and interviewing the stars and filmmakers, we learned a number of fascinating facts and heard a bunch of funny behind the scenes stories about the film – all of which I'm very happy I can now share. Read on and enjoy!
Kim Jong-un Really Loves Katy Perry and Margaritas – But That Doesn't Make Him Gay
To call the relationship between Kim Jong-un and David Skylark in The Interview "bizarre" would be a severe understatement. The dictator finds something endlessly charming about the incredibly vapid celebrity journalist, and for whatever reason it leads to him drop his guard and share his deepest, most personal secrets. Like the fact that he really loves Katy Perry's music
The scene we watched filmed during our day on set was set inside one of Kim-Jong-un's tanks, which the North Korean leader was taking Skylark for a joy ride in. Messing around with the various buttons and switches, Skylark turns on the stereo – resulting in "Firework" blaring from the speakers. Kim is very embarrassed of this at first, but soon he and the American begin to bond over their mutual love of Perry's music. It gets even funnier when Kim asks his new friend if liking Katy Perry and margaritas is "gay." Says Skylark, "If the cost for liking margaritas is taking a cock up the ass, bartender, I'll take two!"
Adding a strange twist to the whole scene is the fact that it's partially based in truth. As actor Randall Park explained to us, Kim Jong-un was regularly scolded by his father for being too feminine – leaving him with all kinds of insecurities. Given this level of attention by the writers, I'm excited to learn what else The Interview reveals about the North Korean leader.
James Franco Runs With Every Joke That Seth Rogen and Evan Goldberg Give Him, Even If He Doesn't Actually Understand It
Seth Rogen and James Franco have a relationship that goes back many years, and it has allowed them to work together in all kinds of capacities. They started off as co-stars on Freaks and Geeks, but then Pineapple Express had Franco working with Rogen The Writer (having penned the screenplay with Evan Goldberg), and last year we saw Franco star in Rogen and Golberg's directorial debut, This is the End. Interestingly, this friendship has created a level of trust so strong that Franco would deliver jokes on the set of The Interview that he didn't even really understand.
Sitting alongside Franco and Goldberg and discussing how he would give improvised lines to Franco from behind the camera, Rogen revealed during our interview that his co-star has the ability to just completely roll with everything tossed at him, regardless of content.
"There's really some jokes that he literally doesn't get at all, like some references," Rogen said, laughing. "There was a scene when we kept asking him to say 'Exsqueeze me, baking powder,' from Wayne's World, and he did not get it, like literally at all… He kept saying baking soda. But God bless him, there was not one moment when he was like, 'Stop, I need to understand what this is that I'm saying.' And yeah, it's fucking unbelievable. It's amazing."
Of course, Franco can't just turn that on for any filmmaker. "I know these guys have the best taste," Franco explained. "I think [they're] the best comedic filmmakers around."
Dennis Rodman Actually Helped Solve One Of The Film's Biggest Issues
They say that truth is stranger than fiction, and when it comes to The Interview that sentiment is actually rather apropos. After all, the idea of an American journalist befriending Kim Jong-un seems a lot less far-fetched when you consider the fact that former Chicago Bulls player Dennis Rodman actually has a similar relationship with the dictator in real life. That situation is so strange, in fact, that Seth Rogen believes it actually helps ground his new movie and makes it better.
The Interview was being written long before news of the basketball player's friendship with Kim Jong-un was revealed by the press, as the script was actually originally made with Kim Jong-Il as the assassination target. But when the news did come around, Rogen and Goldberg embraced it with open arms because it actually helped them stop stressing about the strength and reality of the narrative.
"We want the movie to exist in the real world, and our fear was, 'Would anyone buy this would actually even happen?'" Rogen said. "And then when that happened, it's like that was way fucking dumber than what we came up with."
Actor Randall Park added that The Interview may not be without a few references to Dennis Rodman, as a few lines about him were improvised on set. We'll have to wait and see if they make the cut.
Kim Jong-un Isn't The Only Target Of The Interview
Given that the movie is about him being targeted for assassination, Kim Jong-un is clearly the largest target for satire in The Interview, but he isn't the only source in the film. The representation for America in the movie isn't exactly a shiny one, as David Skylark can be described as being horrifically shallow and is in many ways an extreme parody of the worst celebrity journalism has to offer.
"It's like Oprah meets Ryan Seacrest amped up like fucking crazy," Seth Rogen explained. "The way that Franco ultimately acts in the move is not based on anyone. It's like psychotic, in a wonderful way, but it's far more heightened."
Franco added that he sees Skylark as scrounging for and obsessing over any kind of gossip or dirt he can find. "I imagine the offices at TMZ or something where it's just like, 'Oh my God, we just got the panty-less shot of so and so getting out of the car! Oh my God, this is huge!' You can imagine them celebrating it."
While this certainly will be a good opportunity to poke fun at some of the worst aspects of America's celebrity-obsessed culture, I guess it isn't saying much about Kim Jong-un that the movie is suggesting that he loves that kind of stuff. But it's all just part of the satire.
The Interview Looks Like A Serious Political Thriller, But Don't Take It Too Seriously
Considering it was set almost entirely in one location and made by a pair of first-time directors, This Is The End featured a great deal of visual panache, and Rogen and Goldberg showed that comedy and great cinematography and production design don't have to be mutually exclusive. With that great experience under their belt, the two filmmakers decided to go in a different aesthetic for The Interview, and it weirdly dresses the film up as the serious movie it is definitely not..
Taking inspiration from filmmakers like Ridley Scott and Michael Mann, Rogen and Goldberg have sculpted their new movie to be reminiscent of political thrillers, and explained to us that some elements of the movie will be "tighter" than generally seen in comedy – thanks to the use of a lot of long lenses. While this may sound like it should be the opposite direction that the production should be looking in, the directors find humor in the contrasting nature of the look and tone.
"The fact that it looks kind of serious and has this weight to it makes it funnier because it really looks like we're stuck in like a serious political thriller," Rogen explained. "It's funny to us, because a lot of things get shoved in asses in this movie."
Randall Park Really, Really, Really Hated His Haircut For The Movie
Given the opportunity to play Kim Jong-un in The Interview, Randall Park truly went all out for his performance. Not only did he gain 15 pounds for the part, he also cut his hair into the ridiculous shape you see above. Rather than just wearing a wig or taking some other kind of option, Park went all out and actually got his hair cut to be exactly like the North Korean dictators. If that sounds really terrible to you, then you share sentiments with the actor, as he absolutely loathed the hairdo.
"I hate it, and I have to walk around like this all the time," Park said. "I wear a beanie, but sometimes I have no choice but to wear my hair, and I try to make it look as normal as possible, but no."
Adding even more stress to the part was the fact that he wasn't actually told to gain weight until the very last minute. The original plan was to have him wear prosthetics to make him look heavier, but it was ultimately determined that they didn't look good enough on camera. As a result, before cameras started rolling he has to put on a lot of weight really fast.
"I pretty much ate everything that I wanted, that I like, and have always wanted to eat. I just didn't hold myself back, and it was the best. It was the best, but I threw up a couple times," Park said, laughing.
Image 1 of 2
Your Daily Blend of Entertainment News
Assistant Managing Editor
NJ native who calls LA home and lives in a Dreamatorium. A decade-plus CinemaBlend veteran who is endlessly enthusiastic about the career he's dreamt of since seventh grade.