James Franco And Seth Rogen Reteaming And Heading To North Korea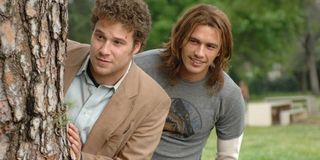 I was about to start this article by saying that Seth Rogen has been laying low lately, but that's only because I completely forgot about the existence of last December's comedy The Guilt Trip, which paired him with Barbra Streisand only to get completely lost in the holiday movie shuffle. But before then Rogen really had been laying low, making small film like 50/50 and Take This Waltz instead of more typical broad comedies. This is partly because he was busy prepping his directorial debut, working with his Superbad co-writer Evan Goldberg on This is The End, the apocalyptic comedy coming this summer.
No one outside Sony has yet gotten a look at that film, but the studio is apparently happy with what they've seen, signing Rogen and Goldberg to write, direct and produce The Interview, a comedy about what happens when a talk show host and his producer accidentally wind up in the middle of a plot to assassinate the prime minister of North Korea. According to The Hollywood Reporter Rogen is set to star, and he's aiming to bring in James Franco to play the talk show host, making it the third film they've made together since Pineapple Express (unless you count Franco's brief appearance at the beginning of The Green Hornet, which admittedly, is among his best work).
The plot of The Interview sounds a whole lot like Pineapple Express, but that's actually a good thing-- that film, a riff on 80s action films, mined a lot of potential out of the Franco-Rogen relationship, but there are plenty of other directions that could go. And thanks to the release of Spring Breakers, and a little more difference from his nightmarish Oscar hosting gig, Franco holds a whole lot more promise as a movie star than he has for the last few years. For a look at Rogen and Goldberg's This is The End revisit the red-band trailer below, and let us know in the poll if you're looking forward to seeing Franco and Rogen team up again.
This poll is no longer available.
Staff Writer at CinemaBlend
Your Daily Blend of Entertainment News
Thank you for signing up to CinemaBlend. You will receive a verification email shortly.
There was a problem. Please refresh the page and try again.