The 6 Main Ghostbusters Characters And Who Will Probably Play Who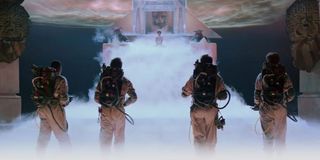 Earlier today, Sony Pictures delivered rather huge news about director Paul Feig's upcoming Ghostbusters reboot. The studio announced that they had officially signed deals with the Melissa McCarthy, Kristen Wiig, Leslie Jones and Kate McKinnon to play the lead roles in the movie, the comediennes assigned the task of bringing the horror comedy franchise into the 21st century. What the big reveal lacked, however, were any kinds of details about the characters that each of the ladies will play. Now those details have started to come out.
HitFix has apparently gotten the inside track where Ghostbusters reboot information is concerned, and they have published an article chock full of information about both the main characters in the new film and the identities of the actors most likely to play them. They note that the upcoming blockbuster won't just be creating female versions of Venkman, Spengler, Stantz, and Zeddmore, and is instead creating a new group that will work together to rid New York City of evil spirits. So let's meet this new crew:
Erin Gabler
Described as one of the two main leads in the new Ghostbusters, Erin Gabler is described as a professor at Columbia University (just like Venkman, Spengler, Stantz were) who is on the verge of getting tenure at the school. Years before the movie starts, she co-wrote a book about paranormal research with a friend, but wound up finding herself going in a different direction with her life. While it isn't confirmed, and is instead a best guess, it is assumed that this is the role that will be played by Bridesmaids' Kristen Wiig (just in case the picture wasn't enough of a hint).
Abby Bergman
Abby Bergman is Erin's former colleague with whom she wrote the aforementioned paranormal investigation text. But while Erin went on to work at Columbia, Abby never left the world of ghosts behind and continued her work without her – getting a new partner in the process. It is believed that this is the role that will be played by Leslie Jones.
Jillian
Jillian is the new partner that Abby teams up with after Erin leaves her behind. Unfortunately, the report doesn't really provide any details about the new Ghostbusters character beyond that, but I can also definitely see the logic in the presumed casting of Kate McKinnon in the role. If Abby is secretly upset that her friendship and work relationship with Erin fell apart, there's a lot of comedy to be mined from the fact that Abby replaced her with another pretty blonde woman – as though to fill the void.
Patty
Rather than being directly connected to the other three main women in the cast, Patty is a bit of an outsider – but also a role that HitFix is "almost positive" belongs to comedy star Melissa McCarthy. Instead of having any background in paranormal research, Patty is merely a MTA subway employee who gets thrown into the world of ghosts and ghouls when she stumbles upon the film's main ghost.
"Central Antagonist"
"Central Antagonist" is obviously a placeholder, as HitFix doesn't provide the name of the new Ghostbusters villain in their write-up, but there are some interesting details about his role offered up. Apparently he is a "creepy mechanical genius," and one that Peter Dinklage is apparently being eyed by Sony to play. This, of course, wouldn't be the first time that the Game of Thrones star had a baddie role in a big blockbuster, as just last summer he played mutant-hating scientist Bolivar Trask in Bryan Singer's X-Men: Days of Future Past.
Martin Heiss
While Bill Murray had spent years talking about his lack of interest in a sequel to Ghostbusters 2, now an interesting twist has come along suggesting that he may be in line to play a significant role in Paul Feig's reboot. The part he could potentially take is apparently spiritually linked to the one played by William Atherton in the first movie - in that he will be an antagonistic force who is a real thorn in the Ghostbusters' sides. The character is named Martin Heiss, and is said to be a professional debunker who becomes obsessed with proving that the Ghostbusters are phony after they post a video of their work online.
Apparently director Paul Feig and co-writer Katie Dippold are still working on the screenplay and getting it ready to go into production in a few months, so it's possible that there are elements above that could change before the shooting script is finalized. That being said, there is a lot to chew on here. Is this a Ghostbusters movie that you want to see?
Assistant Managing Editor
NJ native who calls LA home and lives in a Dreamatorium. A decade-plus CinemaBlend veteran who is endlessly enthusiastic about the career he's dreamt of since seventh grade.
Your Daily Blend of Entertainment News
Thank you for signing up to CinemaBlend. You will receive a verification email shortly.
There was a problem. Please refresh the page and try again.