6 Marvel-ous Things We Learned From Clark Gregg's AMA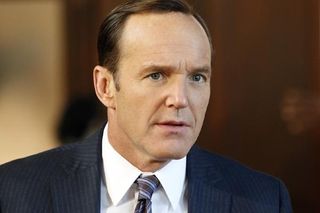 This afternoon Clark Gregg, better known to the world as Director Phil Coulson of S.H.I.E.L.D, conducted an Ask Me Anything (AMA) sesson on Reddit. He was there to promote his latest effort as a writer/director/actor triple threat, Trust Me, which is available on demand now, but naturally the conversation turned to all things Marvel. Pouring through the transcript of the conversation, we found six interesting facts that the man himself chose to share with his adoring comic geek public. What we picked up on ranges from the surprising to the not as surprising, but still very interesting.
Clark Gregg IS NOT Directing Ant-Man
Alright, let's get the obvious out of the way: Clark Gregg is not, repeat IS NOT going to direct Ant-Man. Nor is he up for any Marvel directing gigs in the near future, as he has stated:
Just because he isn't up for a directing right now, doesn't mean he wouldn't be up for one in the future though. In fact, later on in the Q&A, he name drops Adam Warlock as a favorite Marvel character of his. Adam Warlock is part of the Cosmic Marvel universe that Guardians Of The Galaxy is apart of, and has powers ranging from super speed and strength to being able to use cosmic energy. Don't get too excited though, as the character has close ties to The Fantastic Four, and those rights are tied up at 20th Century Fox. If they have the rights to the ancillary characters like Galactus and Silver Surfer, you can bet that somewhere buried in the fine print, Adam Warlock is mentioned.
Even Clark Gregg Wants A Black Widow/Hawkeye Spin Off
Even with all of that favoritism for Adam Warlock, Clark Gregg is one of the many fans that still wants to see some backstory filled in between everyone's favorite power couple from The Avengers, Hawkeye and Black Widow:
The Budapest event has always been a plot line that seemed ready for some sort of larger due than it got in merely being mentioned during the course of The Avengers. To know that even the most popular agent of S.H.I.E.L.D is still hung up on just what happened in Budapest is something that grounds Gregg in the world of the fans. Not to mention, it'd make for a hell of a Marvel One Shot sometime in the near future. Maybe with a hypothetical short under his belt, Mr. Gregg could land himself an eventual gig behind the camera on a film of his own.
The Avengers Might Hear About Coulson's Return Before The Avengers: Age Of Ultron
Agent Coulson became Director Coulson at the end of Agents of S.H.I.E.L.D.'s first season, which of course made fans of the show wonder just how this would be handled in the future of the franchise. Sure enough, when a fan asked him if he'd ever gotten those Captain America cards signed, all he had to say was this:
Agents Of S.H.I.E.L.D is set to premiere on September 24th this year, which means that not only will we more than likely see some sort of tie-in to the events of Guardians Of The Galaxy, but there's a good chance that the fledgling second wave of S.H.I.E.L.D will make its way into The Avengers: Age Of Ultron. Which means that Director Coulson and the rest of his crack team have a good chance at popping up to help defeat the mechanized menace that awaits the world in the next round.
Not Even He Knows If He'll Have A Cameo In Guardians Of The Galaxy
Speaking of a possible crossover between Guardians Of The Galaxy and Agents Of S.H.I.E.L.D, Clark Gregg had this to say about the chances of his appearing in this summer's next Marvel blockbuster:
While Gregg fully acknowledges the fickle, last minute nature of Kevin Feige and Marvel Studios, something tells me he wouldn't tease a cameo without a good possibility for him to show up. It would be easy enough to pull off, as the second season of S.H.I.E.L.D will probably be in production in the near future. It wouldn't be too hard to have Rhomann Dey show up to S.H.I.E.L.D headquarters and trade a couple of quips about Thanos and The Infinity Gauntlet, thus further setting up the grand conflict we've been all but officially promised for The Avengers 3.
Clark Gregg Wants A Hulk Love Story
When reaffirming that his ultimate shipped pair in the Marvel Cinematic Universe is Clint Barton and Natasha Romanoff, Clark Gregg also made some remarks about The Hulk and his prospects for love:
Despite David S. Goyer's rather ill advised comments about She Hulk, fans have shown support for the character, which could lead to not only her inclusion, but maybe that of an original female Hulk character for Bruce Banner to fall for. (It certainly can't be She Hulk, aka Jennifer Walters, as she's Bruce Banner's cousin.) The Hulk is confirmed for more action in The Avengers: Age Of Ultron, so maybe there's a chance that the big green guy might find himself some gamma radiated loving in the near future. Or perhaps we could see the return of Liv Tyler's Betty Ross! It's one thing for the fans to be asking for it, but when one of your other leading actors who isn't Mark Ruffalo is psyched for the possibility, it's time to give it some stern thought.
Clark Gregg's Favorite Avenger Is Iron Man
One of the biggest gags in The Avengers was the fact that Phil Coulson had the hugest hero crush on Steve Rogers. Breaking ranks from his character, while somewhat holding true, Clark Gregg named his favorite Avenger in the AMA:
His reasoning for liking Tony Stark the most out of the lot was his various character flaws, some of which could probably compare to the comically flawed protagonist in his new film, Trust Me. Comically flawed characters have always been a specialty of Clark Gregg's, and they still manage to resonate with him even after he's become the second biggest boy scout to save the world. Throughout entire the AMA session, he was cracking jokes and returning references left and right. He even divulged a couple really good behind the scenes stories from Agents Of S.H.I.E.L.D, and it's all waiting to be read in the full transcript. While the immediate future of his character isn't completely spelled out, it's good to know that Director Phil Coulson will be around for some time.
Trust Me is available right now through most On Demand platforms, and will go into limited theatrical release tomorrow.
Your Daily Blend of Entertainment News
Senior Movies Contributor
CinemaBlend's James Bond (expert). Also versed in Large Scale Aggressors, time travel, and Guillermo del Toro. He fights for The User.